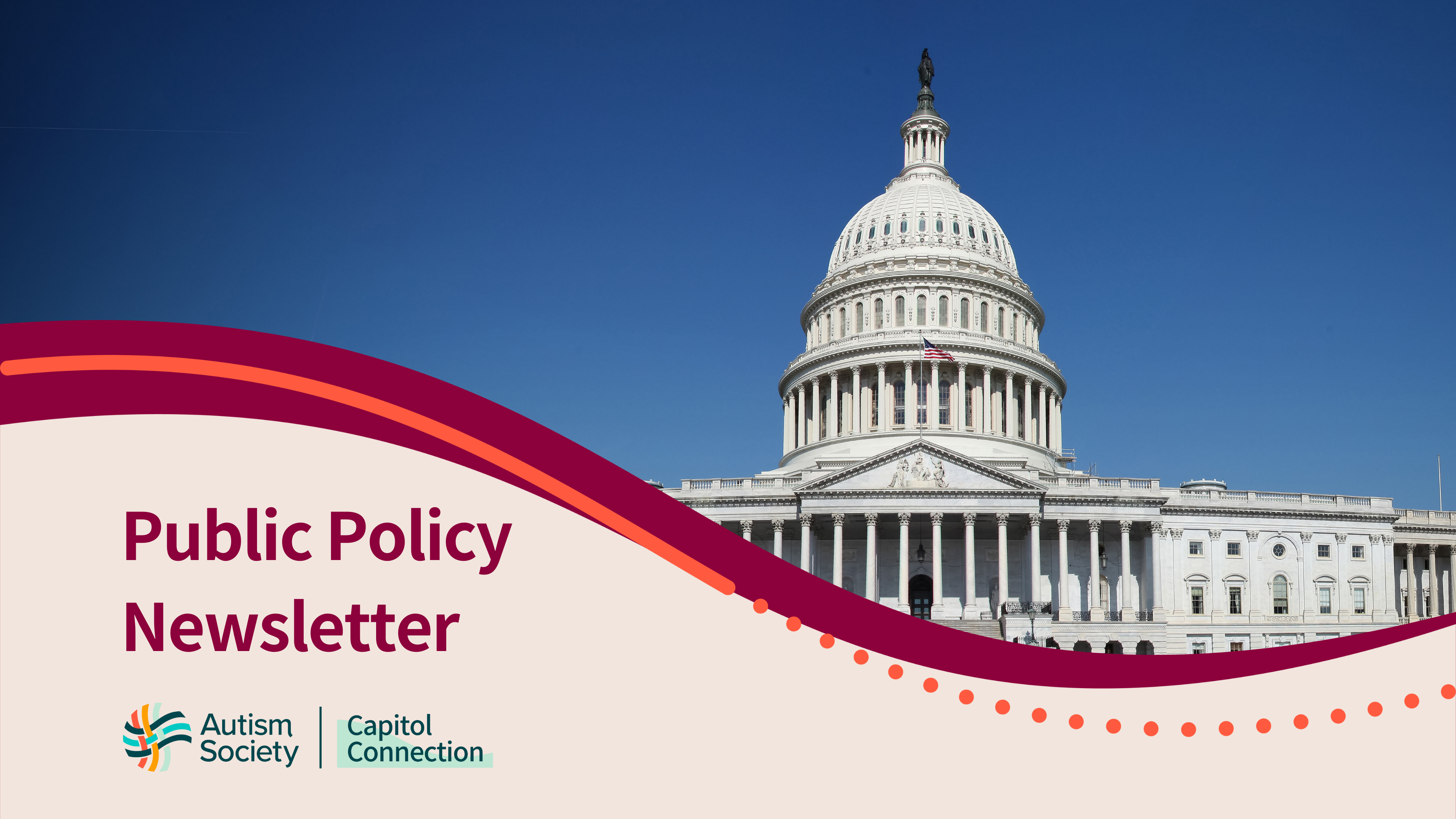 In this issue of Capitol Connection, find information on school safety and mental health bills and state advocacy resources on 988 lifeline and employment. Congress is currently out for a two-week Independence Day recess. Recess is a great time to educate Members of Congress while they are in the state/district. Please use the Autism Society's online Action Center for talking points on current legislation, including the bipartisan SSI Savings Penalty Elimination Act and Home and Community Based Services in economic package negotiations.
Congressional Updates
Congressional Schedule
The House and Senate are not in session this week. They are returning on July 11. Several committees are working this week. 
Appropriations
Appropriation leaders provided topline spending levels for each of the 12 appropriations bills allowing the appropriations process to move forward. The House Appropriations Committee approved six fiscal 2023 spending bills last week, with floor action expected in July. The Transportation-HUD and Labor-HHS-Education appropriations bills were passed by the House subcommittees last week and will go to a full committee markup upon returning from recess. According to the summary, the House bill provides increases for special education, developmental disability programs, respite care, and other important programs the Autism Society monitors. More details will be available after the full committee markup and will be included in the next additional Capitol Connection.
ABLE Age Adjustment Act
On June 22, the Senate Finance Committee approved a retirement tax bill, SECURE 2.0, that included the ABLE Age Adjustment Act. We thank those who took action and urged their senators to include this bill in the markup last week. This bill raises the age of onset of a disability for accessing an ABLE account to 46 years of age (up from 26). This change allows more adults with disabilities to open ABLE accounts to save for long-term care without losing federal benefits. The bill also includes a technical change to inherited retirement account rules that will allow for charities to be named as a remainder beneficiary of an account that is payable to a special needs trust.
Education Hearing
On June 22, the Senate Health, Education, Labor, and Pensions (HELP) Committee held a hearing entitled, "Supporting Students and Schools: Promising Practices to Get Back on Track." In her opening statement, Chairwoman Murray (D-WA) acknowledged the learning loss for students due to the pandemic, the trauma and mental health needs, and the stress on parents and teachers over the past two years. Testimony was heard from education experts and a parent from North Carolina, with three children, one in special education.
Gun Control, Mental Health, and School Safety
On Saturday, President Biden signed the "Bipartisan Safer Communities Act" (S. 2938), a bipartisan bill that enhances certain restrictions and penalties on firearms purchases; promotes best practices for school safety; authorizes grants to expand access to mental health services; and appropriates emergency funding for mental health resources and school safety measures. The House of Representatives passed a bipartisan bill (234-193) on Friday; the Senate passed its version of the bill late on Thursday night on a 65-33 vote. The bill provides significant funding for school safety and mental health, including $150 million to help implement the 988 suicide prevention lifeline and $80 million for rapid pediatric care for mental health. The bipartisan leaders on the bill included Senators Murphy (D-CT), Cornyn (R-TX), Sinema (D-AZ), and Tillis (R-NC), as well as Senate and House leadership. This bill came together quickly in response to recent mass shootings in Uvalde, TX, and Buffalo, NY.
Mental Health
The House passed a bipartisan package Wednesday (402-20) reauthorizing 32 mental health and substance use programs, setting up a vehicle for a larger bicameral mental health package. The bill (HR 7666) re-authorizes and improves existing programs under the Substance Abuse and Mental Health Services Administration (SAMHSA) and the Health Resources and Services Administration (HRSA). Sponsors hope to pass the package before July 16, when the three-digit suicide 988 National Suicide Prevention Lifeline is implemented nationally. It is unclear how the gun safety bill (see above) that also includes funding for mental health, will impact the movement of this package.
The Senate Health, Education, Labor, and Pensions (HELP) Committee is working on a separate mental health package (S 4301), sponsored by Senators Maggie Hassan (D-NH), Ben Ray Lujan (D-CA), and Lisa Murkowski (R-AK). The House package includes crisis care, substance use, mental health, and children's health provisions that would reauthorize expiring grant programs and invest in 988 implementations. 
Nutrition
On Saturday, June 25, 2022, the President signed into law S. 2089, the "Keep Kids Fed Act of 2022," which extends certain flexibilities for child nutrition programs and provides temporary increases in reimbursement rates for school meals and meals provided at child care centers. 
Senators Debbie Stabenow (D-MI) and John Boozman (R-AR) and Representatives Bobby Scott (D-VA) and Virginia Foxx (R-NC) were the lead sponsors of the bill.
State Advocacy
988 Crisis Response Report
Speaking of mental health, the Bipartisan Policy Center released a new report providing recommendations regarding the best ways to fund the 988 National Suicide Prevention Lifeline, to ensure meaningful implementation. The Center focuses on three areas being of most importance to implementation. The first is a collaboration among the government and state agencies. The federal government must support the states with standards beyond call center manuals. The second area is building up a well-trained behavioral health care workforce. The last focus area is to finance a nationwide crisis response infrastructure that would make sure support exists for all Americans in a timely manner. A webinar was also hosted to share more highlights for the report. This guidance is one of many shared by the Autism Society to help state advocates implement the new hotline and crisis prevention activities. In addition, the Autism Society hosted a Community Connections featuring Kim Musheno, Vice President of Public Policy at the Autism Society of America, Russell Lehman, member of Autism Society's Council of Autistic Advisors, Carlean Ponder from The Arc, and Shannon Scully, Senior Advisor, Justice and Crisis Response Policy at National Alliance on Mental Illness and how to implement to 988 National Suicide Prevention Lifeline.
Guidance on Subminimum Wages 
The U.S. Department of Labor announced new guidance regarding services that must be provided before an employer may provide subminimum wages. The new guidance provides details about requirements under Section 511 of the Workforce Investment and Opportunities Act (WIOA) that were put into place during the 2014 reauthorization to reduce the number of individuals transitioning from school into subminimum wage positions. It provides guidance to employers of subminimum wages on the services they must provide, such as VR counseling and allowing individuals to try competitive integrated employment before going into subminimum wage positions. This guidance and fact sheet can be used to advocate at the state level.
COVID-19 Vaccines
The Autism Society of America released a statement in support of the approval of the COVID-19 vaccine for children under 5 years old, the last age group to be able to access the vaccine to protect against COVID-19. Both the Pfizer and Moderna vaccines were judged to be highly effective in preventing symptomatic infection with no major side effects. Autistic individuals are more likely to have one or more co-occurring medical conditions that place them at a significantly higher risk for more serious illness or death due to COVID-19 complications. 
The Autism Society created the Vaccine Education Initiative (VEI) to address the need for increased vaccine education, confidence, and access in the Autism community. With this new vaccine approval for children under 5 years old, the Autism Society will continue expanding accessible vaccination sites, and educational resources throughout the country for children with Autism.