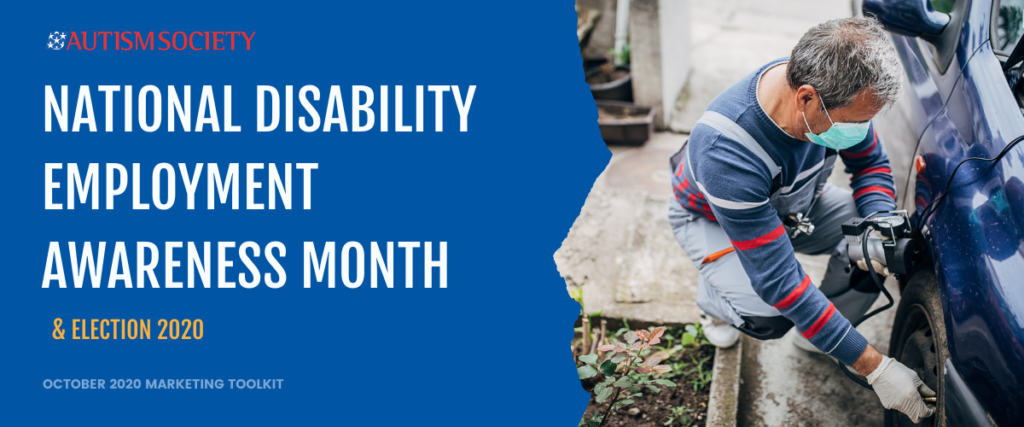 National Disability Employment Awareness Month – October 2020 Toolkit
The Autism Society of America is proud to recognize October 2020 as the 75th-anniversary celebration of National Disability Employment Awareness Month, as well as the final push toward voting registration and election information before the November 3 Election.
Our October 2020 Toolkit focuses on the continuation of our voter registration campaign, as well as providing relevant, practical resources for professionals and advocates to assist in finding employment opportunities for individuals on the autism spectrum. This month, we hope to provide the autism community with the resources necessary to navigate both employment and the 2020 Election in the wake of COVID-19.
NDEAM Resources
2020 Election Resources
Voting Resources
Affiliate Highlights
We encourage you to contact the Autism Society affiliate in your area, as our affiliates are often the most knowledgeable about local services. To find an affiliate in your area, click here.
---
The Autism Society's National Contact Center staff are here to support you and provide you with the resources you need. Our Information & Referral Specialists are available Monday to Friday, 9:00 am to 7:00 pm (Eastern Time) at 800-3-AUTISM (800-328-8476) or info@autism-society.org.
The Autism Society is dedicated to improving the quality of life for all affected by autism. $50 allows the Autism Society to provide an hour of support to our affiliate network to create localized education resources, support, and advocacy to individuals and families affected by autism. If you found this article helpful, please consider supporting our efforts through a donation, every bit helps. Donate here!