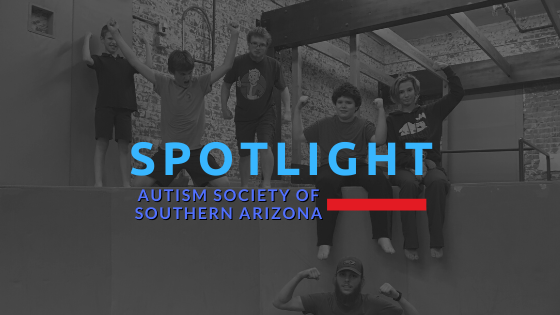 The Hussman Foundation Grant Winner: Autism Society of Southern Arizona
As the year comes to an end, we are dedicated to highlighting the massive impact that the Autism Society network has had across the United States. Annually, our organization directly supports over 620,000 individuals and families affected by autism. This  number includes 225,000 phone calls, emails, and support inquiries, 157,000 attendees at Autism Society events, plus over 40,000 individuals who raised their voices at Support Groups across the country.
Each year, the Hussman Foundation offers a $100,000 grant to be distributed throughout our affiliate network through initiatives each market is looking to grow or start. This month, we are proud to showcase four affiliates and the results of their successful programs from the past year.
Spotlight: Playformance Meet-Ups
The Autism Society of Southern Arizona used the Hussman Foundation grant to grow their Playformance Meet-Ups program,  a play-based fitness program that builds autistic youths' strength and character through play. Hosted in downtown Tucson, Arizona, the Playformance Meet Ups program is an opportunity for youth with autism to connect with their peers in a part-play, part-gym setting. Here, they learn about fitness, team- building, and socialization.
Participants build self-confidence and overcome fears while they strengthen their bodies and most importantly, have fun. This program has been an excellent opportunity for parents to interact with their children in new ways as well. Lastly, it provides a place for parents to connect, share resources, personal journeys, and provide emotional support to each other, while their children are playing.
"For our families that attend, this is their one opportunity a month to socialize, develop friendships, exercise, rock climb, jump around, and learn team building skills," said Brie Seward, Associate Director of Autism Society of Southern Arizona. "This program has grown through the years and addresses the need to develop cognitive, physical, and emotional skills through play in a safe environment."
Playformance Meet-Ups occur on the first Friday of each month, and in 2019 saw 300 participants! With the support of the Hussman Foundation's Community Service Grant, the  program was able to add an additional coach to ensure the safety and support of the growing number of participants.  Additionally, the grant allowed participants to attend free of charge,  removing any financial burden from the families.
Visit the Playformance Meet-Ups website to learn more and join in on the fun!
---