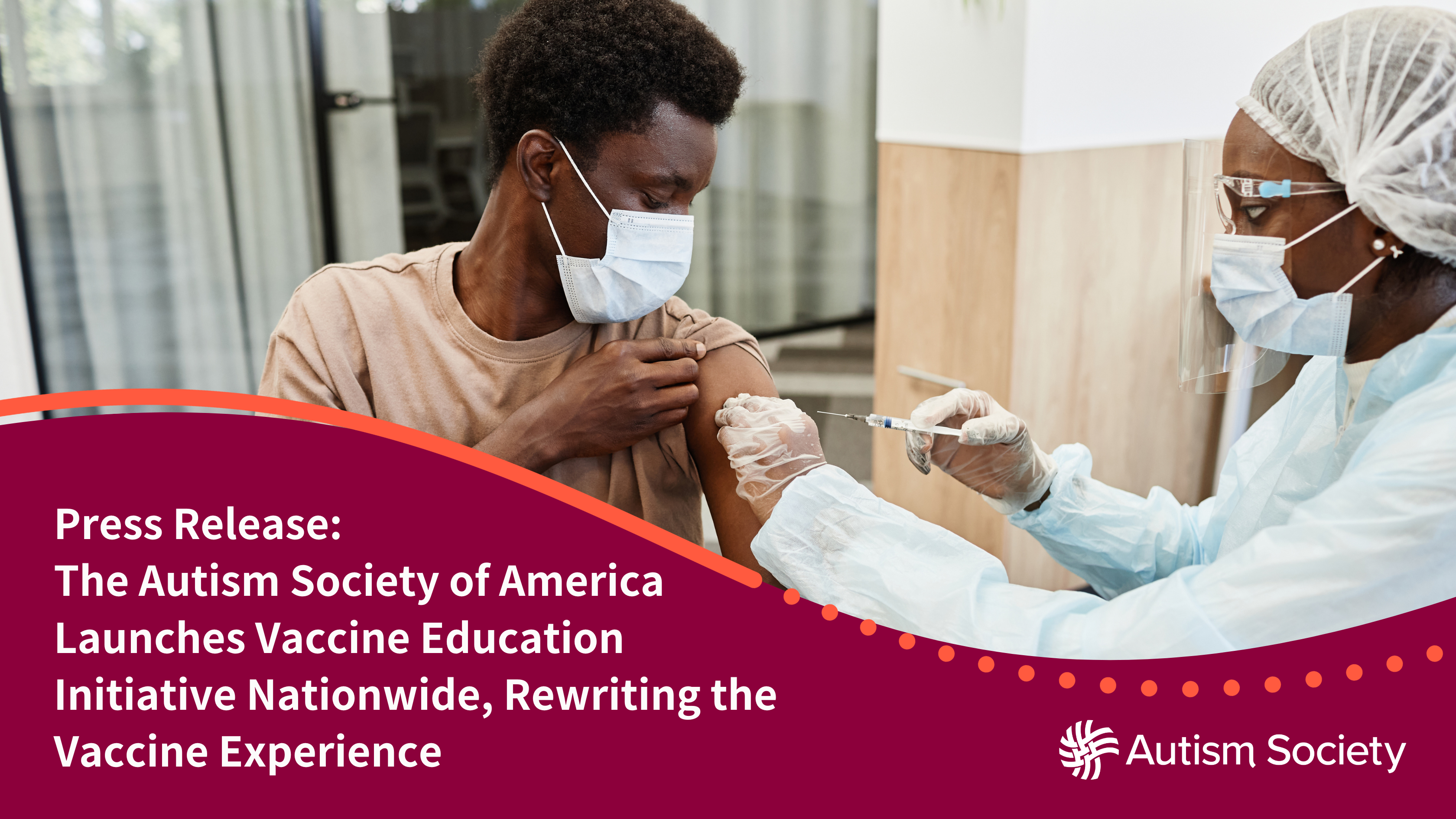 August 15, 2023, Rockville, MD – The Autism Society of America is proud to launch our  Vaccine Education Initiative in partnership with our participating affiliates and partners nationwide. We at the Autism Society of America believe that improving the vaccination experience is a critical step towards achieving more equitable healthcare for people with Autism and all neurodiverse individuals. As part of our strategic focus on health equity, the Vaccine Education Initiative (VEI) is a national program that addresses systemic barriers, while promoting vaccine education, confidence, and access.
In early 2023, the Autism Society of America secured a mission-critical grant from the Aging and Disability Vaccination Collaborative (ADVC) to expand its Vaccine Education Initiative (VEI) – one of the many programs the organization promotes for the overall health and well-being for individuals with Autism.
"The Autism community faces unique barriers to accessible healthcare – stemming from stigma, sensory, social, cognitive, and communication differences. These barriers are too often viewed as patient barriers, when in fact, they are environmental, resource, and systems barriers – which contribute to pervasive trust barriers. To realize health equity, we must reframe these barriers and recognize our collective responsibility to identify solutions that create access." – Allie Tasche, Director of National Programs 
By rewriting the vaccine experience, the Autism Society created a path for increased vaccination rates for Autistic individuals, as well as those with disabilities and complex support needs. As the initiative expands nationwide, the pilot program showed incredible results. In the first year, the initiative:
Achieved a 99% success rate in vaccine administration

Piloted in 12 affiliates across 8 states representing rural, urban, and suburban communities

Planned and supported 35 accessible vaccine clinics across 6 states

Vaccinated 550+ participants

Trained close to 1,000 healthcare professionals

Distributed 1,000 Accessible Vaccine Kits to Healthcare Providers, and 1,500 Accessible Vaccine Kits to Community members

Held over 75 support groups

Created 60+ new local, regional, and national partnerships including: Association of University Centers on Disability (AUCD), American Academy of Pediatrics, Vaccinate Your Family UCLA, Children's Hospital Of Philadelphia, American Pharmacist Association (APhA), and more!

Developed dozens, and disseminated thousands of resources, training materials, and accessible information, in multiple languages
The 2023-2024 ADVC Affiliate Grantees are:
Autism Society Colorado, Autism Society Dayton, Autism Society Greater Akron, Autism Society Greater Detroit, Autism Society Greater New Orleans, Autism Society Greater Wisconsin, Autism Society Howard County, Autism Society Indiana, Autism Society Minnesota, Autism Society Northern Virginia, Autism Society South Carolina, Autism Society South Central Wisconsin, Autism Society Southeastern Wisconsin, Autism Society Southern Illinois, Autism Society Texas, Autism Society Tidewater Virginia, and Autism Society Ventura County.
To learn more about the Autism Society's Vaccine Education Initiative, and ways to get involved, please visit AutismSociety.org/VEI or email vei@autism-society.org.
###
The Autism Society's mission is to create connections, empowering everyone in the Autism community with the resources needed to live fully. As the nation's oldest leading grassroots Autism organization, the Autism Society and its approximately 70+ local affiliates serve over half a million members of the Autism community each year. It envisions a world where everyone in the Autism community is connected to the support they need, when they need it – including education, advocacy efforts, and supports and services throughout the lifespan. During Autism Acceptance Month, the Autism Society has a goal to fundraise $350,000 to expand acceptance in practice for the Autism community. For more information, go to www.autismsociety.org, Facebook, Instagram or X.