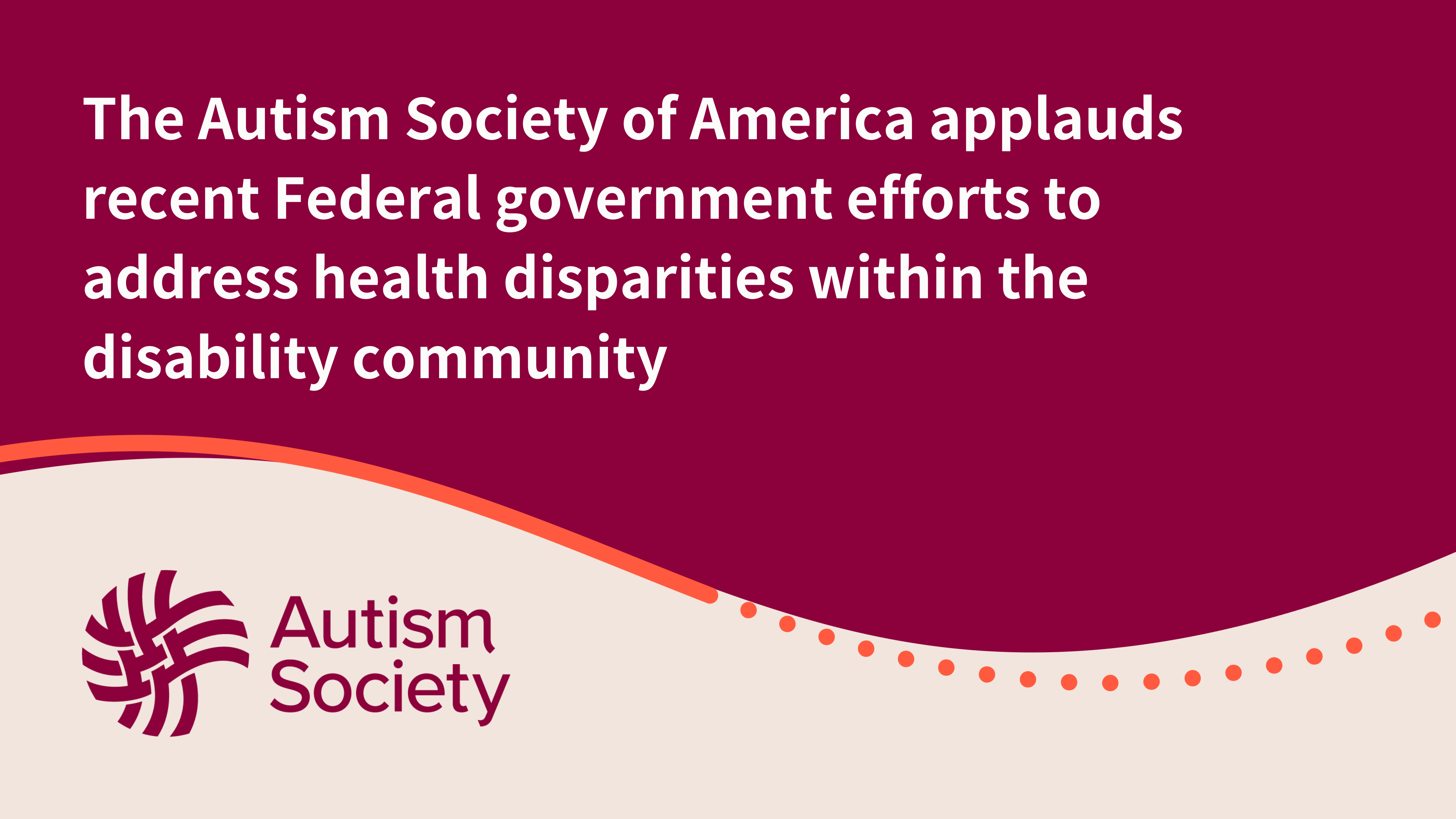 September 29, 2023, Washington, DC – On September 26th, the National Institute on Minority Health and Health Disparities (NIMHD), designated people with disabilities as a population with health disparities for research supported by the NIH. The Autism Society applauds this decision that was made after careful consideration and collective advocacy by the disability community. The Autism Society led a coalition task force letter urging for this change. By designating people with disabilities as a 'health disparity population', access to funding and resources for people with disabilities will be dramatically expanded, thereby improving the healthcare system for people with Autism.   
The Autism Society applauds HRSA's announcement last week of more than $8 million through 18 awards to train primary care medical students, physician assistant students, and medical residents in providing culturally and linguistically appropriate care for individuals with limited English proficiency and individuals with physical or intellectual and developmental disabilities. We continue to expand our work with UCLA – one of the 18 selected sites- along with Children's Hospital of Philadelphia (CHOP), Duke University, and more to create curricula, resources, and training to support and prepare healthcare providers in their work with the Autism and disability community.  
"Everyone deserves accessible healthcare, and the Autism Society believes that it's possible for everyone."  mentioned Christopher Banks, President and CEO of the Autism Society of America. 
The Autism community experiences health disparities across screening, diagnosis, and all aspects of care. These barriers are too often viewed as patient barriers, when in fact, they are environmental barriers, resource barriers, and systems barriers – which contribute to pervasive trust barriers. To realize health equity, we must reframe these barriers and recognize our collective ability – and our responsibility to identify solutions that create access.  
The Autism Society advocates on the local, state and federal level for individualized and equitable healthcare offerings for the Autism community. Visit these links to learn more about our wellness and health equity work. 
###
The Autism Society's mission is to create connections, empowering everyone in the Autism community with the resources needed to live fully. As the nation's oldest leading grassroots Autism organization, the Autism Society and its approximately 70+ local affiliates serve over half a million members of the Autism community each year. It envisions a world where everyone in the Autism community is connected to the support they need when they need it – including education, advocacy efforts, and support and services throughout their lifespan. For more information, go to AutismSociety.org, Facebook, Instagram or Twitter.