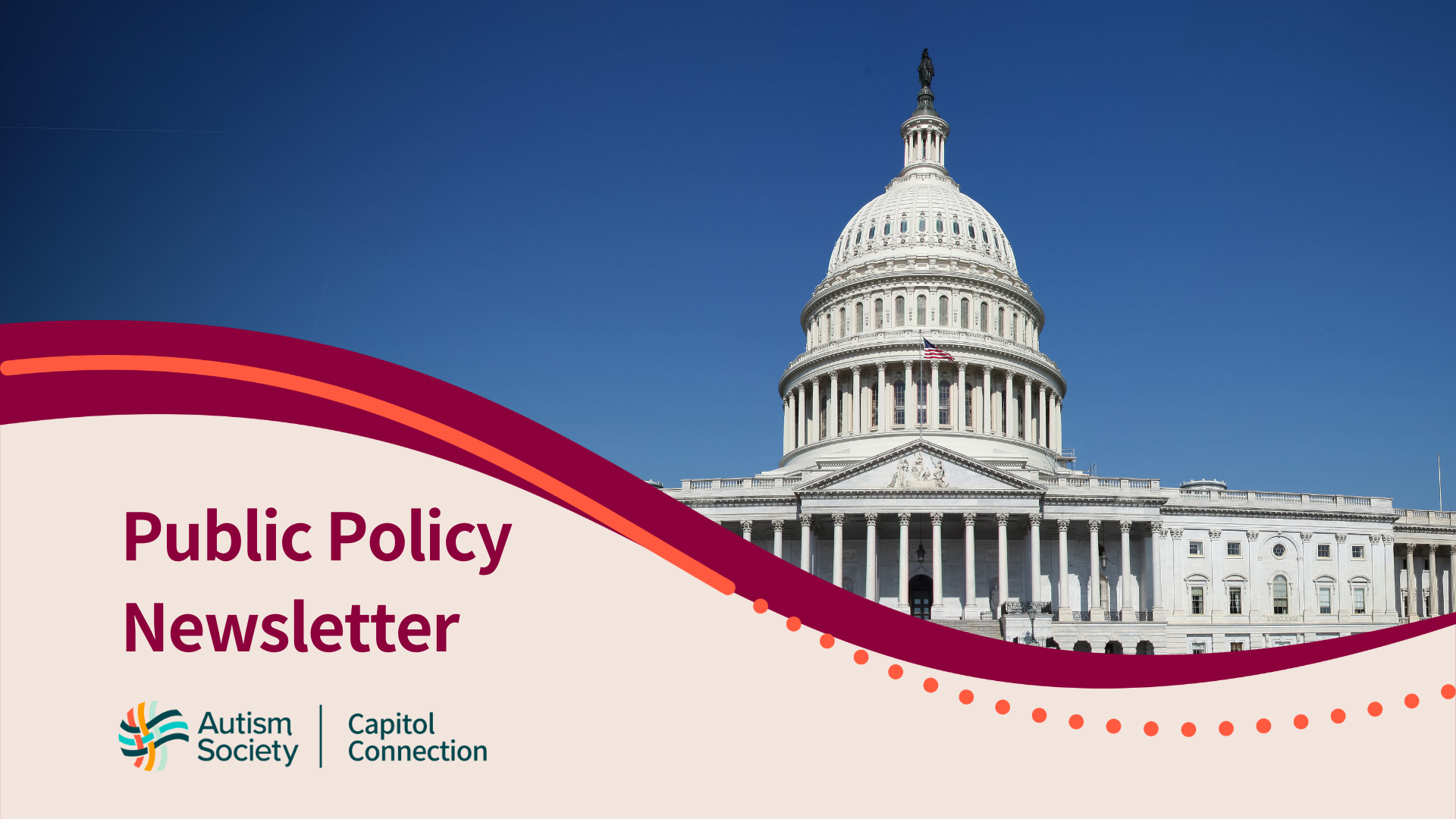 This special issue of Capitol Connection is dedicated to the President's Budget proposal for Fiscal Year 2024 and how it impacts Autism services and programs. In addition, registration information for the Disability Policy Seminar is now available and resources on the HCBS Rule that recently took effect. Also, new legislation to strengthen the disability services system was introduced. Alerts and sample letters are now posted on our Action Center to help educate Members of Congress regarding legislation introduced in the new Congress. 
Disability Policy Seminar
The Disability Policy Seminar's registration has opened! The event will include a virtual training day on Monday, April 24, and a fly-in/or virtual Hill Day on Thursday, April 27. The training day will provide a briefing on current legislative issues including the current budget debates and its impact on Medicaid and disability program funding. It will also cover current legislation impacting education and employment, community living, criminal legal, Autism services, and health and family support. Participants will hear directly from Members of Congress and their staff. The planning team is seeking State Captains who help organize their states meetings with Members of Congress. If you are interested in volunteering, contact Delancy Allred at dallred@autism-society.org.
Home and Community-Based Services (HCBS) Settings Rule
March 17th marked the end of the transition period for the implementation of the HCBS Settings Rule. The HCBS Settings rule was created to ensure that every person receiving Medicaid-funded HCBS has full access to the benefits of community living. To celebrate this, the Centers for Medicare & Medicaid Services (CMS) and the Administration for Community Living (ACL) released a statement and updated the Rule webpage to ensure access to key information on the rule. Watch for information on a webinar for Autism Society affiliates coming up in April. 
HCBS Legislation
Senator Bob Casey (D-PA has introduced two bills to help build the HCBS system including the HCBS Access Act and the Better Care Better Jobs Act. The Consortium for Constituents with Disabilities Long-Term Services and Supports Task Force submitted testimony in favor of these bills to strengthen the direct care workforce and to build capacity in the services system. 
Supreme Court Special Education Decision 
The United States Supreme Court unanimously decided in favor of Mr. Perez in the case of Perez v. Sturgis Public Schools. This decision states that individuals who entered a settlement resolving their Individuals with Disabilities Education Act (IDEA) claims can also pursue monetary damages against school districts under other civil rights laws without having to exhaust the extensive administrative process under IDEA. Read more here.
Administration FY 24 Budget Analysis
President Biden submitted his budget request to Congress on March 9th. The Autism Society is pleased to see a number of significant increases dedicated to programs and services important to people with Autism and other disabilities. This includes $150 billion dedicated to home and community-based services, which is intended to build upon the American Rescue Plan funding that has helped support our services system during these difficult times. The budget also requests the restoration of the expanded Child Tax Credit, which cut child poverty in half in 2021. The proposal also called on Congress to make the Earned Income Tax Credit expansion permanent, which provides tax relief to many low-wage workers with disabilities.
Below is a table comparing the previous year's funding levels with the President's FY 24 funding request for discretionary funding of programs within the Departments of Labor, Health and Human Services, and Education. This is followed by a summary analysis of the President's budget.
Table Comparing Appropriations for FY 24 to FY 23 for Programs within the L-HHS-ED and DOJ bills (in millions)
FY22 Enacted
President FY 2023 Request
Final FY23 Bill
President FY 2024 Request
Difference between FY 23 Final and President's FY 24 Request
Department of Health and Human Services

University Centers (UCEDD)

42.0

47.0

43.0

46.0

+3.0

Projects of National Significance

12.0

25.0

12.0

16.0

+4.0

DD Councils

80.0

88.5

81.0

82.0

+1.0

Protection & Advocacy

42.0

60.0

45.0

60.0

+15.0

Lifespan Respite Act

8.0

14.0

10.0

14.0

+4.0

National Family Caregivers

194.0

250.0

205.0

250.0

+45.0

Health Resources and Services Administration (HRSA)

Maternal and Child Health Block Grant

748.0

954.0

816.0

937.0

+122.0

Autism and other DD (Includes LEND)

54.0

57.0

56.0

57.0

+1.0

Centers for Disease Control and Prevention (CDC)

Center on Birth Defects and DD (NCBDDD)

177.0

195.0

206.0

223.0

+17.0

Injury Prevention and Control 

715.0

–

761.0

1,352.0

+590.0

—Vaccines for Children

5,540.0

–

4,434.0

6,002.0

+1,568.0

—Vaccines for Adults

–

–

–

1,004.0

+1,004.0

HRSA

Suicide Prevention

–

–

–

4,900.0

+2,200.0

988 Behavioral Health Hotline

–

–

502.0

836.0

+334.0

National Institutes for Health

      NICHD

1,683.0

1675.0

1,749.0

1,749.0

0.0

      NIMH

2,100.0

2,200.0

2,113.0

1,949.0

+200

Department of Education

IDEA Part B

13,000.0

16,000.0

14,194.0

16,259.0

+2,100.0

Part C Early Intervention

496.0

932.0

540.0

932.0

+392.0

Preschool Grants 

410.0

502.5

420.0

502.5

+82.5

IDEA Part D programs

State Personnel Development

38.6

38.6

38.6

53.6

+15.0

Technical Assistance

44.0

49.0

45.0

55.5

+45,0

Personnel Preparation

95.0

250.0

115.0

250.0

+135.0

Parent Information Centers

30.0

45.0

33.0

49.0

+16.0

Education technology

30.0

30.0

31.5

41.5

+10.0

Postsecondary Program for ID

14.0

15.0

14.0

15.0

+1.0

Supported Employment

22.5

22.5

22.5

22.5

0.0

Department of Justice (not within the Depths of L-HHS-ED)

Kevin and Avonte's Law

3.0

  3.0

3.0

3.0

0.0
Department of Health and Human Services
DD Act Programs
For the Developmental Disability Act programs, the budget includes $46 million, an increase of $3 million, for University Centers for Excellence in Developmental Disabilities and $82 million, an increase of $1 million, for State Councils on Developmental Disabilities, and a $15 million increase for the Protection and Advocacy Systems, also known as the disability rights network. The President also includes a $4 million increase for Projects of National Significance. The request includes $1.25 million to continue the operation of the Disability Information and Assistance Line (DIAL) and to support two initiatives focused on strengthening the caregiving infrastructure. 
Caregiving
The President's budget includes funding to begin to implement the 2022 Administration for Community Living's National Strategy to Support Family Caregivers and for an initiative to expand and stabilize the direct care workforce. The National Strategy provides a blueprint for building a system that provides the support caregivers need. The budget provides a total of $53 million across several programs to begin implementation, with investments in expanding direct services to support family caregivers today and building capacity to better support them in the future. The request includes $250 million, an increase of $45 million, for Family Caregiver Support Services; $16 million, which is $4 million above FY 2023 enacted, for Native American Caregiver Support Services; and $14 million, an increase of $4 million, for the Lifespan Respite Care Act program. 
Centers for Disease Control and Prevention (CDC)
Access to Vaccines
As a complement to the successful Vaccines for Children program, the budget establishes a Vaccines for Adults program. This new capped mandatory program will provide uninsured adults with access to routine and outbreak vaccines recommended by the Advisory Committee on Immunization Practices at no cost. The budget would also expand the Vaccines for Children program to include all children under age 19 enrolled in a separate Children's Health Insurance Program.
Health Resources and Services Administration (HRSA)
Autism CARES Act
Programs authorized by the Autism CARES Act administered by HRSA are increased in the President's budget by $1 million to a total of $57 million. This funding goes to research and development of evidence-based physical and behavioral health interventions as well as interdisciplinary training of health professionals through the Leadership Education and Neurodevelopmental Disabilities (LEND) program.
Suicide Prevention
In 2021, approximately 1 in 5 adults in the United States had a mental illness in the past year and 12.3 million adults had serious thoughts of suicide. The FY 2024 budget provides $4.9 billion for SAMHSA's mental health activities, an increase of $2.2 billion over FY 2023. The proposed investments will address suicide prevention, increase crisis response, and provide direct services to people experiencing homelessness.
988 National Suicide Prevention Lifeline
In July 2022, SAMHSA transitioned the National Suicide Prevention Lifeline from a 10-digit number to 9-8-8, a 24/7 lifeline that provides access to trained counselors to people in crisis. With new funding in FY 2022, the 9-8-8 program documented a 45 percent increase in contact volume. SAMHSA estimates that the 9-8-8 call centers will respond to approximately 6 million contacts in 2023—compared to approximately 3.6 million answered contacts in 2021. In FY 2024, SAMHSA will dedicate $836 million to the 9-8-8 and Behavioral Health Services program, an increase of $334 million over FY 2023 enacted. This investment will increase the capacity for 988 to respond to 100 percent of the estimated 9 million contacts in 2024.
See National Alliance for Mental Illness statement for more information about how the budget impacts mental health programs
National Institutes of Health (NIH)
The two institutes that provide the most research related to Autism are the National Institute on Child Health and Human Services (NICHD) and the National Institute of Mental Health (NIMH). While NIMH receives a $200 million budget, NICHD is level-funded in the President's budget.
For the Individuals with Disabilities Education Act (IDEA) Part B grants to states, the Administration is requesting $16.3 billion, an increase of $2.1 billion over the 2023 enacted level. If enacted, this funding level represents the largest increase in the federal contribution toward meeting the excess cost of special education in two decades and makes a significant first step toward fully funding IDEA. Grants would cover nearly 13 percent of the national average per pupil expenditure and provide an estimated average of $2,170 per child for about 7.5 million children ages 3 through 21. The budget also includes $502.6 million for the Preschool Grants program, an increase of $82.6 million over the 2023 enacted level, and provides an average of $1,066 per child for over 471,000 children with disabilities expected to be served under the program in 2024. 
The Transition to Postsecondary Education Programs within the Higher Education Act is provided $15 million, an increase of $1 million over FY 2023. 
Supported employment is level-funded at $22.5 million.
The Budget provides $3 million for Kevin and Avonte's Law within the Department of Justice. Kevin and Avonte's Law is a law that protects children with Autism or other developmental disabilities who may wander away from safety.
Social Security
The budget requests a 10% increase in funding for the Social Security Administration to help address the ongoing customer service crisis. Additional funding increases are urgently needed to improve the processing of disability claims and reduce call wait times.
Next Steps
This is just the beginning of the budget and appropriations cycle. The next steps are for the House and Senate to develop topline budget resolutions followed by the 12 appropriations subcommittees deciding how much each program will receive. With a divided Congress that has narrow majorities, we expect that the process will again take most of the year to be completed. 
The Autism Society is working with bipartisan disability champions in Congress on Dear Colleague letters with recommendations for the highest possible funding levels for programs that support Autistic individuals and their families and professionals.
A note, due to April being busy with Autism Acceptance Month, Capitol Connection will go out once.