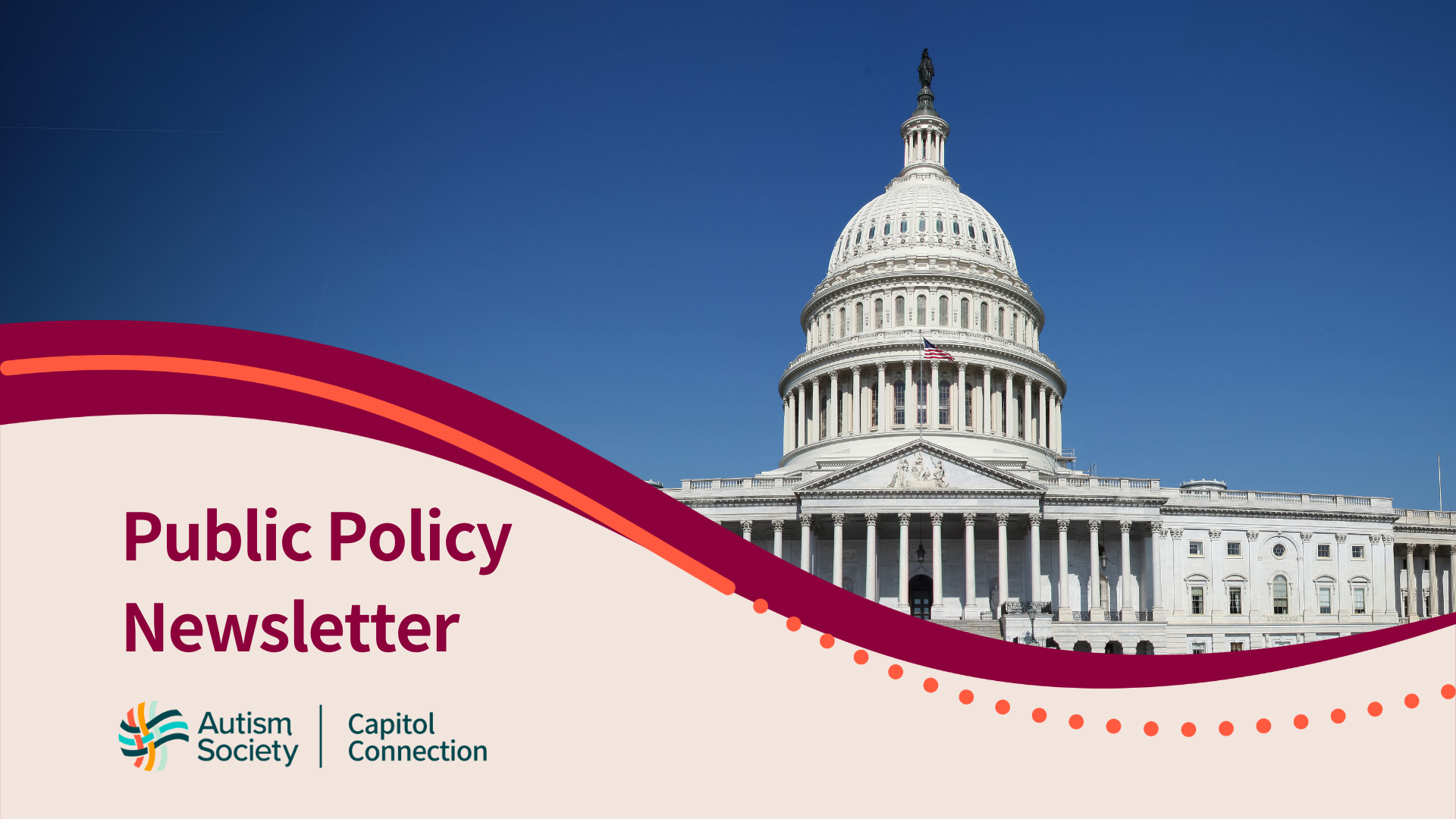 In this issue of Capitol Connection, find updates on appropriations and new legislation in Congress. New data and resources on unwinding and the one-year implementation of the 988 hotline are also included. Congress will be working in their home states during the August recess. We encourage you to use this time to meet them in their home or district offices. Please use the Autism Society's Action Center to see relevant issues and ideas for talking points. There will only be one edition of Capitol Connection during the August recess, on August 17th.
ADA Anniversary
The Autism Society joined a number of celebrations and events honoring the 33rd anniversary of the Americans with Disabilities Act (ADA). On July 25th, the U.S. Department of Justice used the anniversary to highlight the need to address the criminalization of people with disabilities. Attorney General Merrick Garland offered brief remarks as did Kristen Clarke, Assistant Attorney General, Civil Rights Division. A wide-ranging discussion with disability rights activists included injustices experienced by people with disabilities in employment, education, community services, and criminal legal systems. See the full recording of the event. On July 12th, Vice President Kamala Harris hosted a roundtable with disability rights leaders to discuss transportation accessibility. The Autism Society also participated in a White House call on July 26th where the President's proclamation celebrating the ADA was shared. In the statement, the president calls on Congress to expand home and community-based services for people with disabilities. 
Legislative Updates
Appropriations
On Thursday, July 27th, the Senate Appropriations Subcommittee will consider a bill providing funding to the Departments of Labor, Health and Human Services, and Education. With the Senate agreeing to the allocations outlined in the Fiscal Responsibility Act, we expect the Senate bill to provide the high-water mark for spending on programs important to people with Autism and other disabilities. The House passed a bill in its subcommittee that ignored the agreement and included a funding level that could result in cuts of up to 29 percent for many programs. Some programs are completely eliminated. The full House committee has not yet scheduled a markup of that bill. Until then, we do not have details about which programs and the level of funding cuts. See more background information in the July 13th issue of Capitol Connection. 
Funding for IDEA
On July 10th, Senator Chris Van Hollen (D-MD) and U.S. Representative Jared Huffman (D-CA) reintroduced the IDEA Full Funding Act in the Senate and House. This bill requires Congress to fulfill its commitment to fully fund the Individuals with Disabilities Education Act. Under IDEA, the federal government committed to pay 40 percent of the additional average per pupil expenditure for special education; however, current funding is at less than 13 percent. With the IDEA Full Funding Act requiring gradual increases in IDEA spending, a greater opportunity will be provided for students with disabilities to have equal access to a well-rounded, high-quality public education. See the press release from Senator Van Hollen's office and the Autism Society letter of thanks to the lead sponsors. 
Preparing and Retaining All (PARA) Educators Act
Representative Nancy Mace (R-SC) and Ann Kuster (D-NH) introduced the bipartisan Preparing and Retaining All (PARA) Educators Act. This legislation authorizes grants to states to support the recruitment and retention of paraprofessionals. 
Paraeducators include teachers' aids, instructional assistants, and other in-class support who work with a variety of students, including those with Autism. Although paraeducators play an important role in our classrooms, they continue to be underpaid and undervalued in our education system. This legislation would help keep paraeducators in the classroom and ensure they have the support they need to thrive. See the press release from Rep. Kuster's office and the letter of thanks the Autism Society sent. 
Housing Accessibility and Affordability for Older Adults and People with Disabilities
On July 20th, the United States Senate Special Committee on Aging hosted a hearing on adequate housing, stability, and home modifications for supporting people with disabilities in order for them to remain in their homes. Senator Bob Casey (D-PA) stated "26 percent of people in our Nation have a disability —that's about 61 million people. By 2030, one in five Americans will be over the age of 65. But less than five percent of the national housing supply is accessible, with less than one percent of housing stock accessible to wheelchair users." In April, Senator Casey introduced legislation entitled, the Visitable Inclusive Tax Credit for Accessible Living (VITAL) Act, Senate Bill 1377. This bill would add funding to the Low-Income Housing Tax Credit Program, the Nation's primary driver of affordable housing. 
Florida Court Ruling
The U.S. District Court for the Southern District of Florida ruled that the State of Florida violates the rights of children with complex medical needs by keeping some children unnecessarily institutionalized in nursing facilities. The department's lawsuit challenged the State of Florida's policies that violated the Americans with Disabilities Act (ADA). To remedy its violation, Florida must take steps to ensure that children with complex medical needs can access the services they need to live in their own homes and communities. Florida must also develop transition plans for institutionalized children and engage families to ensure that they can make informed choices about where their children live. Under the Olmstead v. L.C. states are required to serve children with disabilities in the most integrated setting appropriate to their needs.  For more information on the Civil Rights Division, please visit www.justice.gov/crt. 
Unwinding Updates
COVID-19 Flexibilities Extended 
The National Academy for State Health Policy surveyed and scanned state websites to track plans on extending Appendix K and other waiver flexibilities that many states used during the COVID-19 pandemic. The results are shown here on a graph tracking what each state has planned. Many states are continuing highly favored flexibilities such as paying family caregivers and adding electronic signing methods. 
Tracking Disenrollment  
The Kaiser Family Foundation (KFF) is regularly updating its tracker of disenrollments from Medicaid due to unwinding. In the last week, disenrollments have increased by one million as Texas and 19 other states started their process. KFF reported that 74 percent of unenrollments so far are due to procedural reasons, meaning someone did not fill out a form or respond to questions from their state department. Around 30 percent of unenrollements thus far are children. It is important to keep an eye out on your state data and work with your communities to ensure those that should continue to stay eligible, do, and those who do not, are aware they are losing coverage. 
988 Lifeline Brief 
The Autism Society participated in an event hosted by the Department of Health and Human Services celebrating the one-year anniversary of the launch of the 988 suicide and crisis lifeline. During the event, HHS Secretary Xavier Becerra stated that the President's budget seeks $836 million for 988 efforts for fiscal 2024 — a $334 million increase from current enacted levels. It also seeks $100 million for mobile crisis response, which are rapid behavioral health assessments and interventions. In the first year, five million contacts have been made including calls and texts. Officials say the next step is expanding awareness and local crisis care. To increase capacity at the state level, eight states have passed legislation adding a telecom fee to phone bills. A 2021 COVID-19 relief law allows states to seek enhanced federal Medicaid funding for covering mobile crisis services. More states should be encouraged to pursue this option. See this brief from KFF for more information. 
To ensure that 988 continues to receive strong federal funding through the appropriations process, the Autism Society joined a letter led by the National Alliance on Mental Illness urging House and Senate appropriations leadership to fund 988 and other mental health crisis interventions. 
Maryland Celebration and Roundtable on Employment
On July 25th, the Howard County Autism Society was joined by Senators VanHollen and Cardin and Representative Sarbanes to celebrate being awarded federally directed community project funding for its Autism at Work program. The roundtable included individuals who benefited from the program and other employment, university, and community-based partners involved in making the project successful. The Autism Society of America also participated.
Minnesota State Advocacy Wins
As state sessions wrap up this year, many affiliates are sharing their state legislative wins. The Autism Society of Minnesota shared some wins including a bill to limit the consideration of parents' income to qualify for HCBS services for children, a technical assistance center to help transition providers into competitive employment, and more. See more in their advocacy alert here. As we transition into the next session, the Autism Society is building a toolkit with different legislative ideas for states to tackle.