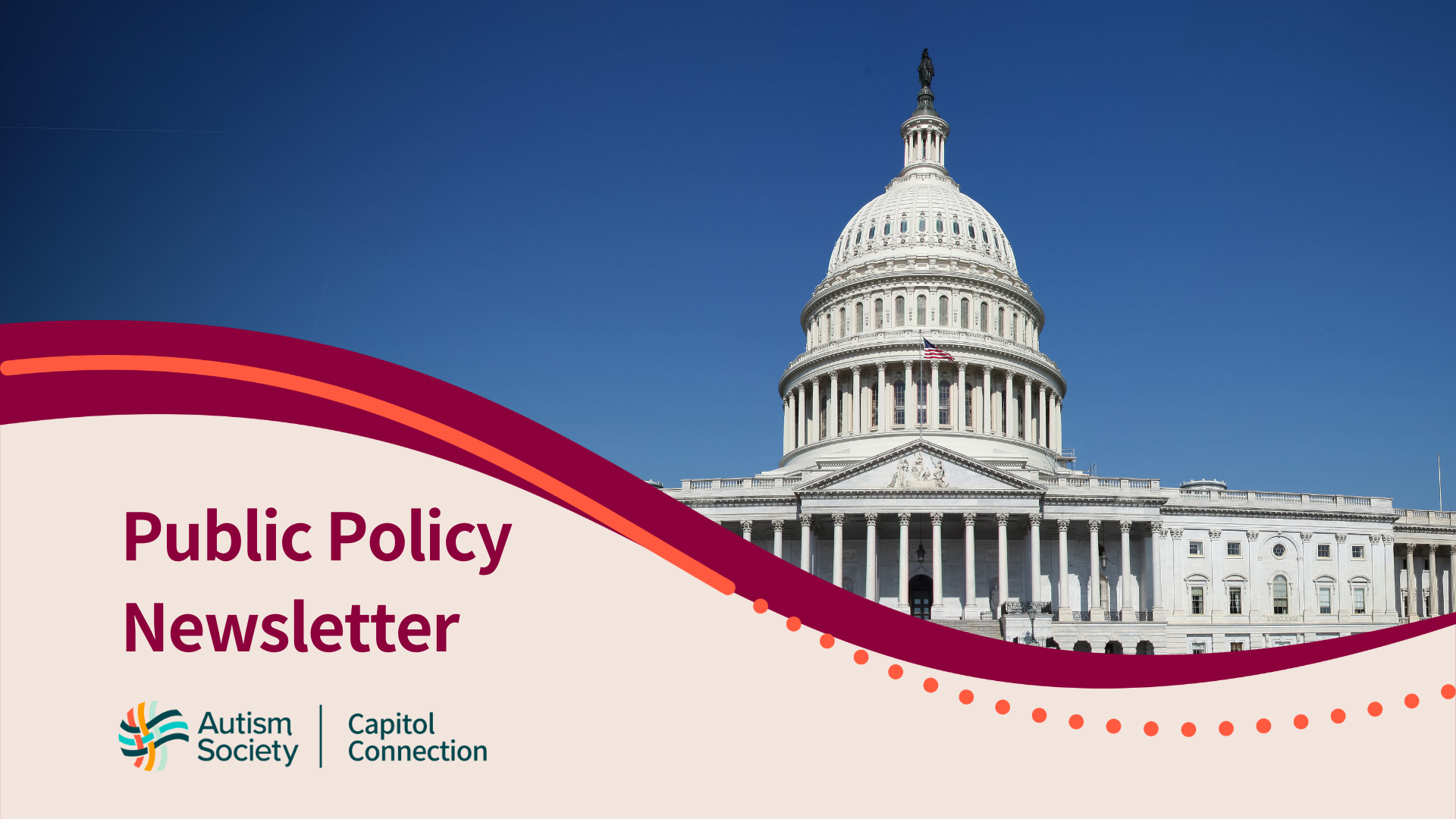 In this issue of Capitol Connection, you will find the Autism Society's recommendations for the Autism CARES Act, new legislation to match contributions to ABLE accounts, and important advocacy tools for helping families navigate the disenrollments for Medicaid and CHIP. The Senate has returned to the Capitol and the House will return next week. Please use the Autism Society's Action Center to educate your Members of Congress to support funding for Autism related programs. 
Legislative Update
Appropriations 
While the House is still in recess for another week, the Senate returns today to a full agenda. The top priority is to pass all 12 appropriations bills or a continuing resolution (CR) before the end of the month. The Senate Appropriations Committee passed all 12 bills necessary to fund the government but none have been approved by the full Senate. The full House passed only one bill before they recessed for the summer. The 12 appropriations bills or a CR must pass both the House and the Senate and be signed by the president before October 1 to avoid a government shutdown. Please continue to educate Members of Congress about the importance of adequately funding programs that support individuals with Autism.
Autism CARES Act Recommendations
The Autism Society sent a letter to key Members of Congress with suggested recommendations for the next reauthorization of the Autism CARES Act. The Autism CARES Act is the most comprehensive federal law addressing the urgent needs of the Autism community. Over its 17-year history, this law has resulted in a significant increase in our understanding of Autism and related neurodevelopmental disabilities. Due to a sunset provision, the law must be reauthorized by September 2024. The Autism Society urges Congress to act swiftly to reauthorize the law. 
ABLE MATCH Act
Senator Bob Casey (D-PA) alongside Senators Wyden (D-OR), Klobuchar (D-MN), Sanders (I-VT), and Duckworth (D-IL) introduced a new bill called the ABLE MATCH (Making Able a Tool to Combat Hardship) Act. This proposal would create a federal government dollar-for-dollar match for new and existing ABLE accounts for people who earn $28,000 dollars or less a year. Representative Debbie Dingell (D-MI) introduced a companion bill on the House side. To learn more about the bill, see Senator Casey's one-pager. 
Classification for Direct Support Workers
The Autism Society signed on to a letter of support for the Recognizing the Role of Direct Support Professionals Act (H.R. 2941 / S. 1332) which passed unanimously through the Senate Committee on Homeland Security & Governmental Affairs. The bill requires the Office of Management and Budget (OMB) to consider the creation of a standard occupational classification (SOC) for direct support professionals. The next step is for the full Senate to consider the bill and then the House for passage. Use our Action Alert to inform your members of Congress on how this bill would help improve wages and working conditions for direct support workers.
Emergency Response Letter
The Autism Society wrote a letter to key senators seeking support for the Human-Services Emergency Logistics Program (HELP) Act, (S. 1729), a bipartisan bill introduced by Senator Robert P. Casey (D-PA). The HELP Act aims to improve the efficiency and effectiveness of emergency response systems by diverting non-criminal, non-fire, and non-medical emergency calls from the 9-1-1 systems to the appropriate state and regional 2-1-1 and 9-8-8 systems. Furthermore, it will enhance the existing 2-1-1 and 9-8-8 referral systems by providing necessary funding and resources and creating a community-led oversight system that represents diverse voices including older adults, people with disabilities, communities of color, Tribal and Native Peoples, and LGBTQ+ individuals.
Administration Updates
Designating People with Disabilities as a Health Disparity Population 
The Autism Society led a letter from the Consortium for Constituents with Disabilities requesting the National Institutes of Health (NIH) to designate people with disabilities as a health disparity group. In 2018, the NIH convened a working group on diversity to research how the NIH could better support people with disabilities. One of the recommendations of the working group was to formally designate people with disabilities as a health disparity population, thereby increasing both the inclusion of people with disabilities in research studies and the representation of researchers with disabilities. The NIH has yet to take action on this recommendation. 
Medicaid Disenrollment Systems Letter
The Centers for Medicare and Medicaid Services (CMS) sent a letter to state Medicaid directors asking them to reevaluate their enrollment system as it relates to children. CMS has found that a disproportionate number of children have been improperly disenrolled as states have been evaluating eligibility for enrollment in Medicaid and CHIP as the COVID-19 Public Health Emergency has ended. CMS has found that as many state systems have been reviewing individuals' eligibility, the systems have faltered and considered inaccurate data. CMS reminds states that this is not in compliance with the renewal regulations and they can step in if need be.  On August 17, CMS provided a webinar to assist states and advocates in reaching out to those eligible. The webinar recording, slide deck, talking points, and other resources are on the CMS website.
Lawsuit over Medicaid Unwinding
The National Health Law Program and Florida Health Justice Project filed a lawsuit challenging Florida's unlawful termination of enrollees' Medicaid benefits without first providing adequate written notice. This is one of the first lawsuits brought up over the end of the Public Health Emergency and unwinding. To learn more about the lawsuit, read this 2-pager explaining the case.
New Proposed Rule for Long-Term Care Facilities 
The Biden administration announced on September 1st, a new proposed rule on staffing requirements and oversight of Medicare and Medicaid-certified long-term care facilities. The proposed rule requires facilities to have a Registered Nurse on site 24/7, 33 minutes of time with a Registered Nurse per day to each resident, and 2.45 hours a day from Nurse Aides to each resident. It also mandates an assessment facilities have to take to ensure they are meeting the minimum staffing requirements. Since there is already a significant shortage of nurses, the Administration also announced new funding in scholarships and reimbursement for workers interested in the nursing field. 
Voting
Next week, AAPD and its REV UP Campaign are hosting National Disability Voting Rights Week! AAPD will be hosting several events (both virtual and in-person), especially voter education and registration drives. AAPD will also be circulating other resources to bolster the disability vote. See the campaign toolkit for more information on how to get involved.
State Advocacy
The Autism Society of America and the Autism Society of Indiana showcased their advocacy work at the National Conference of State Legislatures Summit. This opportunity allowed us to meet with state legislators across the country to promote our affiliates and our state advocacy priorities. Over 500 individuals visited the booth to access resources on state advocacy and local support. As we enter state sessions in 2024, the Autism Society's policy team is preparing a toolkit with different model legislation.