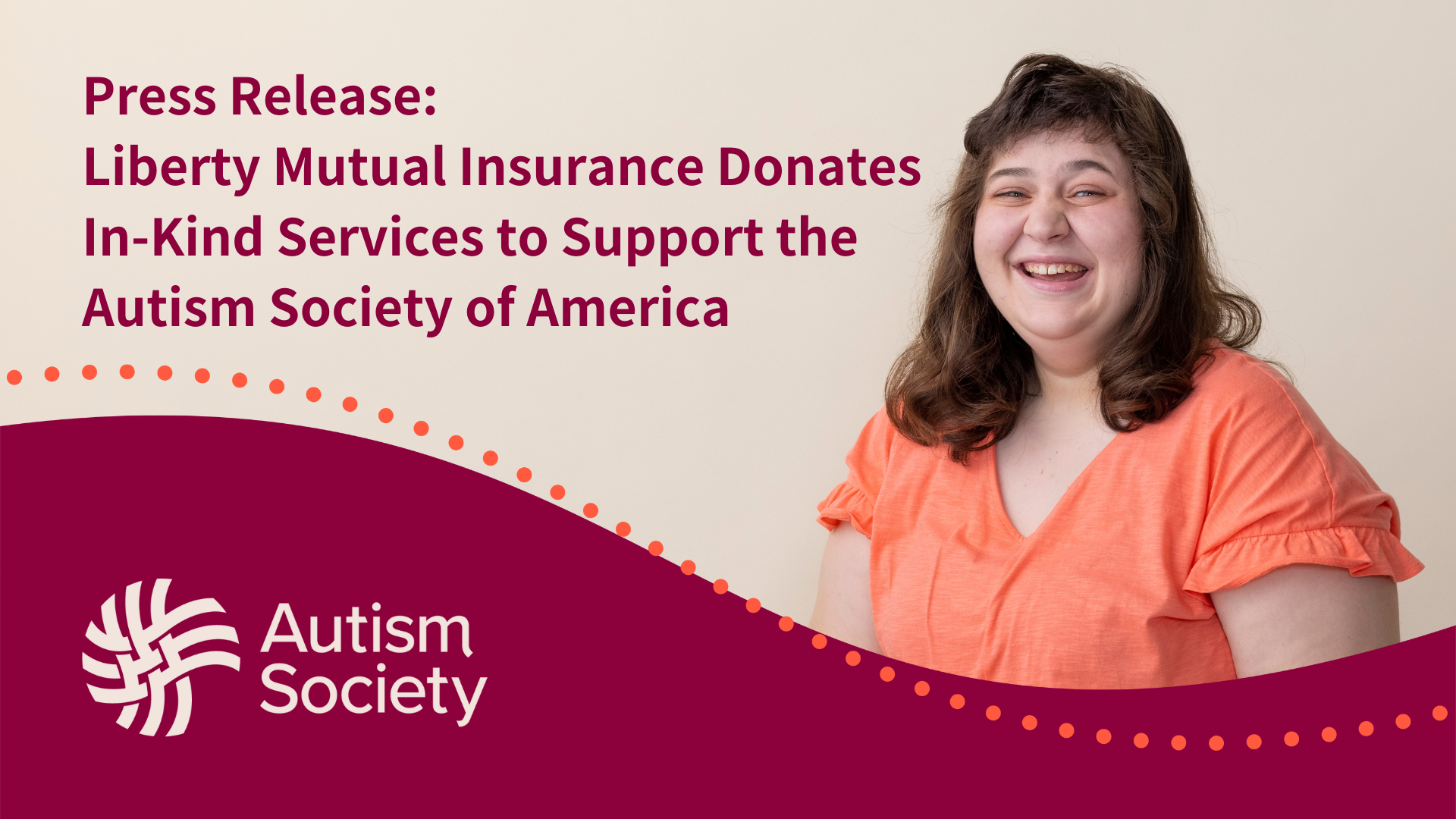 Rockville, MD – The Autism Society of America, the nation's oldest leading grassroots Autism organization, has successfully launched a comprehensive digital transformation project in partnership with volunteers from Liberty Mutual Insurance's technology team. The project aims to drive efficiencies in business operations and better leverage data for member engagement and collaboration.
With a strategic vision around streamlined data and an improved technical landscape, a group of Liberty Mutual employees came together to form a cross-functional team that created a roadmap aligned with the Autism Society of America's full suite of digital technologies. Using their diverse technical skillset, over a five-month period, the working team assessed the organization's technical environment and created an architectural blueprint for future-state. The goal was to create a systems recommendation that encompasses all anticipated functionality for their national office and affiliates that utilize their systems. This represents a three-year implementation plan, keeping cost efficiency in mind.
"There are opportunities that only digital solutions can solve, and with a technology organization of over 4,000 people, our employees wanted to find a way to lend their experience and talent in the community. We're grateful for the opportunity to partner with the Autism Society of America to ensure that their technology supports a fully inclusive experience, enhancing access to information, driving connections, and better serving the Autism community." – Michael Willock, CTO Investments, CIO Corporate Functions, Liberty Mutual Insurance
Up to 85% of autistic adults with a college education are unemployed, and over 70% of adults with Autism are underemployed or unemployed according to Chapman University Digital Commons. One of the Autism Society of America's priorities is to advocate for more inclusive and adaptive working conditions to facilitate greater access to employment opportunities for people on the spectrum.
As an employer, Liberty Mutual is committed to creating a diverse, equitable and inclusive workplace for all employees. This includes an employee resource group (ERG) called Able@Liberty + Allies, which fosters community, conversation, education and support for employees with disabilities, caregivers and family members. As with Liberty's other six ERGs, Able brings employees together while fostering an inclusive culture, enhancing personal development and supporting broader business objectives.
"The Autism Society of America looks to partner with organizations that share our commitment to diversity, equity and inclusion," said Christopher Banks, President and CEO of the Autism Society of America. "We are deeply grateful to Liberty Mutual, and their volunteers, who worked tirelessly to help transform the Autism Society's digital technologies. We're excited to be embarking on this multi-year journey together."
This digital transformation is critical to the Autism Society of America to ensure that the organization's technology supports a fully inclusive experience for all those in the Autism community. This work will enhance access to information, drive connections, and better serve those with Autism and their support networks. As COVID has proven, having robust and high-functioning digital tools is more important than ever for organizations to do their best work.
About Autism Society of America
The Autism Society is the nation's oldest leading grassroots Autism organization and exists to create connections, empowering everyone in the Autism community with the resources needed to live fully. Annually, the Autism Society and its 70+ local affiliates serve over half a million individuals in the Autism community through education, advocacy, information and referral services, support, and providing community programming at the national, state, and local levels. For more information, go to www.AutismSociety.org, Facebook, Instagram, or Twitter.
About Liberty Mutual Insurance 
At Liberty Mutual, we believe progress happens when people feel secure. By providing protection for the unexpected and delivering it with care, we help people embrace today and confidently pursue tomorrow.
In business since 1912, and headquartered in Boston, today we are the sixth largest global property and casualty insurer based on 2020 gross written premium. We also rank 71st on the Fortune 100 list of largest corporations in the U.S. based on 2020 revenue. As of December 31, 2020, we had $43.8 billion in annual consolidated revenue.
We employ over 45,000 people in 29 countries and economies around the world. We offer a wide range of insurance products and services, including personal automobiles, homeowners, specialty lines, reinsurance, commercial multiple-peril, workers' compensation, commercial automobile, general liability, surety, and commercial property.
For more information, visit www.libertymutualinsurance.com. 
Contact
Alyson Marchi-Young
AlysonMY@strategies360.com
503.734.6407