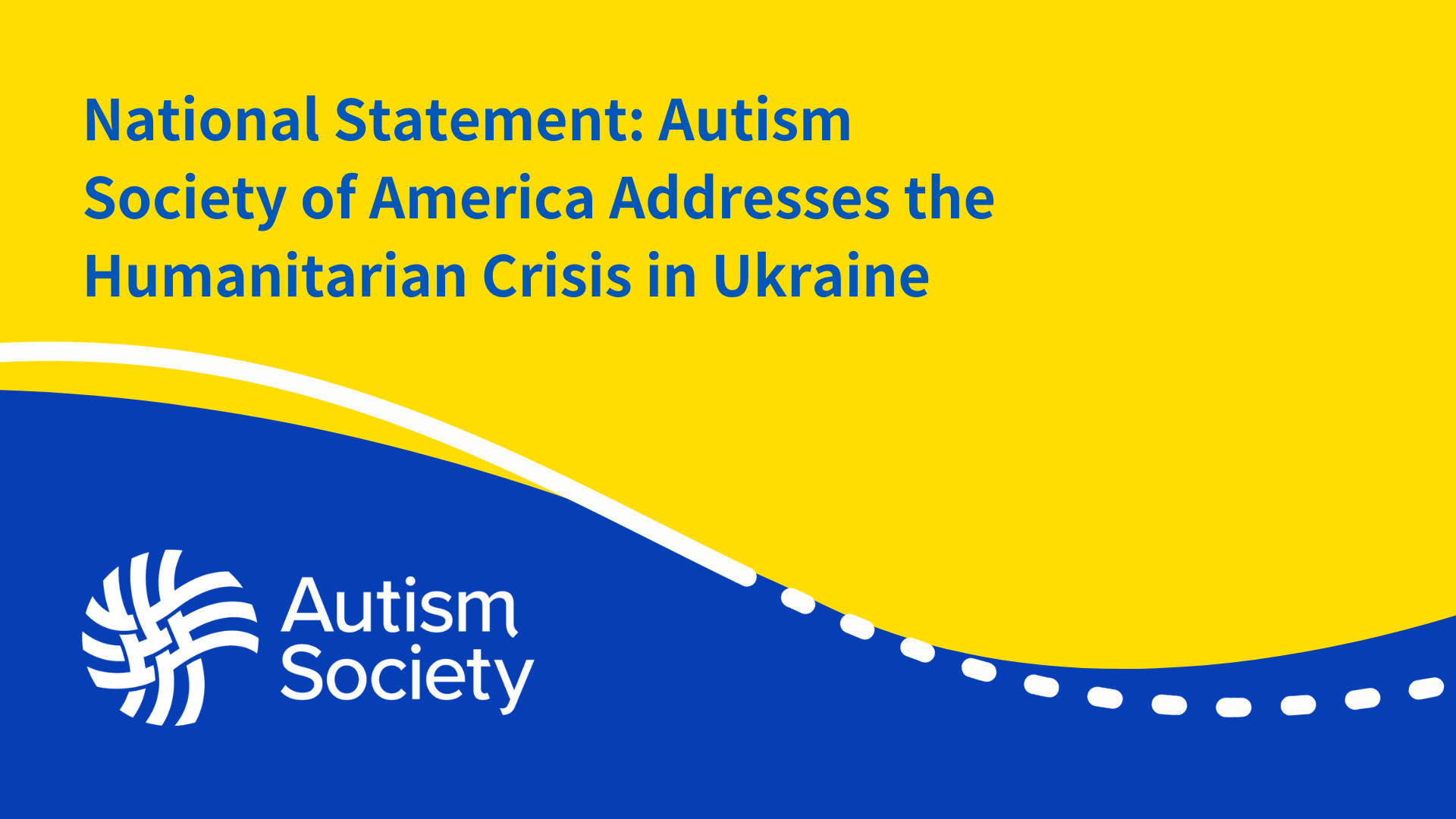 Rockville, MD, March 14, 2022 – The Autism Society of America stands in support of the people of Ukraine who are involved in a humanitarian crisis following the Russian invasion and ongoing war. The Autism Society is working to provide resources for the Autism community to explain the situation, address emotional concerns and anxiety, and provide guidance and support to Ukrainian Autism families seeking refuge in the United States.
While the Autism Society of America does not operate on an international scale, we advocate for the health, well-being, and support of the global Autism community. We must all work together to address the human rights of Ukrainians with disabilities during this urgent humanitarian crisis.
"As the war continues, Ukrainians with Autism and other disabilities are disproportionately vulnerable to harm. These individuals are often left behind in the planning and evacuation efforts and are typically unable to access emergency communications, medical aid, and humanitarian aid," states Christopher Banks, President and CEO. 
The Autism Society is concerned about the barriers faced by disability organizations in Ukraine, as they do their best to offer emergency relief to the 100,000+ individuals living in homes, group homes, orphanages, psychiatric facilities, and institutions across the country. They will need additional help to evacuate or find safe shelters, while providing personal assistance, access to medications, communications devices, and special attention to anxiety and mental health needs. Individuals may need assistance with passports and other documentation, accessible transportation, and supports once they arrive in a welcoming country as a refugee.
The Autism Society signed on to a letter drafted by the Consortium for Citizens with Disabilities (CCD) International Task Force requesting urgent federal funding for organizations for persons with disabilities in Ukraine, as well as neighboring countries receiving refugees in the emergency aid package recently passed in Congress.
The Autism Society urges not only the Federal government, but also businesses, and individuals to support disability-led organizations, civil society organizations, and non-governmental organizations with expertise in disability rights to protect people with disabilities in Ukraine and neighboring countries. Funds should be used to make sure people with disabilities are fully included in international relief efforts. These organizations will need help to ensure children and adults with disabilities are identified, prevented from abandonment, given opportunities for family protection, reunification, and placement, and included in evacuation and refugee assistance where necessary.
At home, the Autism Society will continue to develop resources to support the Autism community in this volatile, quickly-developing situation.
Banks states, "This tragic and unprovoked war is affecting all of us in different ways. We must work to provide mental health support to help the Autism community process this crisis and its deplorable impact on innocent lives."
Our trained Information and Referral specialists are available through our National Helpline to provide resources and support at 800-3-AUTISM, or info@autism-society.org.
The Autism Society will be releasing resources throughout the website in the coming weeks at www.AutismSociety.org.
For more information on how you can help the Autism community in Ukraine please visit Autism Europe.