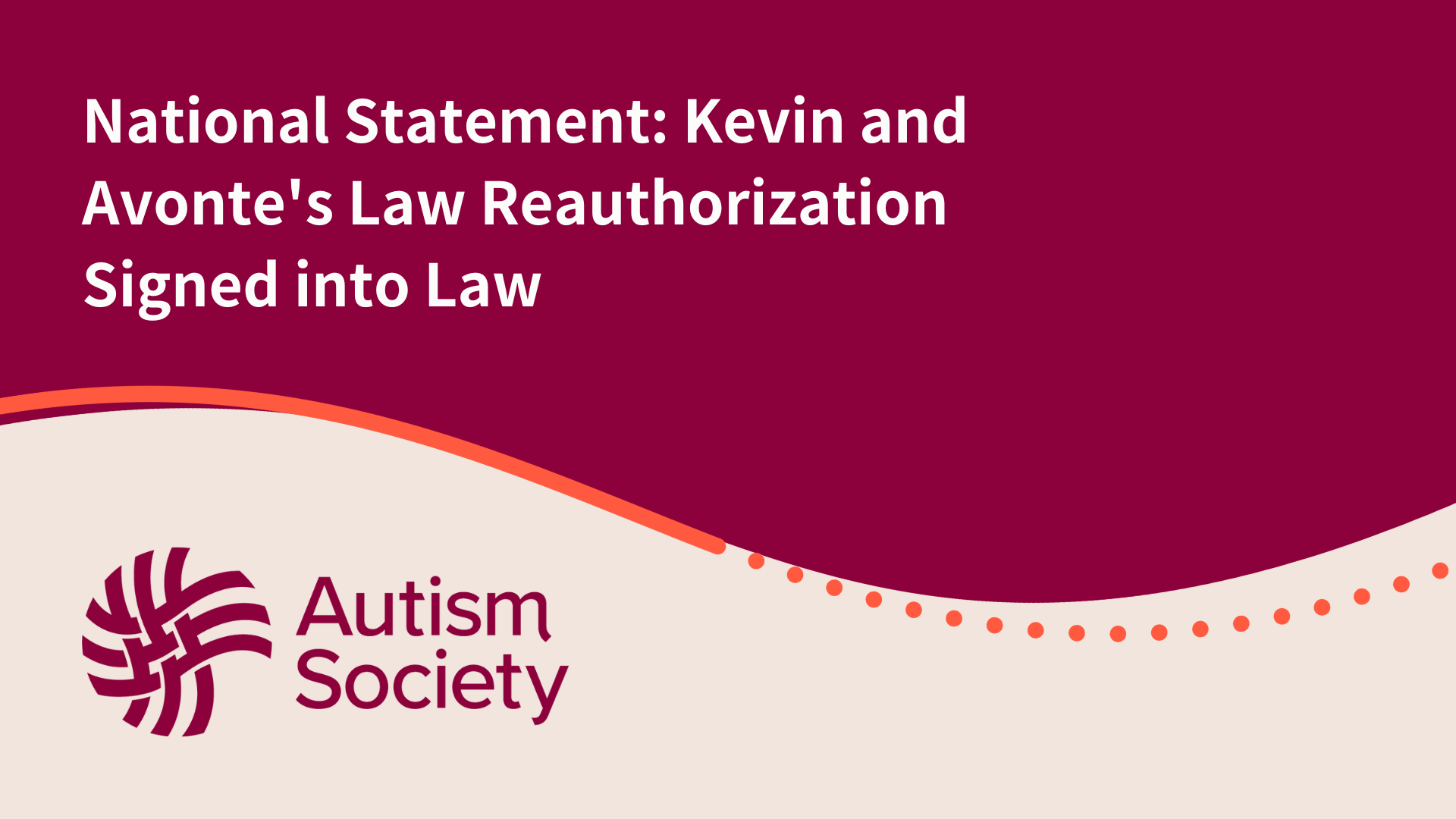 Rockville, MD, December 23, 2022 – The Autism Society of America applauds the passage of a bipartisan bill to reauthorize Kevin and Avonte's Law (S. 4885/H.R. 8907). This bill was included in a bill to reauthorize the National Defense Authorization Act. The Autism Society has advocated for this bill since it was first introduced in 2014 and enacted in 2018. 
The law honors the memory of Kevin Willis and Avonte Oquendo, two boys with Autism who drowned after wandering from a supervised setting. The Centers for Disease Control and Prevention (CDC) identified one in forty-four children as having Autism spectrum disorder (ASD), and up to one-half of these children may wander away from a supervised setting. 
Specifically, the law reauthorizes the Missing Alzheimer's Disease Patient Alert Program and promotes initiatives intended to reduce the risk of injury or death relating to the wandering or elopement of children and adults with Autism, other developmental disabilities, or dementia. 
This law has resulted in increased training of first responders and helped reduce the number of injuries and deaths of people with Autism due to wandering. This training is extremely important and must continue and be increased. It is estimated that 48% of children with Autism elope, contributing to an increased risk of injury or death for Autistic individuals, at twice the rate of the general population. According to the American Journal of Public Health, drowning accounts for 46% of all injury deaths among children with Autism. 
The Autism Society is committed to increasing education and training across the Autism community in order to decrease the tragic loss of life caused by wandering-related accidents. 
The Autism Society thanks the lead sponsors of the bills in this Congress – Senators Chuck Schumer (D-NY), Charles Grassley (R-IA) and Amy Klobuchar (D-MN), and Thomas Tillis (R-NC) and Representatives Maxine Waters (D-CA), Chris Smith (D-NJ), and Mike Doyle (D-PA). The bill is on its way to the President's desk, where it is expected to be signed.
###