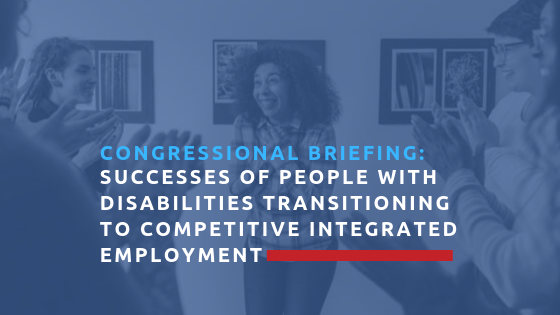 Join the Collaboration to Promote Self-Determination and the National Council on Disability to celebrate National Disability Employment Awareness Month with a Congressional Briefing on "Successes of People with Disabilities Transitioning to Competitive Integrated Employment."
We applaud the efforts of CPSD, the National Council on Disability, and Autism Society's Vice President of Public Policy, Kim Musheno, for developing this important briefing.
EVENT DETAILS
MONDAY, OCTOBER 28, 2019, 10:00 A.M. – 11:30 A.M.
Rayburn House Office Building, Room 2261
Learn more about competitive integrated employment (CIE), community jobs where people with disabilities work alongside co-workers without disabilities and are paid competitive wages. Hear success stories about transitioning to CIE from people with disabilities and their families and about states efforts to expand opportunities for CIE. Learn more about CIE at www.integratedemploymentnow.org.
This briefing is presented in collaboration with the House Bipartisan Disabilities Caucus and its co-chairs Rep. Jim Langevin (D-RI) and Rep. Don Young (R-AK), Senator Pat Roberts (R-KS), Senator Bob Casey (D- PA), Senator Jerry Moran (R-KS), Senator Maggie Hassan (D-NH) and Representative Cathy McMorris Rodgers (R-WA).
RSVP and requests for accommodations https://bit.ly/2LbiRXI or email thecpsd@gmail.com.
With generous support from the Autism Society of America and Anthem.