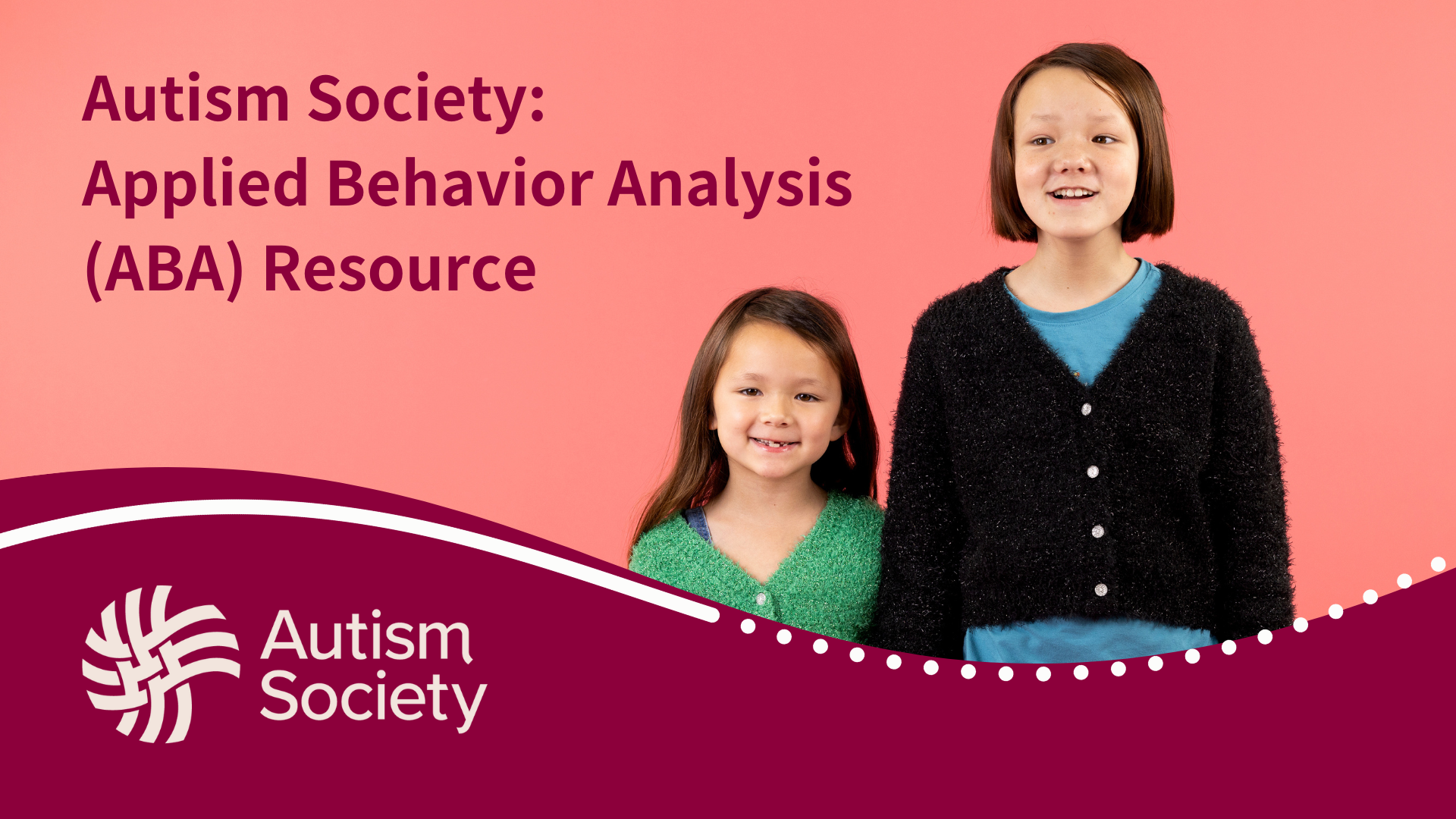 The Autism Society of America has released an Applied Behavior Analysis (ABA) resource. This resource provides unbiased information that families and caregivers can trust, to better understand their options when making decisions about whether ABA is right for them. The Autism Society spent over 18 months working with a diverse group of Autistic individuals, family members and caregivers, and professionals. This group carefully studied ABA from different perspectives to develop this valuable resource. 
Applied Behavior Analysis (ABA) is a common and widely available therapy for individuals with Autism. In the time that ABA has been practiced, those with direct experiences have had vastly different experiences and outcomes due to a variety of factors.
The goal of our resource is to provide an understanding of ABA, its history, purpose, and give insight into diverse perspectives and individual experiences on what leads to positive or negative outcomes. We developed this resource to support individuals and families with the knowledge needed to advocate for the highest quality of care across Autism services and supports, whatever that may be.
Making Informed Decisions
To the maximum extent possible, the Autism Society believes informed decisions should be made by the individual with Autism and their caregivers in partnership with a multidisciplinary team. No single service or intervention is likely to meet the needs of every individual with Autism. Selection of a program, service, or intervention method should be based on a comprehensive assessment of the person's abilities and interests. We believe services should be outcome-based to ensure they meet the individualized needs of the person with Autism. 
The Autism Society's position on any therapeutic practice is that it should promote self-determination, enhance inclusive community involvement, and result in improved quality of life. 
As each person responds to treatment differently, we do not endorse any one treatment or program. Individuals and families should educate themselves about all options and choose what they feel is in their best interests based on their experience and what resources are available. 
The Autism Society aims to support making informed decisions by offering comprehensive, in-depth, and balanced information on treatments and interventions, including ABA. 
The Autism Society has firmly, clearly, and consistently advocated for a range of services to be made widely available and accessible for Autistic individuals and their specific needs. While ABA is one therapeutic practice, there is no one-size-fits-all approach. Therefore, the Autism Society will continue its advocacy work at state and federal levels to expand service options for those with Autism throughout their lifetime. The Autism Society strives to protect the inalienable human and civil rights of people with Autism to live fully, without the risk of harm. 
Our advocacy efforts actively promote abolishing the use of aversive processes, stigmatization, abuse, and neglect by supporting protective policies and legislation. 
We acknowledge that we are in this community together, but our experiences are vastly different. What connects us is that at our core, we want the same thing – a world where everyone in the Autism community is connected to the support they need, when they need it. 
Resources
Sharing this resource is important to ensure that people in the Autism community can access unbiased information to make decisions. 
Learn more about our ABA Commission and our development process by reading through the ABA Resource and supplemental ABA FAQ document. Our ABA Resource is offered in original language, plain language, and easy-read options. Our ABA FAQ guide highlights specific topics within our ABA Resource, in a condensed format.
Additional information and resources referenced above include: