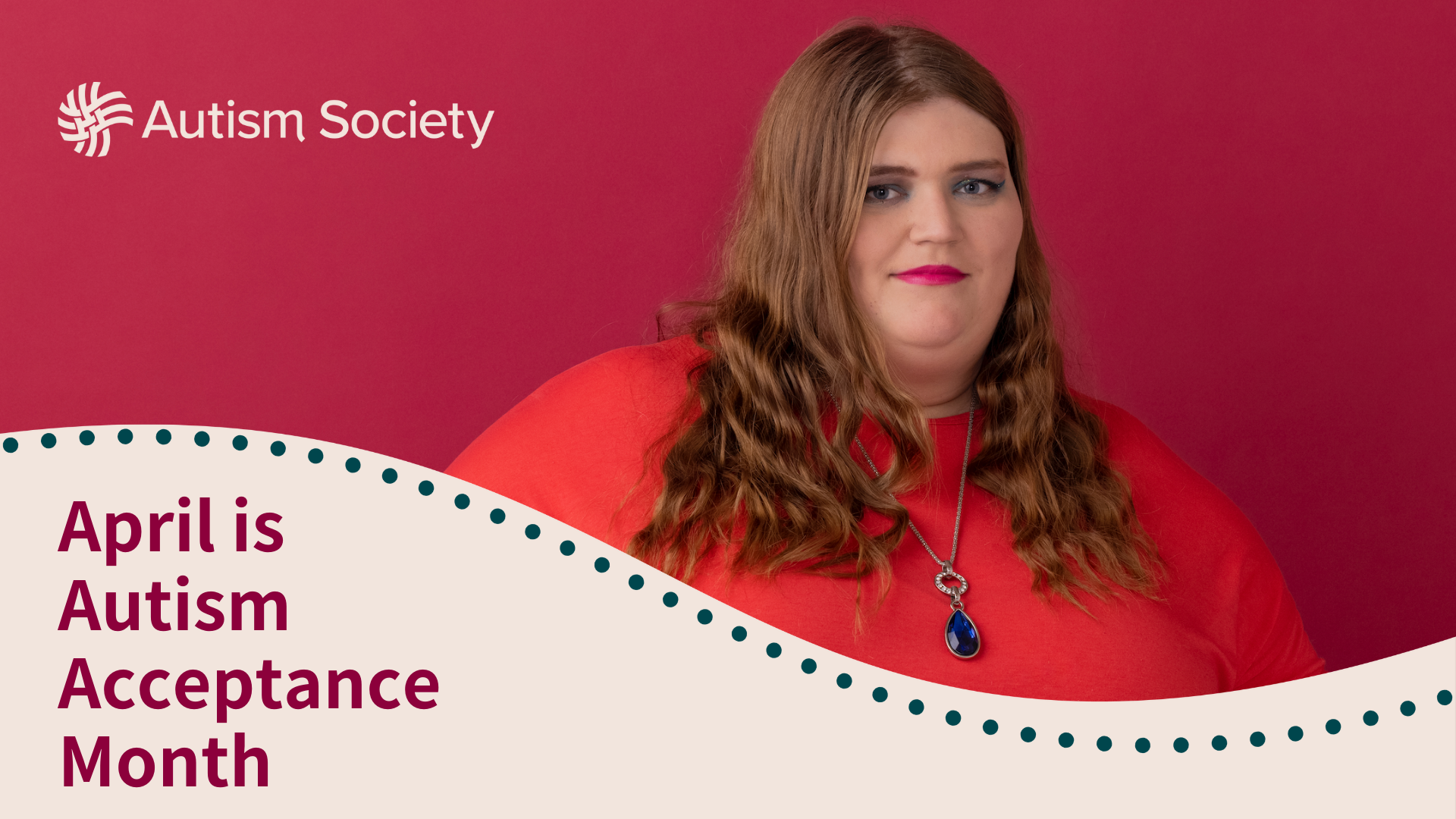 Autism Acceptance Month kicks off on April 1st and the Autism Society of America invites you to #CelebrateDifferences with us to recognize the multitude of experiences within the Autism community. 
Throughout April, the Autism Society invites Autistic individuals, their families and friends to honor their wide range of experiences by taking time to share stories on social media through the #CelebrateDifferences hashtag. No family or individual's story is the same as any other, and the Autism Society believes the world should recognize the infinite ways the Autism community experiences life.
In sharing our unique stories, we are able to highlight the need for acceptance, inclusion and connections that support people on the Autism spectrum throughout life's journey. 
We believe that acceptance is creating a world where everyone in the Autism community is connected to the support they need, when they need it. And by everyone, we mean every unique individual: the implacable, inimitable, and irreplaceable you.
From Autistic individuals who require robust 24/7 lifetime support services and their caregivers, to Autistic individuals living fully independent lives, acceptance, inclusion and connection are critical to ensuring everyone in the Autism community can access what they need to live to their fullest.
These values can be put into practice in a number of ways. This past year, the Autism Society proudly reimagined our brand to create the inclusive and accepting space that reflected our core values. As part of this, we proudly hosted a family photo shoot for our new brand. We worked to ensure every detail of the shoot supported the needs of our participating families. Through a collaborative process with our affiliate, Autism Society of Inland Empire, the photographers at Thompson & Homonnay, and the on-site team, we were able to create a space that was welcoming, inclusive and accepting of every person who walked in to be a part of this shoot. With COVID-19, we had to be extra careful to ensure the physical health and safety of every person involved as well. 
What happened was beautiful. 
Because we were able to create a space that accommodated the needs of the participating Autistic individuals and their families, they were able to experience the joy of being together to do something special.
"I was nervous at first, but the entire crew made me feel comfortable. My big brother and me had a blast during the photo shoot. We didn't want the shoot to end!" – Chris Cardenas, An Amazing Person with Autism 

"It was such a FUN experience for my brother and me! The set and crew were very professional and sensitive to my brother's concerns and questions. We felt like movie stars and will always treasure this memorable experience together. I was honored to be there with my AWESOME brother!" – Andres Cardenas, My Incredible Bother has Autism

"My grandson and I enjoyed the experience-as soon as I was able to give him a tickle! His smile is awesome! You can see the love we share – I'm so proud of him. Both the photo staff and I broke out in tears looking at the pictures." – Liz Estes

"The Autism Society photoshoot session will always be in my heart. My son and I had a great time and the team was amazing! Thank you for that wonderful experience." – Zy, an Autistic individual and their mother, Rosa.
Since reintroducing ourselves to America, the Autism Society has seen what inclusive brands can do. Calls to our National Helpline increased over 270% since the reintroduction! That tells us something very important – there are more people looking for connections, information and support, and trust the Autism Society to accept them for who they are and what they need.  
At the Autism Society of America everyday is Autism Acceptance Day. Our work is dedicated to all those in the Autism community with the supports, services, resources, advocacy and connections that empower people to live to their fullest.  
This April, we'll be sharing stories, information and resources that can help everyone discover how they can be the connection. Join the Autism Society during Autism Acceptance Month to #CelebrateDifferences. Together, we can create the connections that empower everyone in the Autism community with the resources needed to live fully. 
Download our Autism Acceptance Month Social Media Guide Here.
Support the Autism Society with a gift today.
Read our Autism Acceptance Month Press Release Here.