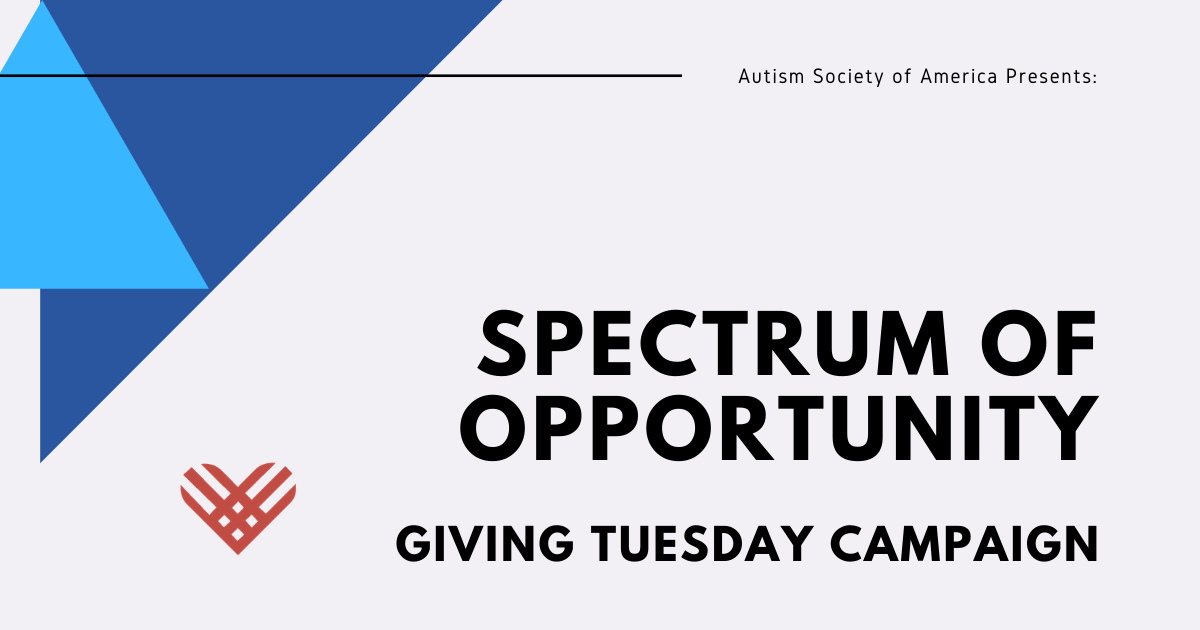 Every day members of Autism Society and our affiliates work to measurably improve the quality of life for individuals and families affected by autism. We aim to provide opportunities for persons and families with autism to thrive through our mission to promote advocacy, education, information & referral, supports, and community.
In 2018, the Autism Society network directly supported over 620,000 people; we've created more job opportunities through neuro-diverse hiring programs, advocated for the passage of laws benefiting our community's rights, provided education and training to create a more inclusive society, and cared for the general wellbeing of our community with hopes for a better tomorrow.
Our Impact + The #SpectrumOfOpportunity Goal
The #SpectrumOfOpportunity social media campaign is designed for you to share your story, and assist in our efforts to create an even bigger, better, and stronger #SpectrumOfOpportunity for our community. Created as a part of the wider Giving Tuesday movement, the#SpectrumOfOpportunity is about bringing communities together to listen, educate, advocate, and grow.
For this year's Giving Tuesday, our goal is to raise $15,000 to better support our affiliate network with more resources and better tools to create opportunities for individuals with autism to live quality, meaningful, and happy lives within their communities.
How to Participate
To participate in supporting Autism Society and raising funds to create a wider #SpectrumOfOpportunity, we ask that you share your story for #GivingTuesday by answering a simple question: "How can we make the world a better place and provide a #SpectrumOfOpportunity?"
To do this, we ask that you follow four simple steps:
Print out the #SpectrumOfOpportunity sign. We recommend doing so on a full "8 1/2 x 11" sheet

Tell us who you advocate for – yourself, brother/sister, daughter/son, friend, or anyone else you can think of!

Snap A Pic

Share your story on social media using the hashtags, #SpectrumOfOpportunity & #GivingTuesdayASA!
Get Involved
On December 3rd, Autism Society will be hosting a live Facebook fundraiser, complete with milestone challenges to celebrate our progress on Giving Tuesday. To donate to the Spectrum of Opportunity Campaign before the Giving Tuesday official date, visit the Spectrum of Opportunity website, our Giving Tuesday donation form, or mail a check to our national office with a pay order or memo line indicating your funds are designated to #GivingTuesdayASA. Our office address is as follows:
Autism Society of America
4340 East-West Hwy, Suite 350
Bethesda, Maryland 20814
If you would like to support the Autism Society of America by creating your own fundraising campaign for Giving Tuesday, you can learn more about Facebook fundraisers and how to create them for a non-profit cause here.