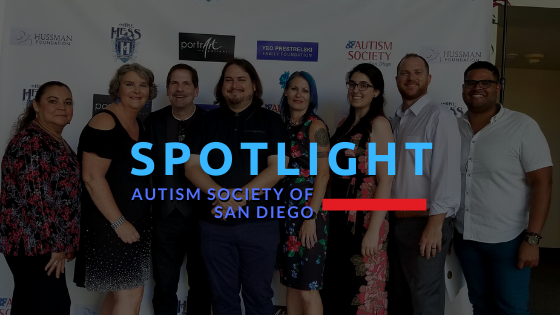 The Hussman Foundation Grant Winner: Autism Society of San Diego
As the year comes to an end, we are dedicated to highlighting the massive impact that the Autism Society network has had across the United States. Annually, our organization directly supports over 620,000 individuals and families affected by autism. This  number includes 225,000 phone calls, emails, and support inquiries, 157,000 attendees at Autism Society events, plus over 40,000 individuals who raised their voices at Support Groups across the country.
Each year, the Hussman Foundation offers a $100,000 grant to be distributed throughout our affiliate network through initiatives each market is looking to grow or start. This month, we are proud to showcase four affiliates and the results of their successful programs from the past year.
Spotlight: Lights! Camera! Autism!
The Autism Society of San Diego used the Hussman Foundation to comtinue "Lights! Camera! Autism!" event for the 3rd year, held on September 21, 2019. The event featured nineteen local, autistic artists in an art exhibition, one autistic, classical pianist and three films featuring individuals with autism. The short film, Ascent, was made be 6 local high school students about their classmate with autism, Joshua, who has become an expert rock climber.  Also included, was a group  called Exceptional Minds, and they shared their successful training program for autistic adults, showing film clips of their studio work, including Black Panther and Green Book. The evening included appetizers and beverages and was open to the community.
The Hussman Foundation grant enabled the Autism Society of San Diego to invite autistic artists to participate free of charge, and to sell their work without having to share a percentage of on-site sales as part of a fee. This was a tremendously positive impact on the event as it encouraged more artists to participate, and feel empowered to share and sell their work. Some artists
received commissioned work requests from attendees, and hopefully established long-lasting customers. Lastly, the Hussman Grant enabled Autism San Diego to provide honorariums for the artists, which was important to show each one how much their work and participation is appreciated.
With over 200 attendees, this was the most attended "Lights! Camera! Action!" event since it started; the community was able to connect with each other, watch films about autism, and support autistic individuals and their artistic talents. To learn more, and stay in the know for future events, visit the Autism Society of San Diego's website.
---