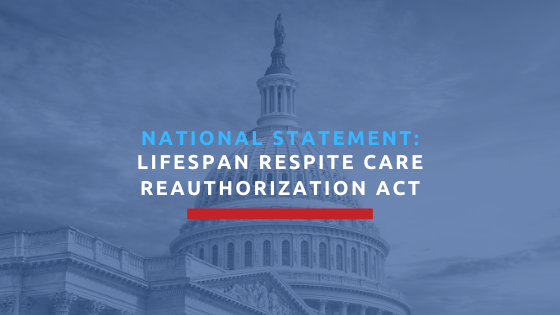 February 25, 2020,  Rockville, MD — On February 24, 2020, the Senate unanimously passed the Lifespan Respite Care Reauthorization Act of 2019.  This legislation championed by U.S. Senators Susan Collins (R-ME) and Tammy Baldwin (D-WI) reauthorizes and strengthens a law that provides competitive grants to states to develop or improve programs that support families caring for people with disabilities across the lifespan. The Senate-passed bill will have to be reconciled with the House-passed bill or go directly to the House floor for final passage.
"Many of our families tell us how challenging caregiving can be on a day-to-day basis," said Christopher Banks, President and CEO of the Autism Society of America. "The Autism Society thanks Senators Collins and Baldwin for their leadership on this bipartisan bill to reauthorize this law that will provide essential support to those caring for family members with autism every day."
Approximately seventy-five percent of people with autism are living at home with their families. Families identify respite care as the most needed support service. These short breaks allow caregivers a chance to go to the doctor, tend to other appointments, or simply spend time with a friend or spouse.
There are approximately 41 million family caregivers in the United States that provide an estimated $470 billion in uncompensated care each year (AARP, November 2019). While we are pleased that the bill authorizes $10 million nationwide, we hope that congressional appropriators will consider providing much more to meet the needs of these families across the country.
"We also want to acknowledge and express our deep gratitude to Rep. James Langevin (D-RI) for his leadership in the House since 2003, when he first introduced the Lifespan Respite Care Act," added Banks.  
Rep. Langevin continues to lead the effort with subsequent reauthorization bills in every Congress since 2011. "We look forward to Congress completing work on this bill so that it can be signed into law," concluded Banks. 
The Autism Society of America is the nation's largest and oldest program supporting people with autism and their families. Learn more on the organization's website. 
###