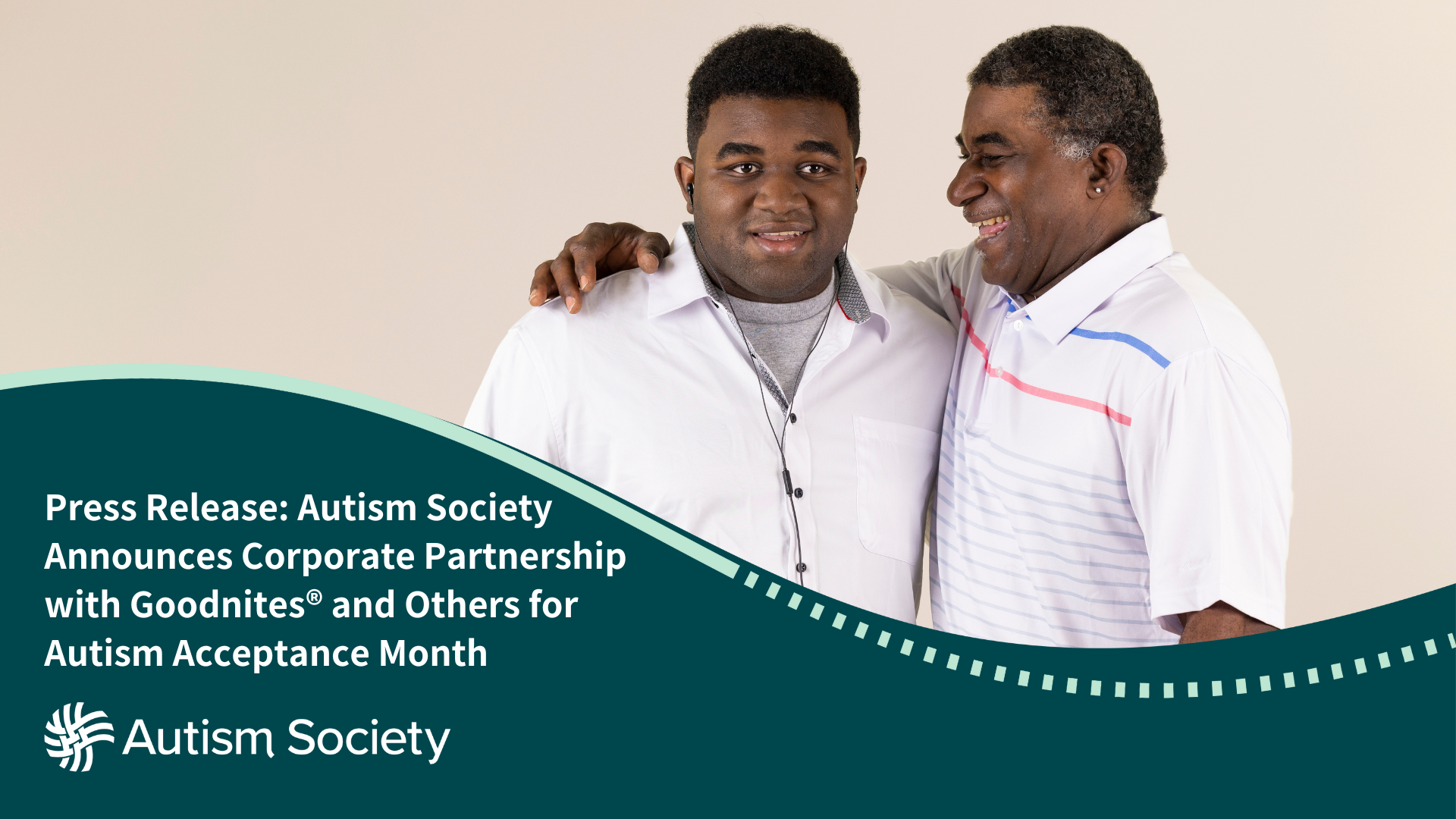 With a $150,000 commitment, Goodnites is the Autism Society of America's newest partner, joining Nickelodeon, Pura Vida, and others in a growing corporate movement to put acceptance into action for the Autism community.
Rockville, MD – This April, the Autism Society of America is highlighting partners who are demonstrating acceptance in action for Autism Acceptance Month. The organization's newest partnership is with Goodnites, the #1 bedwetting underwear brand*. Goodnites is donating $150,000 to the Autism Society of America to support education and community efforts to empower the Autism community.
According to a study conducted by Goodnites**, 1 in 10 children who struggle with bedwetting has a disability – including Autism and/or ADHD. As a size-inclusive bedwetting underwear, Goodnites provides a solution to the long-term needs of many children and adolescents in the neurodivergent community, empowering them to wake up dry. This Autism Acceptance Month, the Autism Society and Goodnites are working together to raise awareness for the needs of families and individuals who struggle with nocturnal enuresis, commonly known as bedwetting, while destigmatizing this common challenge.
"Goodnites is dedicated to supporting under-represented families of children with Autism and ADHD who are in need of a longer-term bedwetting solution," said Aaron Gretebeck, Kimberly-Clark's North American Vice President of Goodnites. "Our partnership with the Autism Society allows us to support the Autism community by providing tangible solutions through educational resources, destigmatizing bedwetting, and giving parents and children the comfort that they are not alone."
Corporations have increasingly acknowledged that they have critical roles to play in creating a more accepting and inclusive culture for individuals with Autism, among other developmental disabilities and physical differences. The Autism Society of America has many partnerships with companies looking to support the wider community with tools, resources, and products that serve Autistic individuals and their loved ones, as well as enhance their internal employment and cultural practices. 
For employers, acceptance is an invaluable practice for the 5.8 million Autistic adults in the United States. At more than 70%, the underemployment and unemployment rate for Autistic individuals remains unacceptably high. The Autism Society believes that with appropriate support, and matching an individual's strengths and abilities, employment is attainable for the majority of Autistic individuals who want to work.
Recently, the Autism Society received a $250,000 grant from the Make Waves Family Foundation to prioritize its employment initiative. This strategic initiative aims to expand employment opportunities and outcomes for Autistic individuals while addressing systemic barriers to employment.
Additionally, the Autism Society of America formalized a partnership with Mentra, a neurodiversity employment network that matches neurodivergent professionals with meaningful careers; together, the collaboration will seek to more effectively match Autistic job-seekers with job opportunities, improve career outcomes, and assist the Autism Society organizationally as it expands its own team.
"Through our partnerships, the Autism Society of America recognizes the individual needs and experiences of the Autism community from childhood, through the school years, to meaningful employment, and throughout the lifespan," said Christopher Banks, President and CEO of the Autism Society of America. "We are honored to partner with these corporate leaders and foundations to advance opportunities for the Autism community to live fully.
Other highlighted partnerships include:
Collaboration with Nickelodeon 
The ongoing collaboration between Nickelodeon and the Autism Society includes education, content creation, and learning resources for Autistic children. This partnership continues to produce meaningful content like its Autism Acceptance Month guide, back-to-school resource pack, and Autism storylines in Nick media. 
Using its platform to connect with families, Nickelodeon will help amplify critical information for those looking for resources and support. Nickelodeon also continues to develop DIY sensory activities for children and families. It will be celebrating Autism Acceptance Month on social media and will be connecting with neurodivergent talent to highlight their stories throughout the month of April. 
"Nickelodeon is committed to serving all learners as a family and kid-first company," said Jean Margaret Smith, Senior Vice President, Public Affairs, Nickelodeon. "Our partnership with the Autism Society helps us promote inclusion and acceptance that empowers kids in the Autism community." 
Pura Vida
This April, long-time partner, Pura Vida is releasing two new Autism Acceptance jewelry styles, with 5% of every purchase benefitting the Autism Society of America. Additionally, Pura Vida will be using social media, in-store activations, and event support with local affiliates to amplify the message of Autism Acceptance while directing the public to tools and resources for more information. 
"We are committed to creating products and partnerships that inspire positivity and give back," said Mikala Andrea, who oversees Charity Partnerships at Pura Vida. "Pura Vida is proud to continue and expand our relationship with the Autism Society of America to encourage acceptance every day."
About Autism Society of America
The Autism Society's mission is to create connections, empowering everyone in the Autism community with the resources needed to live fully. As the nation's oldest leading grassroots Autism organization, the Autism Society and its approximately 70+ local affiliates serve over half a million members of the Autism community each year. It envisions a world where everyone in the Autism community is connected to the support they need when they need it – including education, advocacy efforts, and supports and services throughout the lifespan. During Autism Acceptance Month, the Autism Society has a goal to fundraise $350,000 to expand acceptance in practice for the Autism community. For more information, go to www.AutismSociety.org, Facebook, Instagram, or Twitter.   
Contact:
Nathan Wilson
NathanW@strategies360.com
Footnotes:
*Youth Pant Category Share Data
** Goodnites Bedwetting Diary Study, Burke®, Inc. 2021