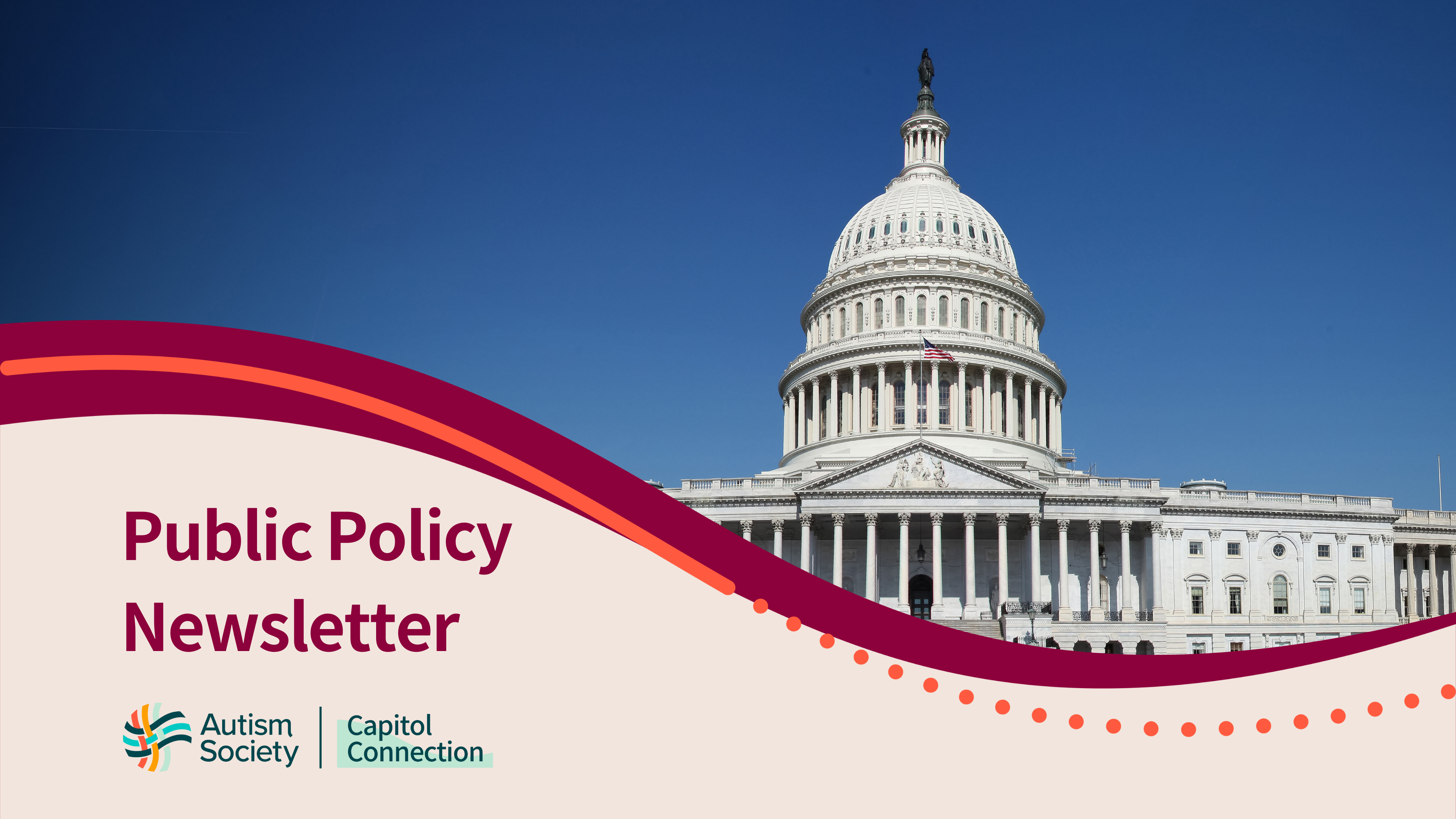 In this issue of Capitol Connection, find registration information for the Disability Policy Seminar and Community Connections. Updates regarding appropriations and the State of the Union are also included. Please continue to use Autism Society's Action Center to educate Congress about these and other issues impacting the Autism community.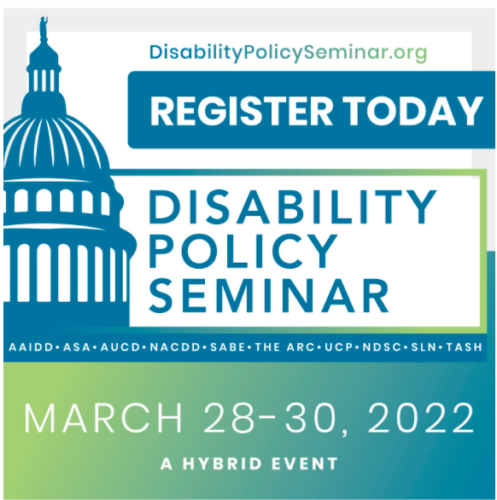 Disability Policy Seminar 2022
Sunday, March 13 is the early bird deadline to register for the Disability Policy Seminar (DPS) taking place in Washington, DC (or virtually), March 28-30, 2022.  After this date, registration fees will increase. Monday's opening session will feature officials from the Federal Administration sharing their plans for disability policies. Bipartisan congressional staff from key offices have been invited to share legislative priorities that impact people with disabilities related to employment, housing, education, Social Security, and community living. A gathering on Capitol Hill the morning of March 30 features some of our Hill champions and possibly White House officials. Shout out to Maine for having the largest contingent participate this year! For assistance scheduling Hill visits in person or virtually, please contact Delancy Allred at dallred@autism-society.org. 
DD Awareness Month Webinar
March is Developmental Disabilities (DD) Awareness Month!  In recognition of this designation, the Autism Society is sponsoring a webinar about the Developmental Disabilities Act (DD Act) on March 17 at 3:00 p.m. ET. The Autism Society's Kim Musheno will interview Autistic Self-Advocate, Nicole Leblanc, and Director of Public Policy of NACDD, Erin Prangley about the history of the law and the development of the term "developmental disability."  Please register here.
State of the Union Address
On March 1, President Joe Biden delivered his first State of the Union address to the nation. While President Biden did not specifically call for passage of the Build Back Better Act, he called on Congress to pass provisions that have received bipartisan support. These include support for home and community-based services (HCBS), permanently extending health care premium assistance that was part of the American Rescue Plan, making the child tax credit permanent; supporting paid leave, providing housing assistance, and lowering costs for pre-K for three- and four-year-olds. All of these will lower costs to families. In addition, he said, "let's get all Americans the mental health services they need — more people can turn for help and full parity between physical and mental healthcare if we treat it that way in our insurance." The full text and archived recording can be found on the White House website.
Post-State of the Union Update and Plan to Address Mental Health
On Saturday following the SOTU address, the Autism Society was invited to a briefing held by the White House. Emily Voorde, Assistant Director of Public Engagement in the White House, and Xavier Becerra, Secretary of Health and Human Services discussed President Biden's efforts related to people with disabilities, as well as the President's plan to increase the mental health workforce and break down financial barriers in receiving mental health care. Questions allowed for further explanation for rural community support, training culturally-competent mental health workers, and the 988 crisis line being established in July of 2022. Through the American Rescue Plan, the Administration has provided $180 million to support local capacity to answer crisis calls, and establish more community-based mobile crisis response and crisis stabilizing facilities to minimize unnecessary emergency department visits. A Fact Sheet outlining the Administration's plan to address the mental health crisis was also released.
FY 2022 Appropriations Bill Passes House
On Wednesday, March 8, the House passed a 12-bill omnibus funding package with just a couple of days left until the March 11 deadline to avoid a shutdown. Negotiators attached a $13 billion spending bill to aid Ukraine; a $22.5 billion measure to provide Covid relief was removed at the last minute over disputes about how to pay for it. The House also attached an additional 4-day continuing resolution (to March 15) to keep the government running to allow time for the Senate to pass the bill; it is expected to do so today. See the summary of the full package and a link to a summary of the Labor, HHS, Education section that shows increases for special education, respite care, home and community services, and other funding priorities of the Autism Society. A full analysis will be included in the next edition of Capitol Connection
NCD Report on Health Equity
On February 14,  the National Council on Disability (NCD) released a "Health Equity Framework for People with Disabilities." The comprehensive framework recommends an all-of-government approach to addressing medical discrimination and health disparities for people with disabilities. In the report, NCD provides a roadmap for addressing long-standing systemic barriers in healthcare, offers examples of health disparities, and provides recommendations on how to address these health inequities including:
Designate people with disabilities as a Special Medically Underserved Population

Require comprehensive disability clinical-care curricula for medical providers

Ensure accessible medical diagnostic equipment

Improve data collection and reporting on people with disabilities as a demographic
The CCD Autism/DD Task Force is seeking a meeting with NCD to discuss the report and how the community can work together to achieve its policy goals.
COVID-19
On February 24, the White House released a Fact Sheet summarizing previous steps and new actions it is taking to protect people with disabilities who are more vulnerable to contracting COVID19 and getting more ill as a result of it. These include guidance to schools to help students with disabilities return to classrooms safely, expanding the Disability Information and Access Line (DIAL) (1-888-677-1199) to support disabled individuals who need assistance using at-home tests distributed by the Administration and support in finding alternatives to at-home testing. In addition, the White House is collaborating with the CDC Foundation, Georgia Tech's Center for Inclusive Design and Innovation, and their partners across HHS (U.S. Department of Health and Human Services) to pursue key improvements for accessible guidance, and encouraging state agencies to work with community-based organizations to disseminate information, free tests, and free N-95 masks to hard-to-reach communities. The fact sheet states the Administration remains committed to implementing these policies and developing additional policies in close collaboration with the disability community – keeping equity and accessibility at the center of our COVID-19 response and beyond.
Meanwhile, the CDC finally added intellectual and developmental disabilities to the list of medical conditions at higher risk of contracting COVID and getting more severely ill from the disease. "People with disabilities are more likely than those without disabilities to have chronic health conditions, live in shared group (also called "congregate") settings, and face more barriers in accessing health care. "  Individuals with these conditions are encouraged to wear a high-quality mask when indoors with other people. Vaccines are still the best way to avoid contracting or getting very ill from COVID.
White House Invited to Webinar Series on Vaccine Education
Register today for our Community Connections Webinar on Wednesday, March 16th at 7:00 pm EST for a conversation with Emily Voorde, Assistant Director and Administration's Liaison to Disabled Americans at the White House Office of Public Engagement. Emily will provide an overview of vaccine accessibility considerations for those in the Autism community, and answer live questions from attendees.