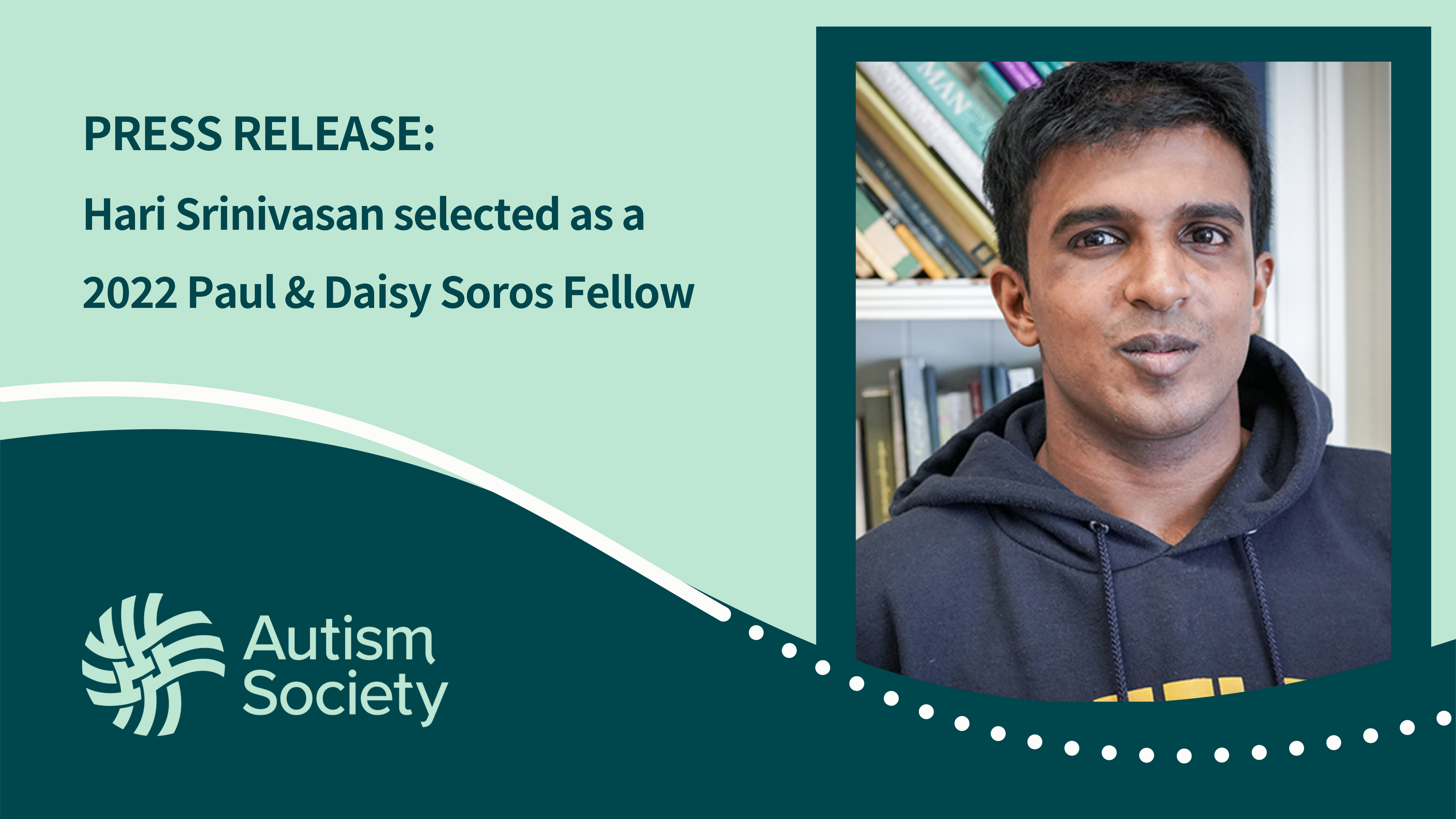 The Paul & Daisy Soros Fellowships for New Americans program announces 2022 Fellows, and includes member of the Autism Society's Council of Autistic Advisors; More than 1,800 New American graduate students in the US applied.
Rockville, MD – Today, the board of directors of The Paul & Daisy Soros Fellowships for New Americans, a merit-based graduate school program for immigrants and children of immigrants, announced the program's 2022 Fellows. Chosen from a pool of over 1,800 applicants, the 30 Paul & Daisy Soros Fellows were selected for their potential to make significant contributions to the United States. They will each receive up to $90,000 in funding to support their graduate studies. 
The Autism Society of America congratulates Hari Srinivasan, a member of our Council of Autistic Advisors, and impactful Autistic advocate helping to create meaningful change so the Autism community can live fully. Hari is one of the recipients of the prestigious Paul & Daisy Soros Fellowships for New Americans; he was selected for his potential to make significant contributions to the United States. Hari joined the Autism Society Council in February 2021. Since then, he has played an integral role in the Autism Society's initiative to fully reflect the experiences, needs, and diversity of Autistic individuals across the spectrum. Hari is a minimally speaking Autistic student currently studying at University of California – Berkeley, majoring in Psychology with a minor in Disability Studies. He also currently serves as a public member of the Interagency Autism Coordinating Committee.
"Hari has been a leading advocate within the Autism community through his studies, work and activism pushing for representation and meaningful inclusion," states Christopher Banks, President and CEO of the Autism Society of America. "This is just the beginning for Hari, and we can expect true impact because of his work ethic, passion, and commitment to creating more opportunities for the Autism community to live fully."
In addition to receiving up to $90,000 in funding for the graduate program of their choice, the 2022 Fellows join the prestigious community of past recipients. The active alumni network includes US Surgeon General Vivek Murthy; Olympians Amy Chow and Patricia Miranda; US Ambassador to Spain Julissa Reynoso Pantaleón; Stanford AI leader Fei-Fei Li; computational biologist Pardis Sabeti; composer Paola Prestini; Maine CDC Director Nirav Shah; Aspiration CEO Andrei Cherny; award-winning writer Kao Kalia Yang, and more than 715 Fellows. 
The new class of Fellows has heritage in the following countries: Afghanistan, Cameroon, China, Democratic Republic of Congo, El Salvador, France, Germany, Grenada, India, Israel, Mexico, Myanmar, Nigeria, Pakistan, Poland, Romania, Russia, Syria, Taiwan, Uganda, and Vietnam.  
The 2022 Paul & Daisy Soros Fellows are studying a wide range of fields, including law, music, economics, architecture, business, physics, medicine, engineering, and agricultural studies. 
Founded by Hungarian immigrants, Daisy M. Soros and her late husband Paul Soros (1926-2013), The Paul & Daisy Soros Fellowships for New Americans program honors the contributions of continuing generations of immigrants in the United States. 
"Immigrants, asylum seekers, and refugees are an essential part of the United States. The Paul & Daisy Soros Fellows demonstrate the ingenuity and diverse perspectives that immigrants of all backgrounds bring to America's graduate programs and to the country as a whole," Fellowship Director Craig Harwood said of the new Paul & Daisy Soros Fellows. 
Read more about Hari here. To read the full bios of the 2022 Fellows, visit www.pdsoros.org.
Individuals can learn more about the Fellowship, the current Fellows and the application, as well as sign up for the Fellowship's e-mail list and an informational session webinar, at the program's website: www.pdsoros.org.