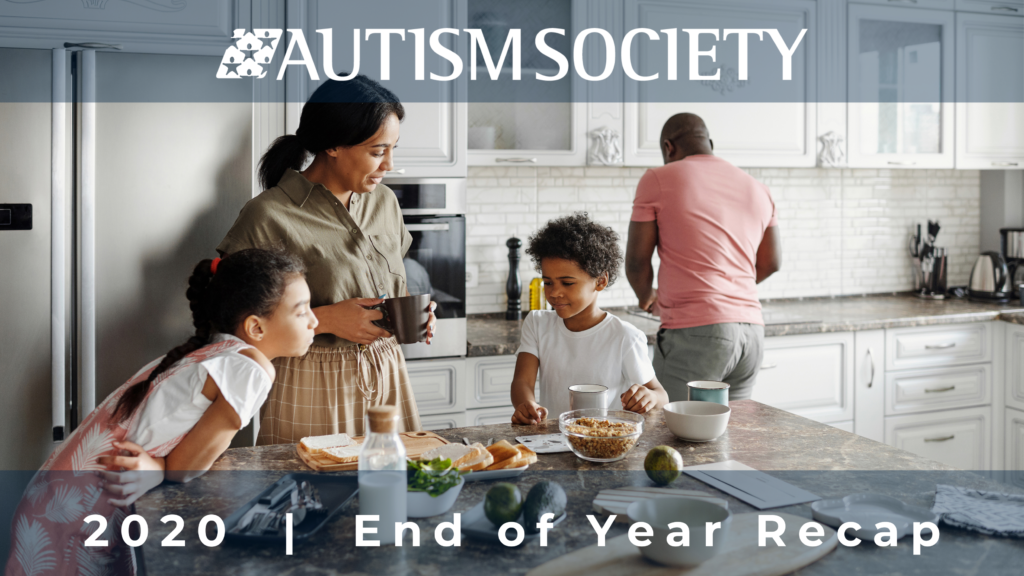 As we check off our final day of the year 2020, we'd like to reflect on all that we have learned, and all that we have done to make an impact on the autism community over the past 12 months. Most importantly, we want to thank you for your support. Whether you donated, called into our National Helpline for support, or wrote a letter to your local representative; the autism community is what keeps us and our 76 affiliates motivated day in and day out to support our mission.
The Autism Society takes great pride in that we were the first national autism organization to respond to the COVID-19 pandemic. Our national office and 76 affiliate offices have worked tirelessly in every department to help support and protect the autism community throughout this crisis. We have gone to great lengths to provide immediate assistance for individuals and families affected by autism, and our resulting impact is shown clearly in the numbers:
Together, Apart.
The aim in creating our COVID-19 Toolkit was to provide valuable, up-to-date resources for the autism community as the pandemic continued. We learned early on that the most important of these resources were the ones that helped to unite the autism community. Social distancing has been extremely isolating for most people, and connecting with others who can relate to your situation is crucial for finding comfort in the fact that you are not alone.
This is a big part of why we put together our Coronavirus Information Series on Facebook Live. Some of our most popular episodes in this series were episodes featuring self-advocates and talking about how they are managing throughout the stress and strain of COVID. If you missed it, here are a few of our most popular episodes:
Of course, none of the important work we have done in the past year would have been possible without the support of all of our donors. This past Giving Tuesday, we successfully raised about $40,000, which will allow us to continue our work to help support and protect the autism community through the end of this pandemic.
Affiliates in Action
We are incredibly proud of the hard work and dedication shown by each and every one of our 76 affiliates across the country. Here are a few affiliate highlights from 2020:
Black Lives Matter
The pandemic wasn't the only painful issue that our country was faced to reckon with this year. The nationwide protests that emerged this spring following the tragic death of George Floyd represented the culmination of deep frustration with our country's long history of social and structural injustices. On June 1st, 2020, the Autism Society of America issued a statement acknowledging our stance in solidarity with peaceful protestors across the country demanding civil and human rights. The Autism Society reinforced its commitment by issuing a second statement on July 7th.
Just as "disability rights are human rights," the Black community is fighting for basic human rights, too.
Hope on the Horizon
As we look forward into the new year, we are grateful that the COVID-19 vaccine has brought us all a light at the end of the tunnel.
Read our statement regarding the vaccine, here: "The Autism Society of America and National Disability Organizations Encourage the Autism and I/DD Community to be Prioritized for COVID-19 Vaccination"
With many more months to endure, we know that we are certainly not "out of the woods" yet. However, our hope for you this New Years Eve is that this bright, glimmer of hope provides you with the strength, comfort and resolve that we, as a community, need in order to see this pandemic through to the end.
From all of us at the Autism Society of America, Happy New Year! Cheers to a much brighter year ahead.