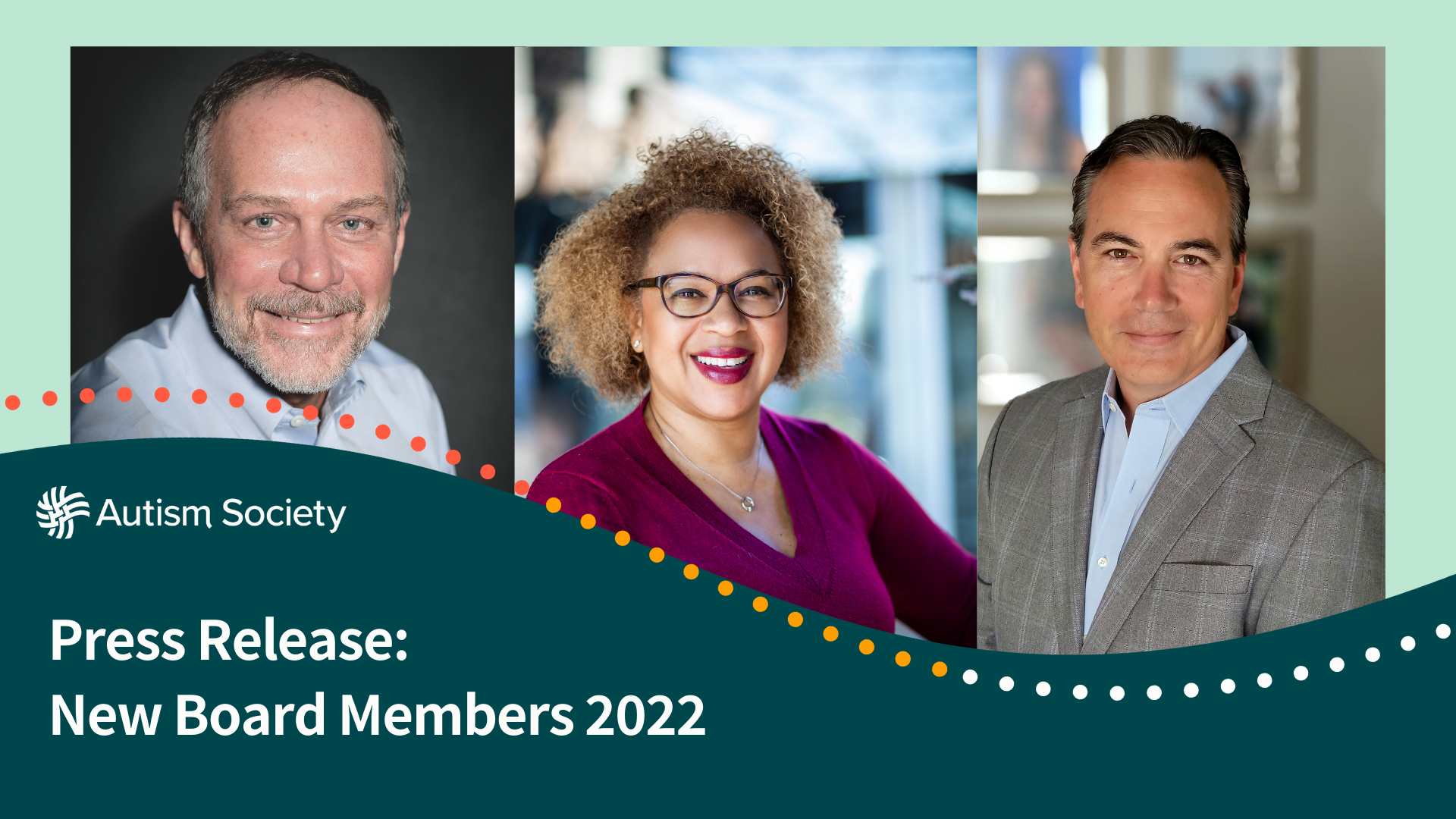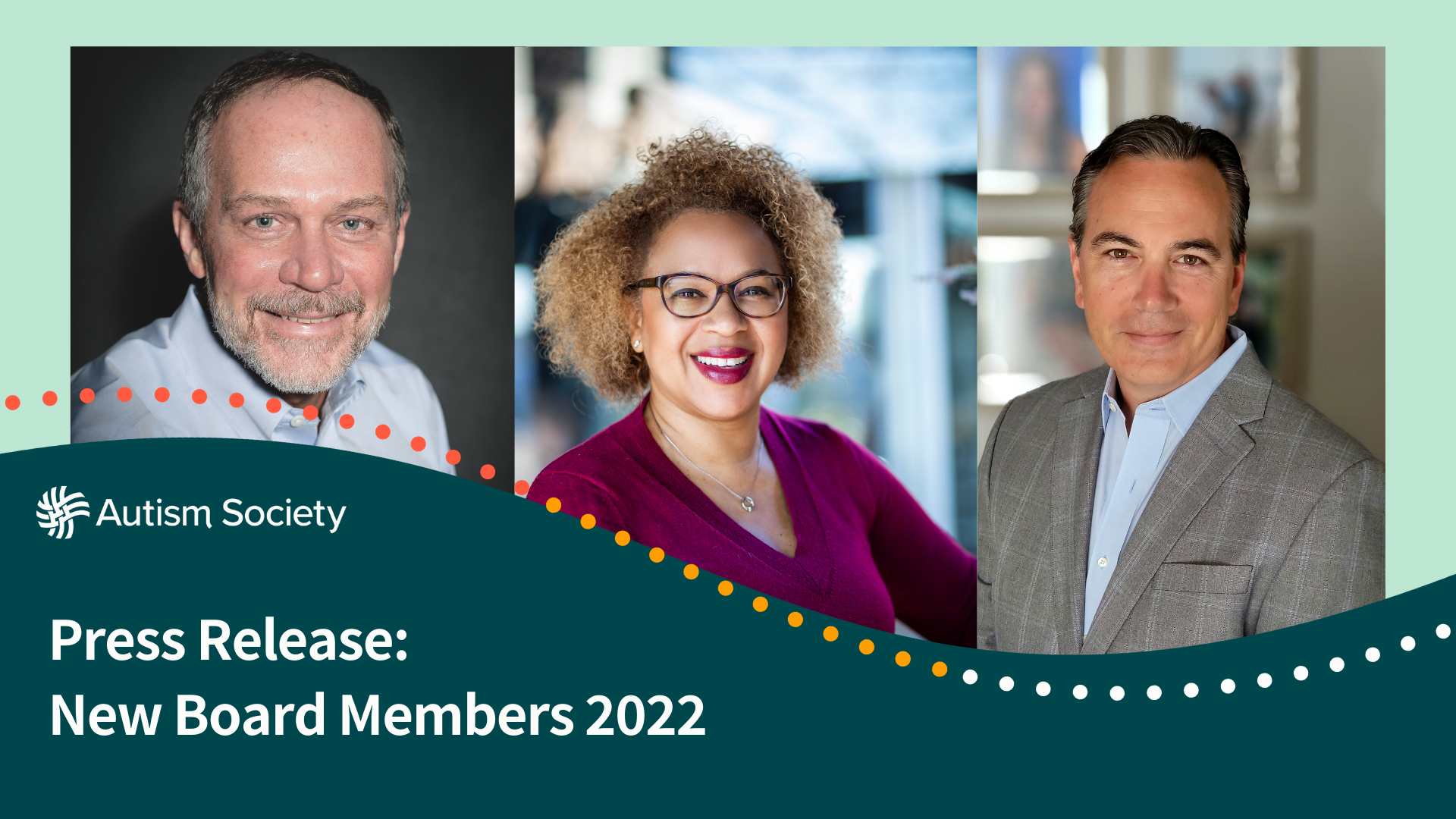 September 1, 2022, Rockville, MD — The Autism Society of America is thrilled to welcome Asila Calhoun, Stephen DeStefani, and Tim Goldstein as new members of the National Board of Directors. Their professional backgrounds, advocacy and passion will positively contribute to the strong group of individuals making up the National Board of Directors.
"The Autism Society of America has been focused on board recruitment to add to the diversity of experiences, backgrounds, abilities, and skill sets to best support the organization's goals," shares Christopher Banks, President and CEO of the Autism Society of America. " Through added depth of knowledge and varied perspectives, the organization will be positioned for success to continue to execute its strategic initiatives."
Asila Calhoun founded Calhoun Coaching and Consulting in 2016. In 2020, Asila left her 25+ year Human Resources (HR) career to focus on her passion for coaching and consulting full-time. Asila partners with leaders who are ready for change. Asila facilitates this change during one-on-one and group coaching sessions with her clients and through her consulting services of delivering leadership training, team facilitation, and diversity, equity and inclusion consulting, training, and coaching. Asila has clients from several industries, including biotechnology/clinical research, healthcare, property management, and law, as well as leaders of non-profit organizations and business owners. Asila earned her Bachelor's degree in Sociology from UC Berkeley and holds PHR and SHRM-CP HR certifications. She is an Associate Certified Coach (ACC) and a Certified Inclusion Coach (CIC). Asila is also a certified meditation teacher.
"I am honored to join the Autism Society of America board, as my background in HR intersects with coaching leaders to create inclusive workplaces where diversity is celebrated and all employees have a sense of belonging," states Asila Calhoun.
Stephen DeStefani currently leads the Enterprise Neurodiversity Program across Well Fargo. The program is committed to creating meaningful employment opportunities for a deeply underserved community through accessible and modernized sourcing, selection, and onboarding processes. This capability will allow Wells Fargo to establish a strategic advantage through access to highly skilled, largely untapped talent pools. The program also delivers employee-focused outcomes aimed at enriching the lives and experiences of our employees by creating strong support structures that foster well-being, enhanced accommodations, equity, and inclusion.
"I am honored to join such an incredible group of leaders at the Autism Society of America, where the opportunity to positively impact the lives of others is exponentially improved," states Stephen DeStefani.
Diagnosed with Asperger's at 54, Tim Goldstein works for a major tech company, is a Neurodiverse Communications Specialist, and is a Roger Love certified vocal coach. He helps organizations & individuals understand and overcome the Neurotypical Neurodistinct divide. Using his Neuro Cloud™ concept, he explains the Spock-like logical approach common in Autism. Tim has taught his concepts to universities, global companies, groups, and individuals with his book, Geeks Guide to Interviews.
"After years as an Autism self-advocate, I am excited to join the Autism Society of America to help move their focus of acceptance of all people with Autism forward," states Tim Goldstein.