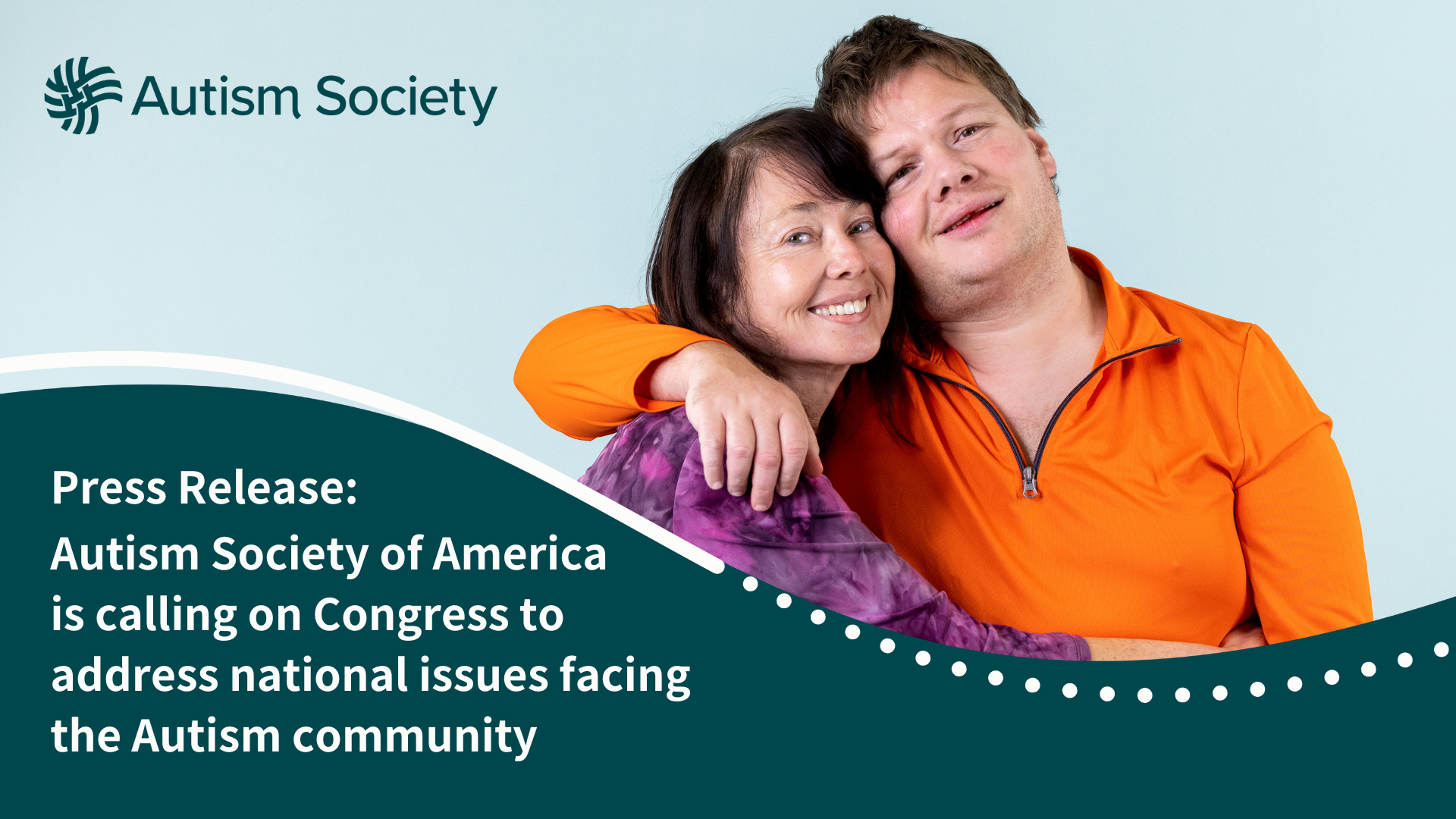 This Autism Acceptance Month the Autism Society of America is putting a spotlight on the crisis of understaffed and underpaid direct support professionals, inequitable access to home and community based-services, and systemic employment barriers among many other policy priorities that impact Autistic Americans.
March 27, 2023, Rockville, MD — For individuals with Autism and their families, accessing the unique services, supports, and inclusive options that meet their needs to live fully is an ongoing struggle. The Autism Society jointly developed public policy goals with eight other leading national disability organizations for the 118th Congress outlining the needs of people with disabilities and their families.
The Autism Society of America is taking direct action at a national level on multiple priority issues that impact Autistic individuals. In particular, the organization is highlighting the importance of passing legislation that provides additional funding for home and community-based services (HCBS) and addressing employment disparities. This includes the Better Care Better Jobs Act and the HCBS Access Act.
"The current system of supports and services are set up such that there can be a sudden stop in services for the most absurd of reasons. Such policies need to change," states Hari Srinivasan, an Autistic student at Vanderbilt, and member of the Autism Society's Council of Autistic Advisors. "I find myself in this strange situation where the PhD stipend makes me ineligible for SSI, which in turn is linked to all state-funded disability supports and disability health insurance that I have relied on all my life. My significant Autism challenges and required supports, did not magically go away in graduate school. It is like a financial penalty on the disabled person to want to aspire for higher education and the pursuit of the American Dream."
Currently, there is a national crisis in the availability of home and community-based services and supports for people with intellectual and/or developmental disabilities, including Autistic individuals with high support needs. It is estimated that over 820,000 individuals who require supportive care are waiting for services through Medicaid home and community-based services (HCBS) waivers. Moreover, there is no national standard for state benefits to cover personal care and respite services for people with disabilities; another part of the issue the Autism Society aims to address.
The longstanding workforce crisis, exacerbated by the COVID-19 pandemic, has led to closures of critically needed services and a denial of access to community-based support. Vacancy rates for full-time direct support positions increased roughly 45% between 2019 and 2020, partly due to low wages improperly matched for highly intensive roles.
"In all of the years I have been involved in the Autism Society, I have never been more worried about the state of our nation's service system for people with Autism and other developmental disabilities. We receive way too many calls to our National Helpline related to individuals and families languishing on waiting lists," said Joseph Joyce, Board Member and past Board Chair of the Autism Society of America, testifying to Congress. "We must find a way to pay trained professionals to support our loved ones."
In addition, the Autism Society will continue its longstanding efforts to increase employment opportunities for people with Autism as well as ending discriminatory subminimum wages. At more than 70%, the underemployment and unemployment rate for Autistic individuals remains unacceptably high. The bipartisan Transformation to Competitive Integrated Employment Act (TCIEA) works to address both of these issues. The organization is also focused on addressing outdated Social Security programs that add to barriers to employment; supporting reforms that would allow people to work without losing their benefits such as the SSI Savings Penalty Elimination Act, the Social Security 2100 Act, and the Work Without Worry Act.
The Autism Society of America developed a broader set of legislative goals to guide the organization's work over the next two years. These goals include legislation to reauthorize and expand the Autism CARES Act, prevent restraints and seclusion in schools, provide safe interactions with law enforcement and first responders, and prevent injuries related to water safety and drowning.
The Autism Society is planning a Fly-In day in April, to help connect their community members with their Members of Congress to discuss these and other issues. The organization's Action Center keeps people informed and engaged on a number of critical issues that will make a difference in the lives of Autistic individuals and their families.
About the Autism Society of America:
The Autism Society's mission is to create connections, empowering everyone in the Autism community with the resources needed to live fully. As the nation's oldest leading grassroots Autism organization, the Autism Society and its approximately 70+ local affiliates serve over half a million members of the Autism community each year. It envisions a world where everyone in the Autism community is connected to the support they need, when they need it – including education, advocacy efforts, and supports and services throughout the lifespan. During Autism Acceptance Month, the Autism Society has a goal to fundraise $350,000 to expand acceptance in practice for the Autism community. For more information, go to www.AutismSociety.org, Facebook, Instagram or Twitter.