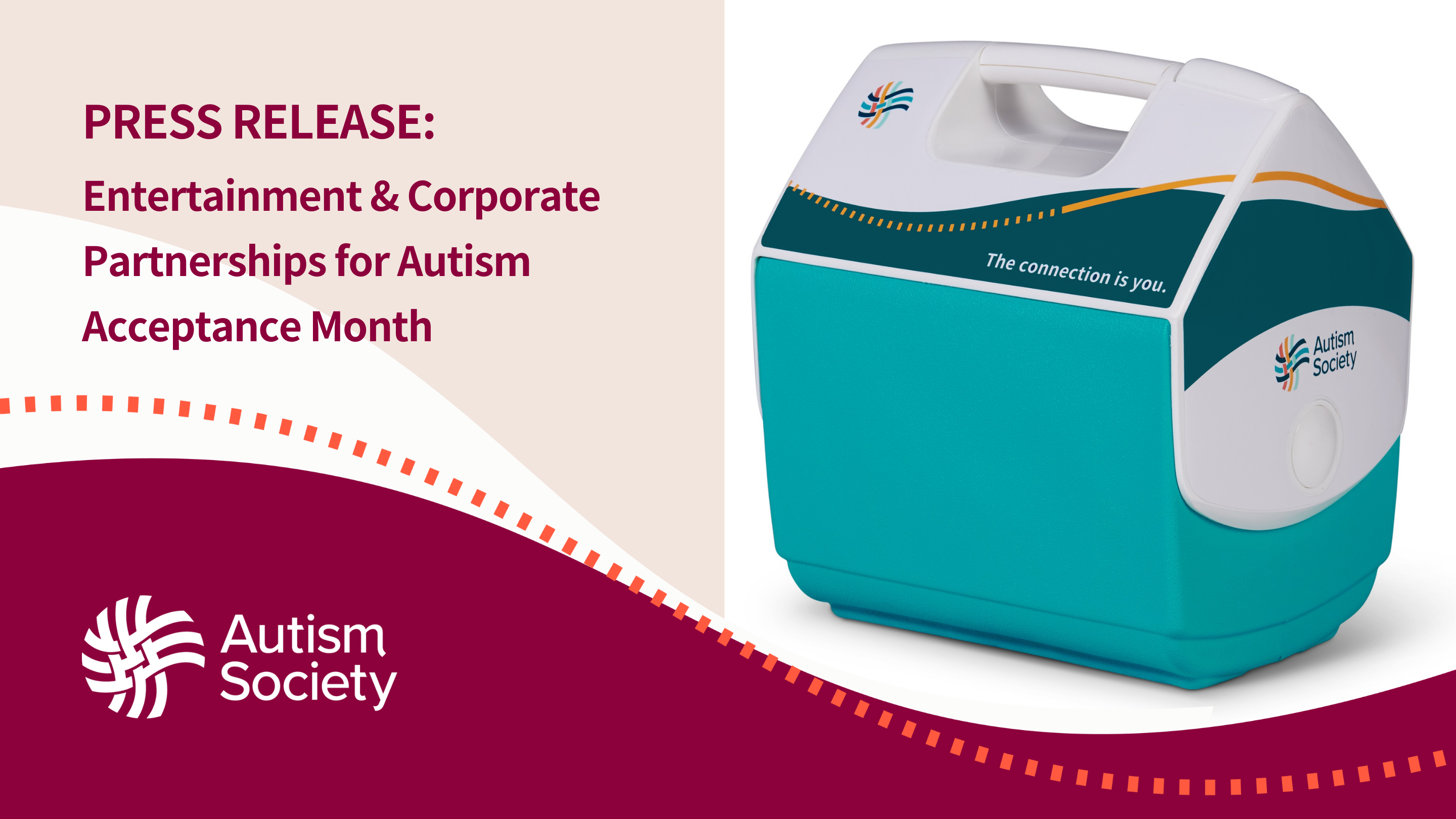 Efforts with Liberty Mutual, Nickelodeon, an NBA team and Igloo are among the partnerships that will help support the Autistic community through the month and beyond.
 March 31, 2022, Rockville, MD — This April, the Autism Society is inviting its partners, supporters, and worldwide community to 'be the connection' during Autism Acceptance Month. Notable leaders in the corporate and entertainment worlds have partnered with the Autism Society in a commitment to highlight the critical need for acceptance, inclusion, and connections to support people with Autism across the lifespan. These partnerships underscore the many ways in which businesses can demonstrate acceptance and inclusion in their daily operations. 
"These partnerships come from a wide variety of industries and will have a true impact on our ability to bring acceptance and support to the Autistic community," said Christopher Banks, President and CEO of the Autism Society of America. "We hope their leadership in promoting initiatives like inclusion and neurodiverse hiring will encourage other companies to join our efforts."
Liberty Mutual Digital Transformation Partnership
Liberty Mutual Insurance partnered with the Autism Society of America to support the transformation of the organization's digital operations. A team of Liberty Mutual technology employees volunteered their time to develop a blueprint for a three-year implementation plan to create digital efficiencies that better support engagement and collaboration with the organization. This work is critical in ensuring that Autism Society's technology supports a fully inclusive experience for those in the Autism community. Beyond in-kind services, Liberty Mutual is committed to creating a diverse, equitable and inclusive workplace for all employees. Their Employee Resource, Able@Liberty + Allies, in particular, fosters community, conversation, education and support for employees with disabilities, caregivers and family members.
"Our partnership with the Autism Society of America is a natural extension of our commitment to creating a diverse, equitable and inclusive environment for all," said Executive Vice President and Chief Information Officer, Corporate Functions, Shelia Anderson. "We are thrilled we could lend our resources to support  the Autism Society's goal of supporting the more than seven million Americans with Autism in the United States." 
Collaboration with Nickelodeon
Nickelodeon is proud to support the Autism Society of America and collaborate on a special resource guide for Autism Acceptance Month. Using its platform to connect with families, Nickelodeon will help amplify critical information for those looking for resources and support. Nickelodeon also continues to develop DIY sensory activities for children and families. It will be celebrating Autism Acceptance Month on social media and will be connecting with neurodivergent talent to highlight their stories throughout the month of April. The Nickelodeon teams are proud to celebrate differences alongside the Autism community. The resource guide will be available on NickHelps.com. 
"As a family and kid-first brand, we are committed to serving all learners," said Jean Margaret Smith, Senior Vice President, Public Affairs, Nickelodeon. "We are honored to team up with the Autism Society of America to promote learning about, connecting with, and empowering kids in the Autism community"
Igloo 'Coolaboration'
This April, Igloo has committed to providing 100% of net proceeds from branded Playmate cooler sales to the Autism Society of America. The gift will be triple matched by the Make Waves Family Foundation, furthering consumers' impact to support the Autism community. 
Released on March 16th, the branded Autism Society coolers have already sold out during the pre-sale time period; due to high demand, the coolers are being restocked for another limited run in mid-April. The Autism Society encourages those interested to register for updates for the next release.
Golden State Warriors Highlight Autism Acceptance
The Golden State Warriors will highlight their ongoing support of Autistic individuals in a variety of ways. On April 1, Warriors forward Draymond Green and Anthony Ianni, a member of the Autism Society Council of Autistic Advisors, and Green's former college teammate, will host a private basketball clinic for students on the Autism spectrum. At the team's game on April 2 vs. the Utah Jazz, the Warriors have gifted tickets to Autistic individuals and their guests, and they will highlight the advocacy work from a constituent of the Autism Society of San Francisco. Additionally, the team will launch a special blue, gold and white popcorn available at all Chase Center eateries beginning on April 2 through the end of the team's postseason run. A portion of the proceeds from the popcorn sales will be donated to the  Autism Society.
"I am honored that my friend Draymond Green and the Golden State Warriors will support the Autism community this April," said Anthony Ianni. "As a member of the Autism Society's Council of Autistic Advisors, I am proud to see my two worlds connecting to make an impact in the greater community." 
Did You Know?
Autism diagnoses are growing, both for children and adults. Last December, the CDC announced that one in 44 children are diagnosed with Autism. Over 7 million people in the United States are on the Autism spectrum. Autism affects people from all racial, ethnic and socio-economic standings. The increased Autism prevalence rate stresses the urgent need for equitable access to diagnostic evaluations, and early interventions that have a significant impact on lifelong outcomes.
Furthermore, up to 85% of Autistic adults with a college education are unemployed, and over 70% of adults with Autism are underemployed or unemployed according to Chapman University Digital Commons. Businesses and organizations that engage in inclusive hiring and workplace practices are helping to close this gap. 
 No family or individual's story is the same as any other, and the Autism Society believes the world should recognize the infinite ways the Autism community experiences life. Recognizing how connected we all are in our differences, strengths and challenges can be what unites us instead of divides us. Read their stories on social media through the #CelebrateDifferences hashtag. 
About Autism Society of America
The Autism Society's mission is to create connections, empowering everyone in the Autism community with the resources needed to live fully. As the nation's oldest leading grassroots Autism organization, the Autism Society and its 70+ local affiliates serve over half a million members of the Autism community each year. It envisions a world where everyone in the Autism community is connected to the support they need, when they need it – including education, advocacy efforts, and supports and services throughout the lifespan. This Autism Acceptance Month, the Autism Society has a goal to fundraise $250,000 to create connections for the Autism community. For more information, go to www.autismsociety.org, Facebook, Instagram or Twitter. 
Contact:
Alyson Marchi-Young
AlysonMY@strategies360.com