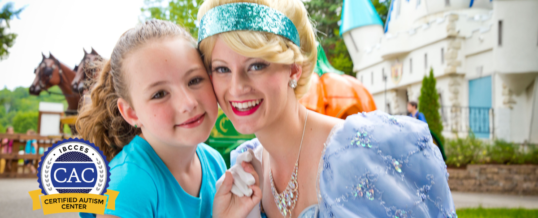 A growing number of organizations are introducing autism training for their staff. "There are a lot of ways businesses can better serve individuals with cognitive disorders or other needs, but one of the most important is training their staff so they are equipped to better serve all of their customers," said Meredith Tekin, President of the International Board of Credentialing and Continuing Education Standards (IBCCES).
Story Land, an amusement park in New Hampshire, recently completed the Certified Autism Center™ program offered by IBCCES. The certification process consisted of training their staff in autism and sensory sensitivities, and also resulted in adding a calming room and sensory sensitive weekends to better accommodate guests with autism.
As we continue to see instances of organizations failing to welcome or accommodate individuals with autism, it is heartening to see more examples of businesses stepping up and making sure their staff is equipped to meet the needs of all guests. Mesa, Arizona, is a great example of an entire community that is aiming to be the most inclusive community in the world by providing staff training, resources and accommodations for autism and other cognitive disorders. Just last month, 4 organizations in the Mesa area were announced as Certified Autism Centers™. Odysea Aquarium, Courtyard Marriot Pheonix, The Arizona Office of Tourism and House of Refuge (a nonprofit organization offering transitional housing) all completed staff training in autism awareness. These training and certification efforts are part of an autism initiative that has been spearheaded by the Visit Mesa organization. Mesa's push for inclusivity is admirable and we are excited to see the ripple effects of this on other communities nationwide.
For a full list of Certified Autism Centers™ and to find a location near you, visit AutismTravel.com.