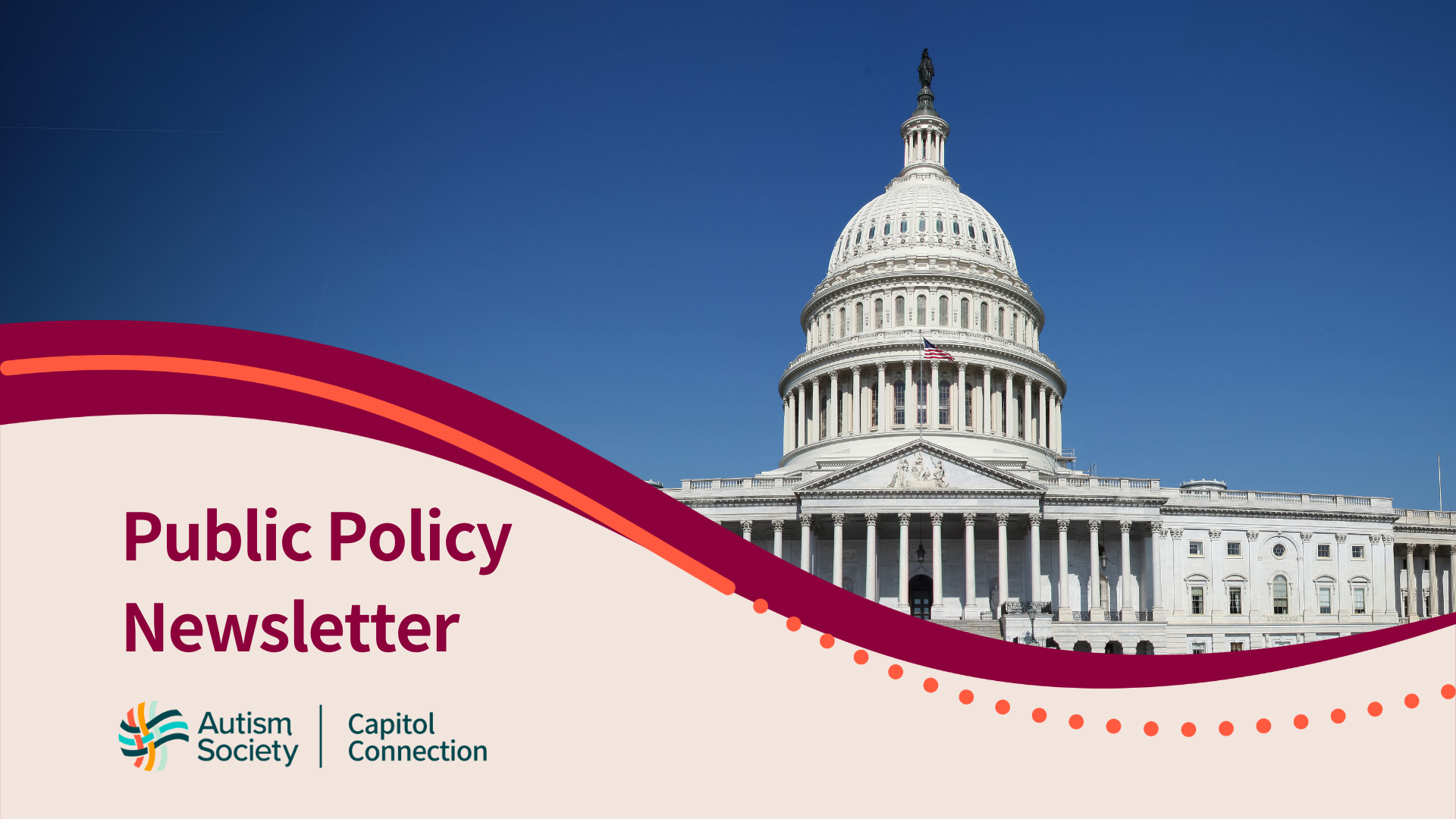 In this issue of Capitol Connection, get updates on the remaining days of the 117th Congress, appropriations, reauthorization of Kevin and Avonte's law, federal grants to states for education and employment, and resources to use for state advocacy. Please use the Autism Society's Election Center for information on how to register to vote, information on the candidates, and other important information for the upcoming national election on November 8th.  
Congressional Schedule
Senators traveled back to their home states last Thursday and do not plan to return to the floor for votes until after the November 8th Election Day. Majority Leader Charles Schumer (D-NY) announced that the Senate would have no further roll call votes until Nov. 14th. The new timeline means that as lawmakers leave Washington this week, neither chamber will return until the week after the midterm elections. This means any legislative priorities we are hoping to complete in this session of Congress will have to wait until the Lame Duck session. Autism Society priorities that could see final action include the ABLE Age Adjustment Act, a reauthorization of Kevin and Avonte's Law, a ban on the use of electronic stimulation devices for behavior modification, the RISE Act, and final appropriations. Please continue to educate your Members of Congress about the importance of these issues.
Appropriations for FY 2023
On September 29th, the Senate passed a continuing resolution (CR) to keep the government operating through December 16th while Congress negotiates the details of the funding bills. The CR includes emergency funding for Ukraine and certain disaster relief. It passed 72-25 (3 not voting). The House passed the CR on Friday, the last day before the October 1st beginning of the new fiscal year.
Kevin and Avonte's Law
On September 19th, Senators Amy Klobuchar (D-MN) and Chuck Grassley (R-IA) introduced a bipartisan bill (S. 4885) to reauthorize Kevin and Avonte's law. This law, originally passed in 2018, was named in honor of two boys with Autism who died after wandering from safety. On September 23rd, the bill was passed by unanimous consent in the Senate. The law provides $2 million in competitive grants to state and local agencies or non-profits to develop programs that help prevent wandering and to help locate missing individuals. Kris Steinmetz, Executive Director of the Autism Society of Iowa and Public Policy chair, and Chris Banks, President and CEO of ASA, are both quoted in Senator Grassley's press statement on the Senate passage of the bill. An identical bipartisan bill (H.R. 8907) was introduced in the House on September 19th by Representatives Maxine Waters (D-CA), Chris Smith (R-NJ), and Mike Doyle (D-PA). The House bill is expected to pass when Congress returns after the November elections.
White House ADA Event
On September 28th, President Joe Biden and First Lady, Jill Biden hosted a White House celebration of the Americans with Disabilities Act (ADA) and Disability Pride. Kim Musheno represented the Autism Society of America President Biden spoke about the history of the ADA and acknowledged the work of former and current congressional disability champions and advocates. He said, "Disability pride is about every American's equal right to be recognized for who they are.  It's about celebrating the progress we've made and the future ahead." The entire event can be viewed on YouTube (full text here). Entertainment was provided by José André Montaño, a jazz pianist (see parts of his performance here).
Long Term Services and Supports
The Autism Society signed on to extensive comments prepared by the Consortium for Constituents with Disabilities (CCD) in response to a request for input on long-term care policies from House Energy & Commerce Committee Republican Leader Cathy McMorris Rodgers (R-WA). The request was entitled, "Disability Policies in the 21st Century." The comments include recommendations on how Congress can reduce or eliminate Medicaid's bias toward funding services in institutions, reduce the waiting lists for community services, support family caregivers and respite programs, and authorize Medicaid to reimburse other services, such as assistive technologies and telehealth. Read the full set of CCD comments.
Education
RISE Act
The RISE Act, or the Respond, Innovate, Succeed, and Empower Act recently passed the House of Representatives within a mental health package. This bill amends the Higher Education Act (HEA) to clarify documentation an institution of higher education must accept when considering whether an enrolled student has a disability, including an IEP and 504. The Autism Society supports this legislation. 
Teacher Recruitment and Retention Grant
The United States Department of Education announced $60 million in grant money under the Supporting Effective Educator Development (SEED) program for 22 programs. These programs range state by state but all have the goal of retaining, preparing, and recruiting educators. The Department of Education also issued a letter along with the U.S. Department of Labor to state and local education and workforce leaders encouraging them to use the funding to increase teacher pay. They cited in the letter that on average, teachers make about 33 percent less than other college-educated workers. 
Safe Schools Grant Money
Through the Bipartisan Safer Communities Act, the US Department of Education announced awards totaling one billion dollars that focus on providing students with a safe and supportive environment in their schools. These funds will be used to promote the social, emotional, physical, and mental health needs of students. They can also be used to support school and community partnerships that respond to and prevent violence, bullying, and hate. The Autism Society encourages affiliates to ensure their State Educational Agencies use this funding to support students with Autism. 
Early Intervention and Engagement Webinar
The Arc of the U.S. provided a webinar on the topic of engagement in the early intervention program planning process. The webinar focused on program planning in early intervention. The full recording, PowerPoint, and transcript are now available on The Arc's resources page. 
Disproportionality in our Schools Report
A new report by Easterseals and Bellweather was recently published entitled "Ignored, Punished, and Underserved: Understanding and Addressing Disparities in Education Experiences and Outcomes for Black Children with Disabilities". This report focuses on the areas in which students of color with disabilities are disproportionately treated compared to their white non-disabled counterparts. The areas they identify as inequitable include identification, placement, discipline, and family engagement and support. The report focuses on strategies that the district, the school, and policymakers can take to ensure all students, regardless of race, are served equally. 
Employment/NDEAM
Community Connection
On October 20th, the Autism Society will be hosting a conversation on Facebook live with Jaimie Timmons, a research associate at the Institute for Community Inclusion's (ICI) ThinkWork. The Autism Society and ICI collaborate to provide strategies for individuals with Autism and their families to set them on a path toward competitive integrated employment. A new toolkit focused on transition-age youth will be announced soon. This Facebook live webinar is part of the Autism Society's Community Connection Series. 
Employment Grant Money
The U.S. Department of Education's Rehabilitation Services Administration (RSA) announced new five-year grant awards for the Subminimum Wage to Competitive Integrated Employment demonstration project to 14 state vocational rehabilitation (VR) agencies. The purpose of these grants is to decrease the use of subminimum wages and increase access to competitive integrated employment for people with disabilities. The Autism Society encourages affiliates in these 14 states to contact the VR agency and support the implementation of these new projects. The Autism Society will monitor this grant as applications open up in the future to see how affiliates can be a part of them to promote employment for individuals with Autism. (see also Disability Scoop article) 
Disability Employment Webinar
To celebrate and bring awareness to National Disability Employment Awareness Month this October, the Disability Employment TA Center is hosting a webinar on Tuesday, October 11th, 2022, at 3:00 pm ET. The webinar will spotlight 3 states, Tennessee, Washington, and Georgia's programs they instituted with American Rescue Plan Funds to promote employment for people with disabilities. See this Administration for Community Living fact sheet that describes the funding and how some states used it to advance competitive, integrated employment. 
Health/Caregiving
HHS Delivers First National Strategy to Support Family Caregivers
On September 21st, the U.S. Department of Health and Human Services (HHS), through its Administration for Community Living (ACL), released the 2022 National Strategy to Support Family Caregivers. The plan was developed jointly by the Advisory Councils established by the RAISE Family Caregiving Act and the Supporting Grandparents Raising Grandchildren Act. The strategy focuses on how to support and advance the over 53 million family caregivers across the county to ensure their health, well-being, and financial security while supporting others. It includes 350 actions that 15 Federal Agencies can take to implement the strategy. The strategy is open for public comment for 60 days beginning on October 1st.
U.S. Supreme Court  Case/Medicaid
The Supreme Court is in session starting this week and has an oral argument on the calendar in November that could impact Medicaid and other federal programs. In this case, Gorgi Talevski was in a state-run nursing home in Indiana. His wife claimed that the medical facility provided inadequate care through chemical restraint and other practices. She claimed that this is a violation of the Federal Nursing Home Reform Act (FNHRA), a 1987 law that established a "bill of rights" for residents of nursing homes receiving Medicaid funding. She sued the home and its parent organization under Section 1983 of the U.S. Code, which allows individuals to sue government entities that violate their legal rights. But the defendants have argued that Section 1983 cannot be used to enforce rights that are created as a condition of receiving federal funds. The National Health Law Program (NHeLP), along with 42 other legal organizations, including many disability rights organizations, has filed a friend of the court brief in support of Talevski. The Autism Society will monitor this argument and the subsequent decision and implications it may have for the Autism community (see Reuters article for more information)
ACL Strategic Plan Input
The Administration for Community Living's National Institute on Disability, Independent Living, and Rehabilitation Research (NIDILRR) is holding listening sessions regarding its next strategic plan. The strategic plan will be a five-year plan focusing on advancing independent living and rehabilitation research. They are seeking input from stakeholders through participation in a listening session or via email. Learn more here.