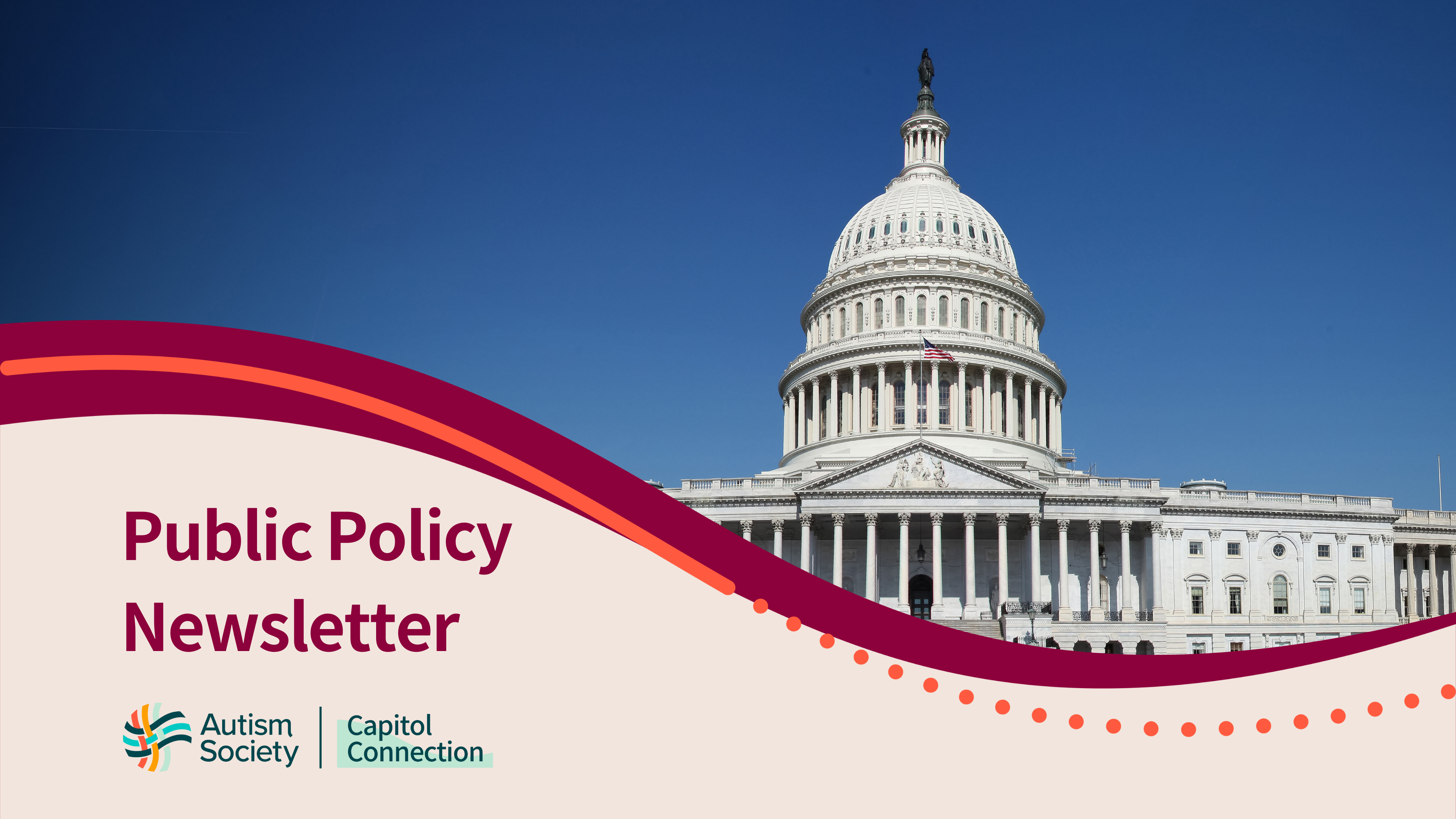 In this issue of Capitol Connection, find updates on legislation in Congress including the budget, a new autism caregivers family bill, and a bill to assist with the rollout of the 988 mental health assistance number. Continue to use our newly updated action center to monitor key legislation and send out letters to your legislators. 
Congressional Schedule
The House is out this week. The Senate is in session. When the House returns, Congress will be focusing on emergency funding for Ukraine and COVID relief. Appropriations subcommittees will continue hearings on the President's FY 2023 Budget request. Recess is a good time to reach out to Representatives while they are in their home districts.
Budget and Appropriations
Last week Education Secretary Cardona testified before the Labor, HHS, Education Appropriations Subcommittee defending the President's proposed budget for education programs. He testified that the President is proposing a significant $12 billion increase for programs under the Department for 1) Supporting Students Through Pandemic Response and Recovery Over the Long Term; 2) Boldly Addressing Opportunity and Achievement Gaps; 3) Supporting a Talented and Diverse Educator Workforce; 4) Making Higher Education Inclusive and Affordable, and 5) Building Pathways Through Postsecondary Education that Lead to Successful Careers.  The request also provides an additional $3.3 billion over 2021 enacted levels – which would be the largest two-year increase ever outside of the American Rescue Plan – for Individuals with Disabilities Education Act (IDEA) Grants to States, with a total of $16.3 billion to support special education and related services for students in grades Pre-K through 12. The Budget also nearly doubles funding to $932 million for IDEA Part C grants. The increase for Part C includes $200 million to expand and streamline enrollment of children at risk of developing disabilities, which would help mitigate the need for more extensive services later 6 in childhood. Read Cardona's entire testimony on the Committee website.
The Consortium for Constituents with Disabilities (CCD's) Education Task Force sent a letter to appropriators outlining its recommendations for education programs that impact people with Autism and other disabilities. Read the entire letter on the CCD website. 
Autism Family Caregivers Act 
Senators Menendez (D-NJ) and Collins (R-ME) are planning to introduce a bill, the Autism Family Caregivers Act, to authorize the Secretary of Health and Human Services to award grants for providing evidence-based caregiver skills training to caregivers of children with autism spectrum disorder and other developmental disabilities. The Senate bill is a companion to the House bill introduced by Rep. Grace Meng (D-NY) introduced on February 18 as HR 6783.  The House bill now has 33 bipartisan co-sponsors. Use our action alert to urge your Representatives to cosponsor this bill. Be sure to add how this bill is important for you and your family. 
Health Care
The Centers for Medicare and Medicaid Services (CMS) issued a Request for Information (RFI) about key disability topics, benefit system challenges, and economic mobility questions last month. In response, several national disability advocacy organizations, acting as part of the CCD, joined forces to develop a thorough set of recommendations to CMS about how to support people with disabilities who want to work. The Autism Society also submitted separate comments based on the coalition's joint submission. CCD Employment and Training Task Force also filed employment-focused policy ideas. 
Section 504 Regulations and Health Equity
The Autism Society of America signed on to a letter developed by the CCD  urging the Secretary of Health and Human Services to update regulations on Section 504 of the Rehabilitation Act. The recommendations focused on six main areas: 1) Discrimination in Organ Transplants and Medical Futility Decisions, the Use of Quality-Adjusted Life Years, and Assisted Suicide; 2) Crisis Standards of Care and Health Care Rationing During Times of Scarcity; 3) Accessibility of Medical Equipment; 4) Discrimination in Benefit Design, Coverage Determinations; and 5) Accessibility of Health Care Communications, and 6) Assuring the Right to Effective Communication. Read the full letter for more details on each recommendation.
988 Implementation Act
On March 17, 2022, Rep. Tony Cárdenas (D-CA) introduced the 988 Implementation Act, a bipartisan legislative package that would improve mental health crisis services and support the implementation of the 988 suicide hotline scheduled to roll out in July. The 988 Implementation Act focuses on building Lifeline capacity and related crisis services to connect people who dial 988 with local crisis services and supports during a mental health crisis, including:
Funding the launch, infrastructure, and modernization of the new 988 hotline through support for regional and local crisis call centers and providing resources for specialized services for underserved populations.

Ensuring people have access to crisis care by requiring all health insurance plans to cover crisis services.

Expanding the Mental Health Crisis Response Partnership Pilot Program to create or enhance mobile crisis team response, connecting people in crisis to help and stabilization.

Supporting behavioral health crisis response on the ground through grants that support capital projects, including crisis receiving and stabilization programs and call centers.

Creating a national suicide prevention awareness campaign, including awareness around 988, in partnership with a wide array of stakeholders.
The 988 Implementation Act is co-sponsored by Rep. Doris Matsui (D-CA), Rep. Lisa Blunt Rochester (D-DE), Rep. Brian Fitzpatrick (R-PA), Rep. Seth Moulton (D-MA), Rep. Grace Napolitano (D-CA), Rep. Don Beyer (D-VA) and Rep. Jamie Raskin (D-MD).
The 988 will not be available to everyone until July 16, 2022. In the meantime, if you or someone you know is in crisis, please continue to contact the National Suicide Prevention Lifeline at 1-800-273-8255 (En Español: 1-888-628-9454).
For more information, see the detailed summary on Rep. Cardena's website. 
Mental Health Awareness Month
On May 2, President Biden issued a proclamation in support of Mental Health Awareness Month. The statement provides data showing the rise in numbers of people with mental health needs and outlines efforts by the Administration to address the needs. These include increases in federal funding for mental health, support for the new three-digit 988 mental health hotline, and the Surgeon General's advisory on mental health. 
Disability Economic Justice Collaborative
A new Disability Economic Justice Collaborative launched within The Century Foundation in April 2022 with the goal of breaking the cycle of poverty and disability. The collaborative brings together over 20 disability organizations and think tanks to produce research and provide recommendations to solve this inequity in the disability community. To celebrate this collaboration, a day of panels occurred with special guests former Secretary of Housing and Urban Development Julián Castro, Congresswoman Ayanna Pressley, among others.  In addition, the first report entitled "Economic Justice is Disability Justice" was published.    
Improving Postsecondary Data 
The Autism Society co-signed with 10 other disability groups to comment on a request for information from the U.S. Department of Education on the Integrated Postsecondary Data System. The comments focus on what data colleges need to collect and submit in order for us to better understand and support the gap between completion rates of college between students with disabilities and their counterparts without disabilities. 
Immigration 
The Society signed onto a CCD letter prepared by the Rights and Long Term Services and Supports Task Force in response to a Notice of Proposed Rulemaking from the Department of Homeland Security (DHS) for rescinding the 2019 Public Charge rule, and for considering impacted communities' comments to the proposed rule. CCD's comments focus on developing a fair and non-discriminatory approach to the public charge rule within the new regulations.
HHS Administration for Community Living
The Administration for Community Living (ACL) celebrated its 10th Anniversary highlighting accomplishments of its first ten years, exploring and taking advantage of future opportunities, and looking ahead to achieve: 1.) Community living as the expectation for all people, 2.) True inclusion and integration of older adults and people with disabilities in our communities, and 3.) The aging and disability networks work together to advance both. Watch the recording of the celebration kick-off, visit the 10th Anniversary Celebration webpage for future events, and read about ACL's milestones and accomplishments over the last decade.
State Advocacy
Education
The U.S. Department of Education's Office for Civil Rights last week found that the Los Angeles Unified School District failed to provide students with disabilities the services promised in their individualized education programs (IEP) and Section 504 plans while classes were offered remotely. Under the agreement, the Los Angeles schools have committed to establish, implement and publicize a plan for providing compensatory education to children who did not receive FAPE during the pandemic. The district will convene IEP and Section 504 teams to assess whether students were provided with the services to meet their needs and determine whether compensatory education is warranted. This agreement will hopefully improve services nationally, not just in Los Angeles. State advocacy might use this agreement to advocate for services in their state. The Department has been consistent and adamant throughout the pandemic that civil rights under the Individuals with Disabilities Education Act and the right to FAPE continue (See fact sheet published by ED in February).