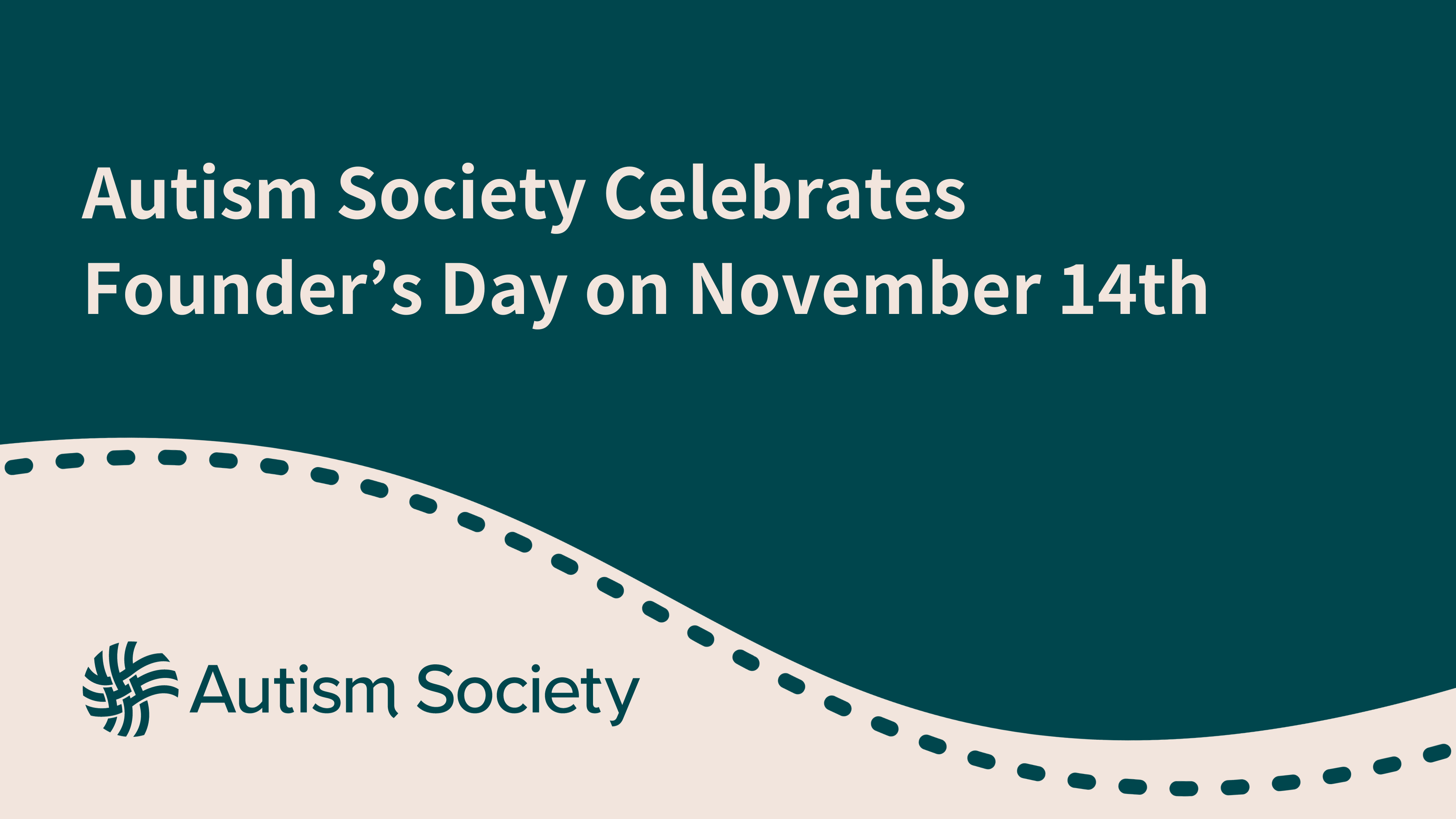 Rockville, MD, November 14th, 2023 – The Autism Society of America proudly celebrates Founder's Day on November 14th. On this Founder's Day, we would like to take a moment to reflect on the Autism Society's rich history and honor the legacy that Ruth C. Sullivan, Bernard Rimland, and Ole Ivar Lovass created when forming this organization in 1965. Their vision for the Autism Society was to improve the quality of life of those in the Autism community while looking ahead too the organization's prosperous future and impact. 
Our history and origin story: Ruth C. Sullivan first encountered Autism through her son Joseph in 1963, who was diagnosed with what was considered a rare and strange disability that hardly anyone had ever heard of. According to Joseph's doctors, there was nothing he nor his mother Ruth could do. As a result of this news, Ruth decided to devote her life and work to Autism, which led her to co-founding the Autism Society in America in 1965 alongside Bernard Rimland and Ole Ivar Lovass. Ruth was a pioneer in the Autism community, advocating in the disability space by ensuring school and public places are accessible and inclusive. Major accomplishments from her advocacy work include lobbying with the government, which led to the passage of the Individuals with Disabilities Education Act (IDEA) and opening schools and independent homes for children with disabilities. Ruth passed away in 2021 at the age of 97 leaving behind a 50+ years legacy that helped pioneer the foundation and work of the Autism Society of America today. 
"The founders of the Autism Society set a foundation for building a strong community of advocates that has endured for decades and will continue for many more to come. Ruth Sullivan, in particular,  was relentless throughout her life in bringing people together to make positive change. That legacy continues today and is evidenced in the tireless work of the Autism Society and its amazing affiliates throughout the United States." – Barbara Becker-Cottrill, Senior Research Associate at the WV Autism Training Center at Marshall University  
"This Founder's Day, the Autism Society reflects our long history and honors the collective role we all play in ensuring that Autistic individuals and their loved ones can connect with each other, with resources, and with supports and services so that they may live full, vibrant, self-actualized lives." – Christopher Banks, President and CEO of the Autism Society of America  
 Looking Ahead: 
As the Autism Society looks ahead towards the future our organization continues to go through transformation and growth. In 2021, the Autism Society launched its new brand alongside the Autism community focusing on inclusivity and accessibility. Since then, our National team has tripled in size, as our affiliates across the Nation continue to grow and expand. The Autism Society strives to learn and evolve by expanding services, opportunities, programs, and support to better serve the Autism community. We've seen significant impact in the past year including the growth of our National Helpline and Vaccine Education Initiative. Our National Programs team also expanded as we introduced our Employment Initiative, "Safety on Spectrum" First Responders Training and Water and Wandering Programs. Throughout the organization's evolution, our mission is to create connections, empowering everyone in the Autism community with the resources needed to live fully.