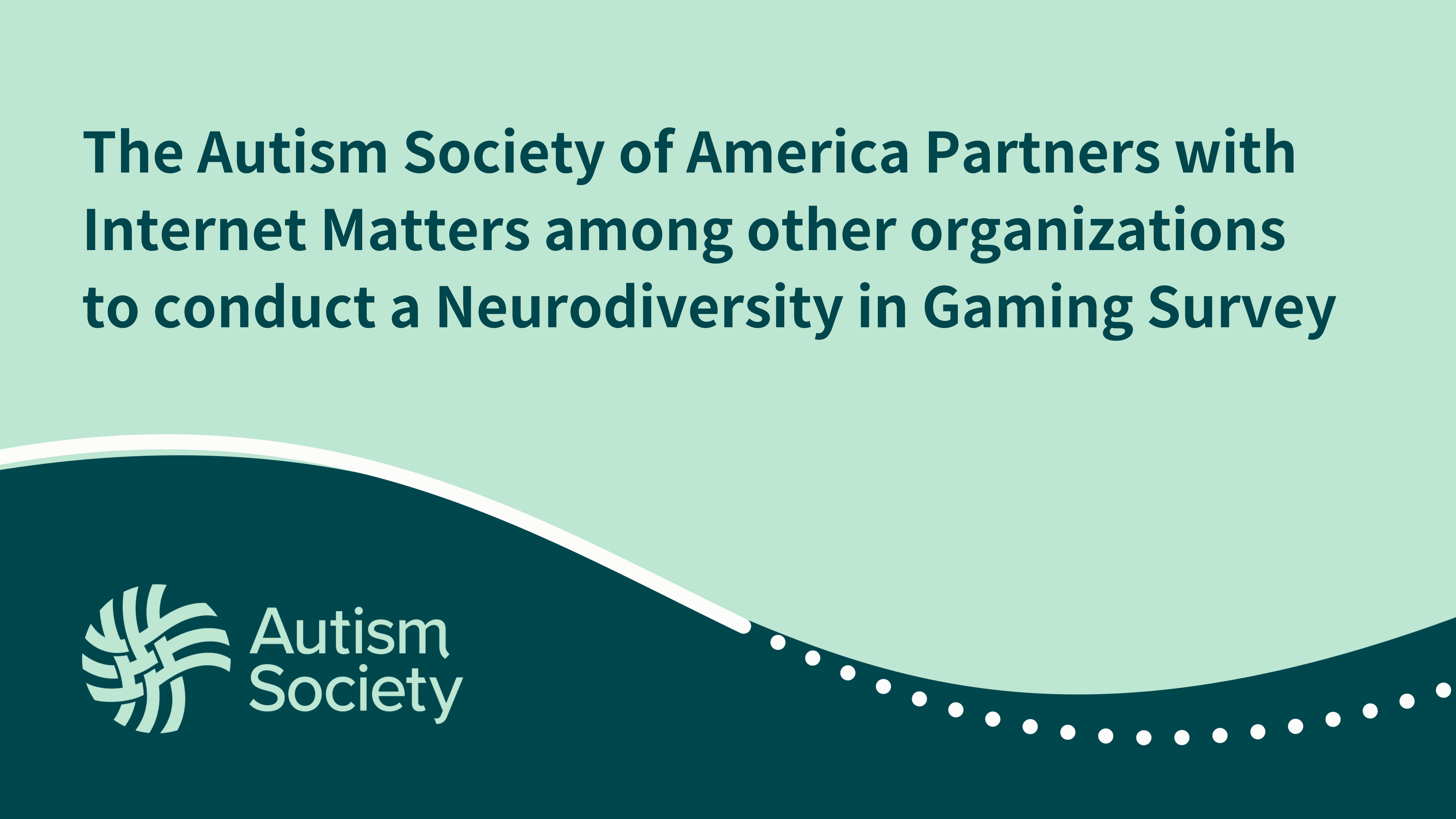 September 14, 2023, Rockville, MD — The Autism Society of America is excited to work with Internet Matters on their Neurodiversity in Gaming project in partnership with Roblox, Autism Alliance (UK), Autistica (UK) and Ambitious about Autism (UK). Internet Matters highlights that the digital world has a varying impact on the well-being of youth. Children and teens who receive special education services and supports often report positive benefits from online activities, however, there are also safety concerns. Research has concluded that Autistic youth, in particular, have an increased risk of certain online harms. To better understand these experiences, we're asking Autistic and neurodivergent individuals and their families aged 11-17 interested in online video games to complete this survey.
This survey aims to identify challenges that neurodiverse children and young people (in both the UK and US) face online, and in particular Autistic individuals and those with ADHD when they are in gaming environments. The goal is to better understand the positive and negative risk factors and opportunities for neurodiverse individuals in the online world. We will also explore how parents and caregivers can be better supported to ensure their children are able to flourish online and access the benefits of digital participation in a safe way.  
This information will be used to support policies and guidance around online interactions for Autistic young people.  Those who complete both parts of the survey will be offered the opportunity to receive one of five 4500 Robux ($50 equivalent) digital gift cards for Roblox. The survey and gift card draw will close on Monday, September 25th, 2023. 
To complete the survey, please click here.
Get Involved
To learn more about the Autism Society's work and ways to get involved, please email info@autism-society.org.
###
Autism Society of America
The Autism Society's mission is to create connections, empowering everyone in the Autism community with the resources needed to live fully. As the nation's oldest leading grassroots Autism organization, the Autism Society and its approximately 70+ local affiliates serve over half a million members of the Autism community each year. It envisions a world where everyone in the Autism community is connected to the support they need, when they need it – including education, advocacy efforts, and supports and services throughout the lifespan. During Autism Acceptance Month, the Autism Society has a goal to fundraise $350,000 to expand acceptance in practice for the Autism community. For more information, go toutismSociety.org, Facebook, Instagram or Twitter.
Internet Matters
Launched in May 2014 by our founding partners, BT, Sky, TalkTalk and Virgin Media, Internet Matters understands the challenges parents and carers face in navigating the ever-changing digital landscape. ​As fellow parents, we get it. We know how hard it is to stay on top of internet safety, so we offer the best advice and information available to help you engage in your child's online life and manage the risks they may face online.​ Collaborating with industry leaders like Google, Samsung and Meta, along with experts, government and schools, we provide families with tools, tips and resources. Whether your child is taking their first steps online or you need guidance on a specific issue, our website has everything you need to make their online life fulfilling, fun and, above all, safe. Together, we've got this.