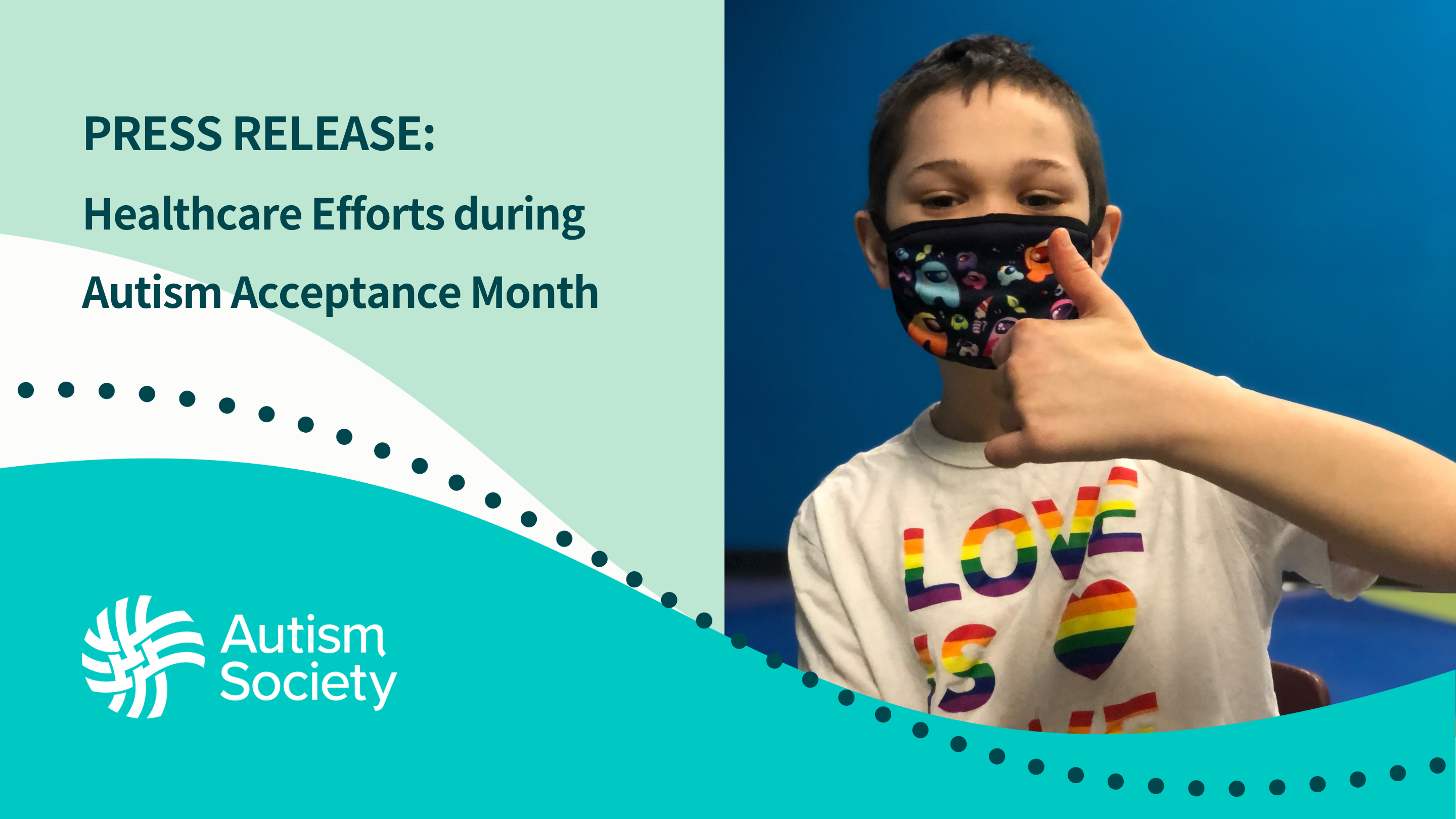 Access, affordability and improving COVID-19 vaccination rates are part of the organization's year-round health equity focus.
March 31, 2022, Rockville, MD — This April, the Autism Society is inviting its partners, supporters, and world-wide community to be the connection during Autism Acceptance Month while also addressing some of the specific challenges the community faces. Autism Acceptance Month kicks off on April 1, and the Autism Society is recognizing the multitude of experiences within the Autism community to highlight the critical need for acceptance, inclusion, and connections to support people with Autism across the lifespan.
"Equitable access to affordable healthcare is among the most important issues facing the Autistic community," said Chris Banks, President and CEO of the Autism Society of America. "To address this, the Autism Society has taken a direct leadership role in engaging with policymakers to move for more robust and inclusive services that can support every individual's unique personalized needs."
The Autism Society is also working to create connections between individuals, families, caregivers, and their local healthcare systems to build trust, repair relationships, empower individuals to advocate for their unique needs, and equip providers with the training and tools needed to meet those needs.
The Autism Society of America was the first national Autism organization to respond to the COVID-19 crisis in March 2020.
In an effort to address COVID-19 vaccination hesitancy within the Autism community, the Autism Society launched a continued Vaccine Education Initiative (VEI) in 2022, aimed at sharing critical vaccination information to communities, to best prevent the worst symptoms of this illness, particularly for those more likely to experience severe symptoms. These grassroots efforts include:
Disseminating physical and digital toolkits in collaboration with the CDC

Facilitating support groups, educational programs and events in local communities

Hosting online events featuring experts in public health and individuals with Autism through a webinar series, "Community Connections"

Engaging in storytelling and data-gathering to highlight lived experiences and reinforce key messages for those within the Autism community

Partnering with trusted community leaders to promote vaccine safety & confidence

Increasing accessibility to vaccines through our Information & Referral Program

Training community providers to create sensory-friendly vaccine sites
COVID-19 has impacted everyone, but for those with Autism, they have an increased risk of experiencing more severe symptoms. People with intellectual disabilities are almost six times more likely to die from COVID-19. Unvaccinated people are 10 times more likely to test positive for COVID-19, 17 times more likely to be hospitalized, and 20 times more likely to die. That is why the CDC recommends that everyone ages 12 and up gets a booster vaccine. 

Did You Know?
Autism diagnoses are growing, both for children and adults. Last December, the CDC announced that one in 44 children are diagnosed with Autism. Over 7 million people in the United States are on the Autism spectrum. Furthermore, Autism affects people from all racial, ethnic, and socio-economic standings. 
The increased Autism prevalence rate stresses the urgent need for equitable access to diagnostic evaluations, and early interventions that have a significant impact on lifelong outcomes. No family or individual's story is the same as any other, and the Autism Society believes the world should recognize the infinite ways the Autism community experiences life. Recognizing how connected we all are in our differences, strengths and challenges can be what unites us instead of divides us. Read their stories on social media through the #CelebrateDifferences hashtag. 
About Autism Society of America
The Autism Society's mission is to create connections, empowering everyone in the Autism community with the resources needed to live fully. As the nation's oldest leading grassroots Autism organization, the Autism Society and its 70+ local affiliates serve over half a million members of the Autism community each year. It envisions a world where everyone in the Autism community is connected to the support they need, when they need it – including education, advocacy efforts, and supports and services throughout the lifespan. This Autism Acceptance Month, the Autism Society has a goal to fundraise $250,000 to create connections for the Autism community. For more information, go to  www.autismsociety.org, Facebook, Instagram or Twitter. 
Contact:
Alyson Marchi-Young
AlysonMY@strategies360.com