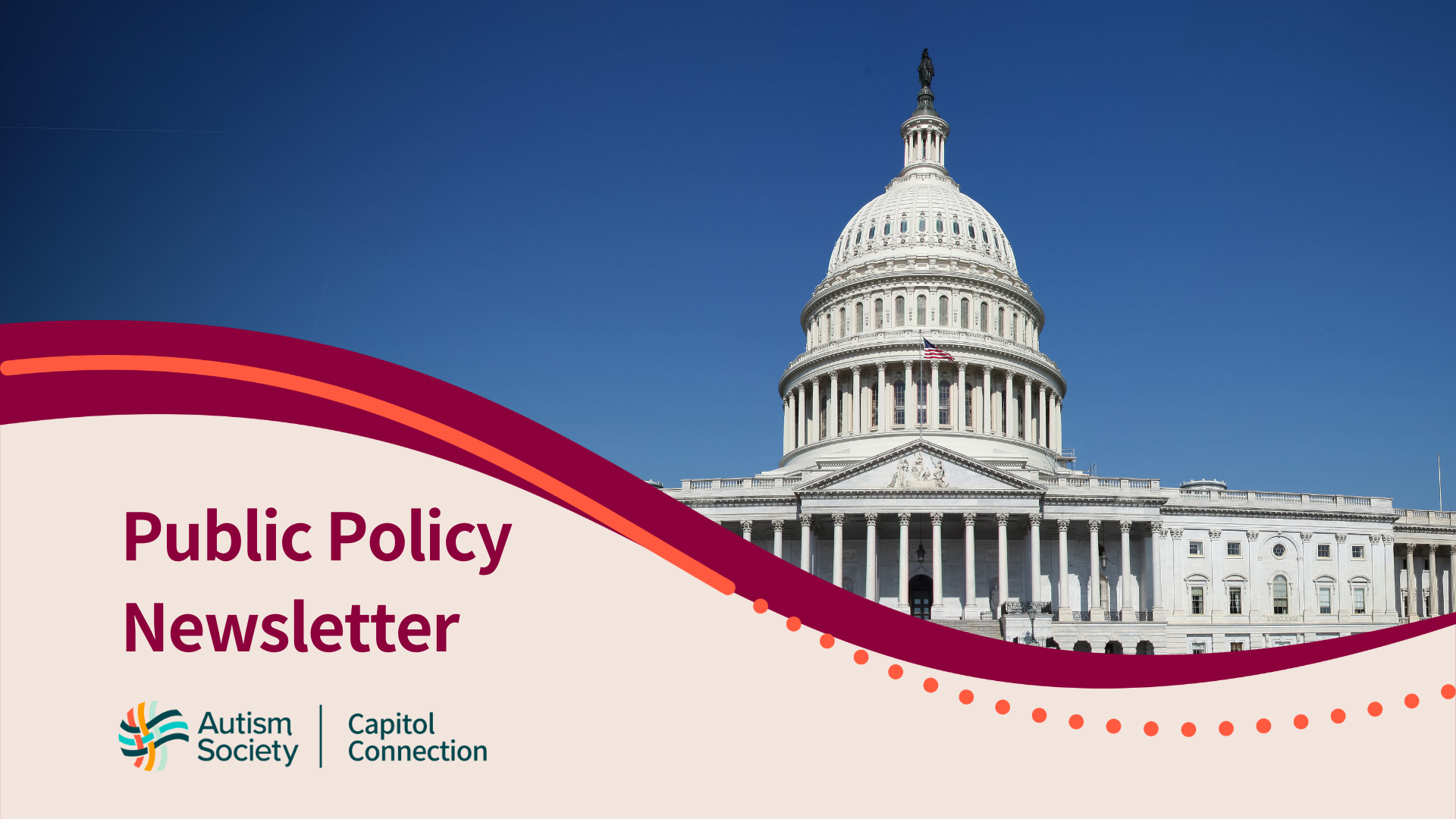 In this issue of Capitol Connection, find information on disability program funding, action to ban electric shocks, proposed rules to simplify access to Medicaid, increase access to dental care, and prohibit discrimination in health care practices. Resources on education funding, health care costs, and caregivers are also included for state advocates. Please continue to use the Autism Society's online Action Center for voting information, links to disability-related legislation, and sample letters to use to educate Members of Congress.
Congressional Schedule and Appropriations
Congress returns from the month-long August recess to a hectic and condensed schedule. Negotiations on appropriations will be a priority to avoid a government shutdown before the October 1 beginning of the new fiscal year. Most Hill watchers expect Congress will agree on passing a short-term continuing resolution that will keep federal government programs at the current funding levels until after the November midterm elections. This will be necessary since Congress has not passed any of the 12 annual funding bills. The House passed six bills and moved the other six through the Appropriations Committee. The Senate released draft bills but has not passed any of them. It is expected that negotiations on a large omnibus bill will take place in a lame-duck session of Congress. The Labor, Health and Human Services spending bill contains modest increases in both House and Senate bills for programs that impact individuals with Autism and families (see funding table here comparing House and Senate bills related to disability programs). The Autism Society will urge appropriators to provide the highest possible funding levels for these programs in any final package. For more information on the appropriations process, see the Committee for a Responsible Budget appropriations watch.
Bill to Ban Electric Shocks
Another bill that may see final action in September is a bipartisan bill to reauthorize the Food and Drug Amendments Act, a broad bill reauthorizing programs at the Food and Drug Administration (FDA), that includes an amendment that would prohibit the use of electric shock devices for behavior management. In June, the House passed its version of the user fee package (H.R. 7667). However, the Senate is still negotiating its bill. House Energy and Commerce Chair Frank Pallone (D-N.J.) and ranking member Cathy McMorris Rodgers (R-Wash.), the lead architects of the House bill, are urging Senate leaders to take up the House version.  The Autism Society created an action alert so that advocates can educate their members of Congress about the need to ban these devices.
Administration Updates
Proposed Rule for Medicaid and CHIP
The Centers for Medicare & Medicaid Services published a proposed rule to simplify the enrollment and retainment process for Medicaid and the Children's Health Insurance Program. This rule would mandate that states can not review eligibility more than once a year and create pre-filled out renewal forms for those who receive Medicaid due to age or disability. In addition, it would allow people to deduct their projected medical expenses from their financial eligibility and not require individuals to have to apply for other benefits to be eligible. It would also create automatic enrollment for those who receive SSI. This proposed rule would also establish more safeguards when individuals are facing being kicked out of services. The proposed rule will now be open for comments until November 7, 2022. The Autism Society will be working within CCD to provide comments.
Money Follows the Person Expansion
The Centers for Medicare & Medicaid Services announced that the Money Follows the Person (MFP) program which helps support individuals transitioning from institutions to their communities, will expand to more states. Up to $5 million will be sent to Illinois, Kansas, New Hampshire, American Samoa, and Puerto Rico. Since 2008, CMS has found that over 107,000 people have used MFP funding to live in communities of their choosing. 
Dental Care
A proposed rule issued by the Centers for Medicare & Medicaid Services would, among other things, alter Medicaid to allow hospitals to bill for dental procedures in operating rooms at a rate of $1,958.92. This comes after the Consortium for Constituents with Disabilities sent a letter urging billing changes. While there is still a need for more reforms to increase access to dental care, this is a positive first step. The proposed rule is open to comments until September 13. The CCD Health Task Force is preparing comments to submit to CMS.
Health Care Rule
The U.S. Department of Health and Human Services (HHS) announced a proposed rule implementing Section 1557 of the Affordable Care Act (ACA)(Section 1557) that prohibits discrimination on the basis of race, color, national origin, sex, age, and disability in certain health programs and activities. This proposed rule restores and strengthens civil rights protections for patients and consumers in certain federally funded health programs and HHS programs after the 2020 version of the rule limited its scope and power to cover fewer programs and services. Comments on the proposed rule are due October 3. The Autism Society will join with other national disability advocates to submit comments.
Administration Guidance to Address Teacher Shortage 
The Autism Society participated in a stakeholder briefing last week where the Biden Administration announced a series of initiatives to address the teacher shortage and strengthen the profession. The first is a collaboration with job recruiting platforms including ZipRecruiter, Indeed, and Handshake to host job portals and events for positions in school districts across the country. The second is guidance outlined in a letter from the Department of Education and Department of Labor urging districts and governors to use American Rescue Plan relief funds ($130 billion) to increase teacher pay and expand teacher preparation programs. A back-to-school checklist empowers families to advocate for their schools as well. 
State Resources
Back to School
The U.S. Department of Education shared a back-to-school checklist on how families can advocate for American Rescue Plan funds to be used for their schools. The checklist shares priorities and initiatives other districts are using to increase student learning, including training educators to better support students with disabilities. 
RAISE Act State Policy Roadmap for Family Caregivers
The National Academy for State Health Policy released a roadmap to assist states in identifying innovative ways to support family caregivers. Different topics are covered including direct care workforce, family caregiver support, financial security, and more. This roadmap will be helpful to state advocates as they contact their state officials to support family caregivers and DSPs to better the home and community-based services network. 
ABLE to Save Resources
The ABLE National Resource Center which provides information about who is eligible and how to open ABLE Accounts hosted "ABLE to Save Month" last month featuring a series of informational webinars. All webinars were recorded and can be accessed on the campaign site. 
Inflation Reduction Act State Resources
The White House prepared state fact sheets on the Inflation Reduction Act. One fact sheet shows savings by State which is individualized to represent the population and healthcare policies specifically in every state. A second fact sheet provides data on savings across the country. The law is still under review by the Office of Management and Budget (OMB). See August 11 edition of Capitol Connection for more information about the law.